The Bachelorette: Week 1
Last season on
The Bachelor
, Ashley was a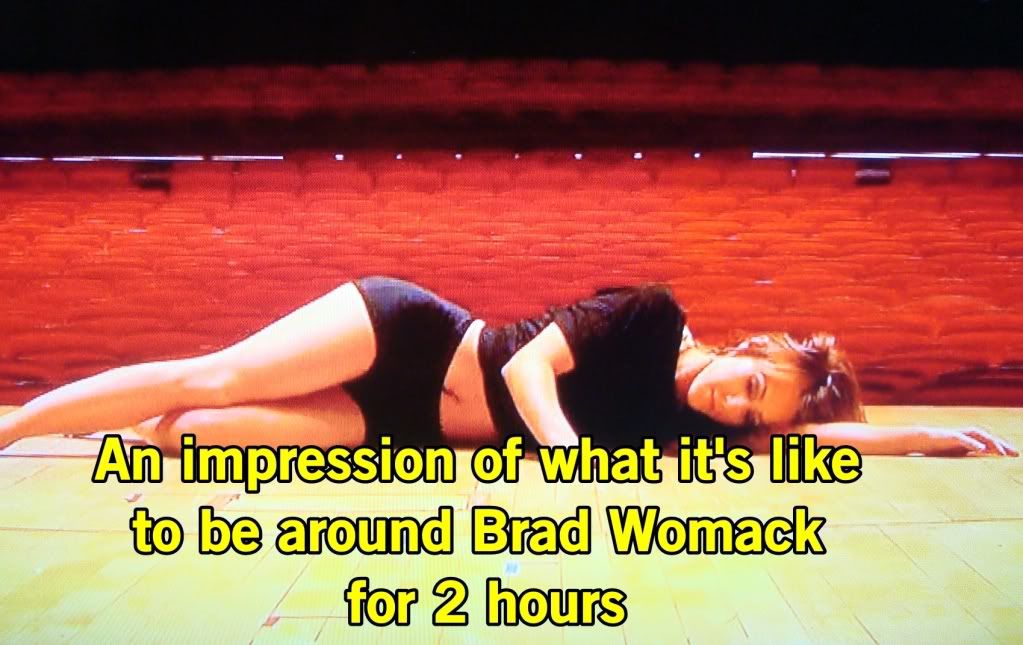 blond dentist that could never fully express her feelings and "live in the moment" with boring Brad Womack and got dumped in Africa in the final 3. Now, Ashley is brunette, still studying to be a dentist, and taking long solo walks, hugs, and lingering glances in bright, bold colored outfits and cutoff shirts. And she dances it all out! Ashley is ready to find love, breathing in some fresh air, and plans to have no regrets.
Then we get some intros to the fellas. One is a solar energy guy who makes a lot of sun puns- next! There's a guy named Ames who went to Yale, got 2 Masters at Columbia, and a Doctorate at Harvard and has been to 70 countries. What a toolbag and he has fish eyes. There's a guy named Ben whose a winemaker and since Ashley was sloshed a large portion of last season, I predict a lovematch. Or moreso a get to hometown dates for chugging massive vats of wine. There's a divorcee here and there but even better: a widower! That is sarcasm, BTW. West is a widower whose wife drowned in a bathtub. And then one guy is bad luck, has a dead dad and a dead watch that he wears as a reminder to live life to the fullest cause time is short.
So after those downer intros, Ashley steps out of her limo in a sparkly dress, maybe a light pink, almost nude color? It's hard to tell against her spray-tanned skin. But I do like her brunette makeover. Chris Harrison gets his BFF/therapy time in to hear about Ashley's problems and hopes and dreams. I bet inside he's just psyched she doesn't have another therapist confidante to talk to like someone did last season. Ashley is open to finding love and hopes to find a great guy. I'm glad she's not like certain past shrews that feel like they have to find a husband from this experience (Deanna). Ashley mainly worries they won't like her or that they're coming her "for the right reason" (drink!) Already, Ashley received a head's up from a close friend (unnamed, but it's Michelle Money from last season) that a dude named Bentley is coming on the show for the wrong reasons and to promote his job. Good tip off, she'll
definitely
eliminate him. There's that sarcasm again. Ashley's motto is "no regrets" and I feel like that is her catchphrase of the season. It beats "I've changed."
Solar dude Ryan is the first guy out of the limo and he's attractive. Some guy Jon wears a funky tie and awkwardly checks her out, lifts her, and tries to take her on the honeymoon. I winced but Ashley deems it awesome. She must've had some wine already. Chef Mickey has "a gift from all of America" ala Chantal but instead tries to plant a kiss on her, which she tries to brush off. He, of course, brags about it inside. Some old face liquor distributor is at a loss for words and has an awful New York accent. Ben is a lawyer that drops some French on her and I thought it would be a lost in translation, but she does speak French. Mais oui! In corny gifts to make an impression, West gives a broken compass (stuck on West- GET IT), and she receives ballet tickets from yuppie Ames. The winner of biggest loser is Jeff who gets out of the limo in a MASK. Did this asshole think he was a contestant on
Mr. Personality
, hosted by Monica Lewinski? He wants Ashley to judge him and not his face, which I bet is busted. So the first batch of guys are... yeah, OK, onto the second group!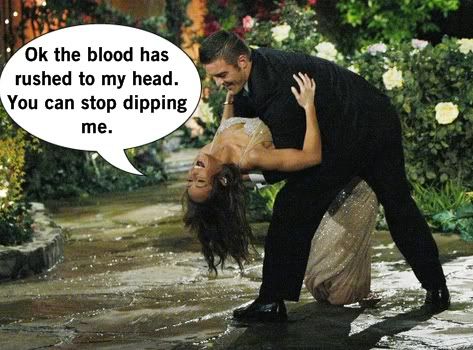 Wine guy comes prepared with glasses and a bottle of Cabernet and they have a toast. I hope he crushed those grapes with his feet. Ashley gets her second lift-off from Frank who also does a cliche spin and dance. Lame. Go away. This one guy Ryan poses like Ashley's original limo entrance, then busts out a digital camera for an impromtu photo session and hopes to get another picture with Chris Harrison later. Probably for a voodoo shrine (no, just me?). JP gets out of the limo and I'd say he's the best looking and he didn't even say or do anything crazy, he's just normal and attractive. Works for me. Blake makes the worst first impression because he's a dentist yet doesn't divulge this. Dude, common interests. And then not-here-for-the-right-reasons Bentley gets out of the limo. He's pretty fug and Ashley makes a scrunchy doubt face when he leaves. That means he'll stick around for like 6 weeks. Corny gift time again! Constantine busts out dental floss and makes a makeshift ring to remind her to come see him. Corny and clever I suppose.
After another brief chat with Chris Harrison, Ashley enters the house to give her kickoff speech and start the cocktail party. Ryan P puts Ashley at ease since he makes her realize the guys are probably interested in her and not just there for the free booze. This one dude, I don't remember or care to know his name, calls him mom (since the producers let him keep his phone for the night) to let Ashley "meet" his mom. Some dickbag has to be the guy who brings his guitar to play his shitty music. It gets Ashley's attention so it is to my sheer joy that he tosses the guitar into the pool because he doesn't play guitar, it was a ploy to get attention. Touche, dickbag! The talk of the house is Jeff the masked man, comparing him to
Eyes Wide Shut
sex parties and
The Phantom of the Opera
. Best moment: one toolbag (Tim) makes a pillow blockade to keep masked Jeff away. Because they're 7 years old.
The First Impression roses enters the room and sits ominously on a teeny tray on the table. The guys realize the game is on and start fighting for attention to hopefully get the rose. In romantic movie cliches, Ben holds cue cards up in the window to tell Ashley she's beautiful, etc. He speaks French
and
can write in large handwriting. Tim, hater of the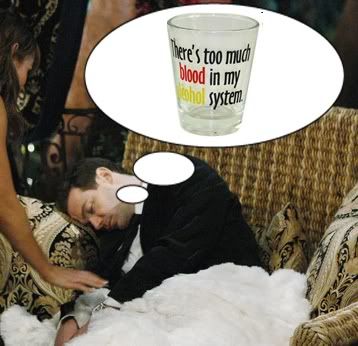 masked man, is creeped out by Ashley surprising him, drunk, speechless, and 100% awkward. The liquor distributor is fucked up from the booze and the other guys frown upon his sloppiness, especially since he just wants to fight masked Jeff. This isn't
Bachelor Pad
, sir! One guy wonders if it's the pressure of the situation, "If you can't stand the heat,
get out of the oven
." Ummm, someone get this guy a book of phrases. Ashley eventually finds Tim passed out on a bench with a fur blanket with fake snoring ADR'ed in to make it sound absurd. Like in
Old Dogs
when they add in fart sounds for no reason. Ashley gets the nerves but finds the behavior unacceptable, so she sends him home immediately.
With his nemesis gone, masked Jeff can make his move but still wants to leave the mask on so Ashley will learn about the real him and not the stubbly face we can kinda see. And he sort of looks like Mr. Prezbo from
The Wire
. JP and Ashley have a real conversation about her school, their love of sweets (she likes cupcakes, his co-workers nicknamed him "Cupcake", she wants the nickname
Cupcake). No one tries to trump Cupcake Brown! The big convo is to hear if Bentley is hear for the right reasons (I can't even track this- let's just track helicopter dates). Anyways Bentley is a single dad to a daughter named Cozy, and that is a doozy of a name, and explains he was married, now divorced, and ready to be in this sort of romantic position. Ashley is pleasantly surprised that Bentley isn't a heinous jerk, but there's still the doubts from the rumor-mill.
Ashley retrieves the first impression rose and then begins hunting around the house to find her man of choice: Ryan the solar energy guy. But the fellas need not wait too long, it's rose ceremony time! She keeps masked Jeff, JP, wine guy, floss guy, and some other guys. The guys who get the boot are Anthony the butcher, unmemorable Rob, and let's-get-right-to-the-honeymoon Jon.
This season on The Bachelorette: love all over the globe! But more importantly, how many helicopters will there be? Stay tuned to find out.

Photo Credits: ABC.com, Shopmania