Finale!

The Amazing Race: Unfinished Business • The Biggest Loser •
Survivor: Redemption Island
Finale!
The Amazing Race: Unfinished Business
- The teams live Switzerland for Rio De Janero, Brazil to find some tile with their next clue. A travel agent suggests Gary/Mallory and Jen/Kisha for a 5:30PM arrival flight, but the Globetrotters shock sort of gives away a better option so all teams go on the same flight arriving at 7:30AM.
To get to the tiles in Switzerland, the teams have to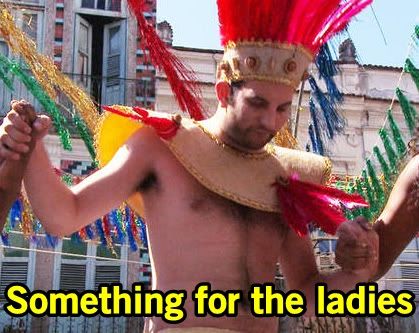 take some trolley and the Globetrotters fall behind thanks to a cabdriver that doesn't take kindly to being bossed around. The tile clue leads to another clue for a Roadblock: learn to dance the samba in a parade wearing some sweet Carnival costumes. It's like like
Rio: The Movie
which I didn't see since I hate birds but am assuming they go to Carnival. If you've been dreaming of seeing Zev dance awkwardly in a speedo and loin cloth, this is the episode for you. Zev can't dance at all, leading to stress for him and a side-lined Justin. His two left feet even allow the chances for the last place Globetrotters to catch up. Eventually, the judge gives him a mercy score and let him pass.
Next, teams then head to the infamous Copacabana where all racers, female
and
male, but undergo a Brazilian wax session. Luckily we don't need to see any ass cheeks. If you've been dreaming of seeing Gary shirtless with wax on his nipples, this is the episode for you. Zev and Justin are the best to see/hear since they are some hairy dudes. I love the idle threats of wanting to punch the waxer in the face. Dear god, this is purely amazing. Freshly waxed, the teams immediately have a Detour of learning to make some Brazilian cocktail 100 times or sell enough bikini tops on the beach to make $60. Methinks many Brazilians and crew members are getting totally fucked up on
The Amazing Race
dime in Rio. Zev/Justin are the only team who opt to sell the swimsuits and I can't think of two sexier dudes to convince ladies to strip down and buy a bikini and model them. They quickly learn the same lesson and go to make drinks.
Gary and Mallory are the first to check in to the Pit Stop. They are definitely racing in the final leg for a chance at a million dollars and we learn if they win, Gary would be the oldest winner in
TAR
history. Oh and they won a Mediterranean cruise. Kisha and Jen check in 2nd, leaving it between the Globetrotters and Zev and Justin for the final spot in the trio. As Zev and Justin bust out drinks, the Globetrotters are having a sing and dance fiesta and having a grand ol' time. The Globetrotters complete the task before Zev and Justin and advance to the finals. Zev and Justin finish the task and share a cocktail together before heading to the Pit Stop. The only team with legit unfinished business, since they lost their passports and had to forfeit, is eliminated.
FINAL LEG! Teams fly on the same flight to Miami, Florida to complete their race journey. The Globetrotters think smart and check their bags because they don't need them in the next leg, dropping the dead weight that could slow them down. Getting out of the airport, Gary and Mallory get screwed by the cab line, putting them at an immediate disadvantage. Their cab driver doesn't know where he's going and does a crummy job of getting help. Yup, they're fucked. Instead of crying in the cab, why don't you hop out and get another cab? No, OK, just a suggestion. Someone eventually hops along and gives directions to get them to the marina.
The first clue in Miami is at a marina and it's a Roadblock: transport a boat on a drydock with a forklift. Flight Time's past life as a Walmart employee using a little forklift helps, but so does the guidance from professionals. Jen and Flight Time go head-to-head (Gary and Mallory still behind) to see who can move along first. Flight Time finishes first and get the next clue sending them to Key Largo.
In Key Largo the teams arrive at an undersea lodge for another Roadblock: use a bob dive to find a treasure chest with a clue around a mermaid rock band. I don't know- it's late while I'm watching this. Jen has to do the Roadblock which allows us to flashback to her horrible swimming experience last time; at least in preparation she took some lessons. Lucky for them, the bob dive does all the work. Think of it like riding a mechanical seahorse with a bubble head. Big Easy finds the clue first and takes off with Flight Time for whatever is next. Too bad what's next is that their cab driver peaced out and they have to find another, which allows Jen and Kisha to catch up.
The clue sends the teams to mile marker 29 in Big Pine Key, which then sends them another clue on Horseshoe Island under the tallest tree, and then sends them back again via boat to a mobile park. Enough clue searching, do some damn challenges or something! At the mobile home park, the teams need to wheel a trailer into the lot and then deck it out to the white-trash nines using a brochure as reference. The wind proves to be a huge hindrance, especially when installing the tastefully hanging canopy or watching an inflatable pool fly away. At this point, Gary and Mallory actually catch up to the sisters and Globetrotters. All along I thought their catch-up was just annoying editing, but apparently the race is on. Jen and Kisha finish the challenge first after realizing their table was missing something. The clue gives them directions for the finish line. Will anyone be able to challenge them?
Maybe the Globetrotters! After getting declined, they also notice that their table is set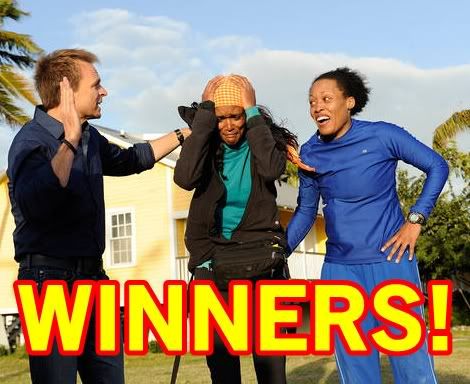 incorrectly and get it fixed. Jen and Kisha arrive at the parking lot to retrieve their adult tricycles for the finish line: a 7 mile bridge. Right behind them are the Globetrotters, making it a real nailbiter, but at some point they acknowledge Jen and Kisha are too far ahead to catch-up. Sisters Jen and Kisha arrive at the Pit Stop first and win the million dollar prize, the second female team to do so. Betcha they're glad there was no porta potty on that bridge. Unfortunately, no one correctly predicted the winner of
TAR
but props to @MamaXanax who picked Gary and Mallory to win, making her the closest victor this season.
The Biggest Loser
- I can't believe this show isn't over yet; it's astonishing how long NBC drags this shit out. Dubbed "final exams" week, the losers are supposed to show off their knowledge this week. They'll be given scores of 0-100 in the following courses: spinning with Bob, motivating with Jillian, boxing with Cara, and health and wellness quiz with Brett. Best grade at the end of the week wins $10,000.
In spinning, the losers have to instruct Bob how to properly operate and exercise. Hannah and Austin are like pros, while Jay is a moron who tells Bob to take off the seat. Brett puts on glasses and a suitjacket to look professional and quizzes them on exercise, food, etc. Cara is testing on fighting more than boxing so I guess this is a subjective class. Jillian's session is like reverse therapy and motivational one-liners ("at least you kicked!"). God, how boring. Finish this show already and stop the filler! The last test is a surprise one: they'll play
The Biggest Loser
videogame on Xbox Connect and get the highest score. Hannah, a self-proclaimed videogame aficionado, wins this challenge. Olivia ends up being the overall winner and gets the $10k and an Xbox 360.- plus she won a car a few weeks back, so sweet deal.
After workouts, and Jay being a weak old dude, there's a challenge to stack sandbags up to the top of some castle-looking thing or something. Winner gets a 1lb advantage, which is a huge bonus near the end of the game. Austin wins the challenge, but hopes he doesn't necessarily need the 1lb to stay in the game. Later, Hannah gets a $500 Subway giftcard. 100 foot longs!!
At the weigh-in, Alison gives an interesting proposition: Olivia could trade her $10k for a 1lb advantage and Austin could give up his 1lb for $10k. Olivia and Austin both keep their original prizes. Hannah and Olivia spend a lot of the episode discussing their high hopes of being the first female pair to make the final 4 together, so of course, the chance arises that they might fall below together. Lucky for them, Austin only loses 1lb, so even with his 1lb advantage he is still under the line (up against Hannah). The losers eliminate Austin, but I'd say losing 160+lbs on campus is a winning life decision.
Survivor: Redemption Island
- Ashley and Natalie congratulate themselves for being the last two women standing after blindsiding Andrea, but I think they mean following. Ashley wants Natalie to stick with her to the end, but Natalie is still a bit closer to Rob so lets him know what Ashley mentioned to her.
Over at Redemption Island, Matt and Andrea have a little tiff. Matt feels betrayed by her, but she also feels Matt almost ruined her game back when he mucked it up before. Seriously, if Matt wins this game just for doing challenges at Redemption Island, I'll scream. The four-way duel (fouel?) is to complete some hand-maze and another fucking puzzle. Matt, Mike and Andrea stay alive in the game; Ralph is eliminated but don't worry: we'll get to see his horrible spelling on the jury.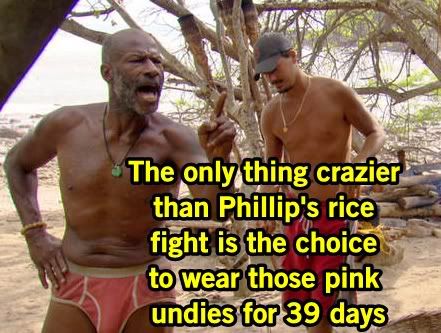 Rice becomes yet another conflict at Murlonio, with Ashley really wanting to save rice, while the others wouldn't mind splurging on a little more since the end is year. This makes Ashley stick out in Rob's mind in target-land again. When Phillip approaches the girls about the calories the men need to survive, it starts another battle. WHO BURNED MY RICE?! Phillip says he's playing up his crazy, but he is a bit crazy ("crazy- not the "n-word" crazy, but crazy," says Rob). This fight makes Rob worried about the girl bond, so he makes sure to let her know he'll take her to final 2 and to not listen to Ashley's plans. He also likes Natalie's niceness and doesn't want Ashley's darkness to take her down. Ashley has a ballsy plan, which she tells Rob about, which is to take out Grant and send him to Redemption Island. Rob gives Grant his word that he will
not
do this.
The immunity challenge is to retrieve puzzle pieces one-handed with fish hooks and create a fish bone puzzle. Seriously, enough fucking puzzles. The winner also wins a 3 course meal delivered to them at camp, which they're calling "room service." Ashley wins immunity and reward, taking her to 90% useless instead of 100% like she has been all season. She also gets to share her reward with someone else and picks BFF Natalie.
Rob is bummed this has happened and now has to go along with Ashley's plan to get rid of Grant. Grant has to be kept in the dark, so Rob tells Grant the plan is to take out Natalie and he's so excited to blindside her. Oh poor Grant is gonna get served! Meanwhile, room service arrives for the ladies in the form of nachos, pizza, pasta, cake, and other amazing things. Hope there's a bottle of Pepto Bismal for the diarrhea that's going to come from consuming nothing to then consuming 4,000 calories of junk. Ashley's not 100% dumb because she knows her and Natalie will be targets soon, and Natalie is stuck in the middle. The big concern is that the Redemption Island victor would pair with the girls and decide the fates in the game. Rob doesn't want to take out Grant or Natalie but it has to be done.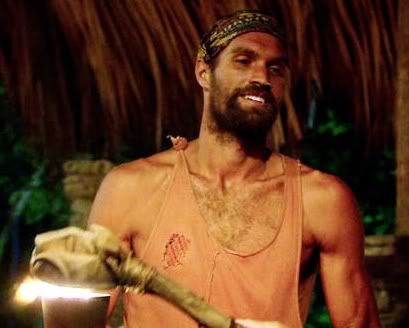 Tribal council. The girls friendship is a topic of discussion and their bond is definitely at the forefront of the men's minds. Rob and Grant thank their women at home for giving them strength. Grant casts his vote for Natalie, but all the other votes are for a completely blind-sided Grant. Well hopefully he can master Redemption Island on Sunday's finale.

Photo Credits: CBS.com, NBC.com