The Bachelorette - Week 2
The first date card arrives at the house, via Chris Harrison putting in some overtime: William is going to "make a splash" in Vegas. Ashley picks William up at the house in her rented sportscar and drives to a private jet to whisk them away. Boo lack of helicopter. At the Bellagio, the pair are greeted like celebrities since people love her. Ashley really wants to make sure the guys are in it for marriage so uses this as a way to terrify a man on a date. They head to a pastry shop
there to taste wedding cakes, like we all do on first dates. They go ring shopping and head to the hotel's wedding chapel. William thinks it's a joke, but once a minister walks in for a chat, he panics. As the "ceremony" goes in and William shows he's into it (he dropped the "I do"), but Ashley decides to not go through with it cause she wants to make out with 17 other dudes. They agree this was the best first date ever and kiss; Ashley admits she's already falling for him. William is attractive, so I'll allow it.
Ashley and William get to have dinner on the water at the Bellagio, which is a pretty sweet date, except they are really close to the wall so like everyone can cat call to them. William gets quite candid when he tells Ashley how his father passed away and his broken watch story, and since both have/had alcoholic dads, it's a bonding moment. Ashley gives William a rose and the Bellagio fountains soar as they kiss.
The second date card is a group date with too many dudes to list, but they too are going to Vegas (masked Jeff is
not
on the date). Ashley and her men head to the Monte Carlo Theater where the Jabawockeez, winners of the first
America's Best Dance Crew
are performing. Ashley dashes away, throw on a white mask, and rises onto the stage. I expect a big solo, but she does a stupid pose and removes the mask, as if none of them knew it was her. The guys are split into 2 crews to practice; the winning crew will get to appear on stage with the Jabawockeez, the other crew flies home. Team B's (aka "The Best Men") dance number stages a rose ceremony, while Team A ("No Rhythm Nation"- well, they win the name battle) does a wedding ceremony. Both routines are absolutely horrible, but the Jabawockeez select No Rhythm Nation as the "winners." The guys that get to stick around receive some real dance training so they don't look like fools on stage. Ashley's role is sort of a dancing maestro, conducting her masked men. Now I see why Jeff wasn't invited; 2 masks would look ridic. The guys all praise Ashley, but she's only OK. She wouldn't get a direct ticket to Vegas on
So You Think You Can Dance
if you ask me.
Post-dance debacle, Ashley and her guys have a cocktail party by the pool. The night is a lot of
mini 1-on-1 dates. She has a thrilling time talking dentistry with Blake. West tells Ashley about his dead wife, which he hopes will let Ashley understand why he can be a little guarded. Bentley is competitive so wants to get the rose (and maybe get his balls tickled? the beep ruined it). Bentley is definitely not here for the right reasons as he's not interested in Ashley at all, despite liking her hot bod. Ashley is feeling something for him and urges him that if he's slightly interested, stick around. She. is. dumb. Ashley gives Bentley the group date rose but he could give a shit and would rather go play blackjack. Good pick, dummy.
The third date card arrives for Mickey
and
JP with a coin made out of cardboard: whatever side it lands on gets the date, because love is a gamble. No, finding love on a staged reality show is a gamble. The coin flip gives Mickey, the chef with
Jersey Shore
hair, the date. Their date is a coin flipping extravaganza which includes selecting win from Aureole at the Mandalay Bay and boozing in front of an aquarium tank (I've been there!). Ashley says the last time she cried was when she was re-watching the show and being judged, so great job choosing to be the star of the show. Mickey and Ashley head to a private in-suite dinner with a phenomenal view of the
strip. Mickey joins the sob story crew, as he has a deceased mother. Ashley twists the rose around and says she's not sure how she's exactly feeling about Mickey so does the logical thing: flips a coin. It lands on heads so Mickey gets the rose (he was going to get one anyway). Outside at the Mandalay Bay pool they receive a private concert by Colby Caillat. Yeah that means nothing to me either, but it's par for the course for this show to do a 1-on-1 private concert date on episode 2. Oh and they kiss- get it guuuurl.
A rainstorm is brewin' outside, as tensions rise inside the house. Ashley arrives and JP pulls her aside quickly, internally raging about not having a date. JP busts out a coin get possibly get a smooch. I'm not sure what the coin exactly was (I think it was tails), but Ashley kisses him anyways. William is arrogant, does horrible impressions, and is irritating the guys. He solidifies himself as house dick by interrupting some curly haired dude's alone time, despite already having a rose. William is already so clingy and overly into Ashley, blabbing about "the best date I've ever been on," that I see shades of Jake Pavelka in him. So could this be a new
Bachelor
setup already?
The only thing going on in the house is shit-talking about masked Jeff. They think he's dumb for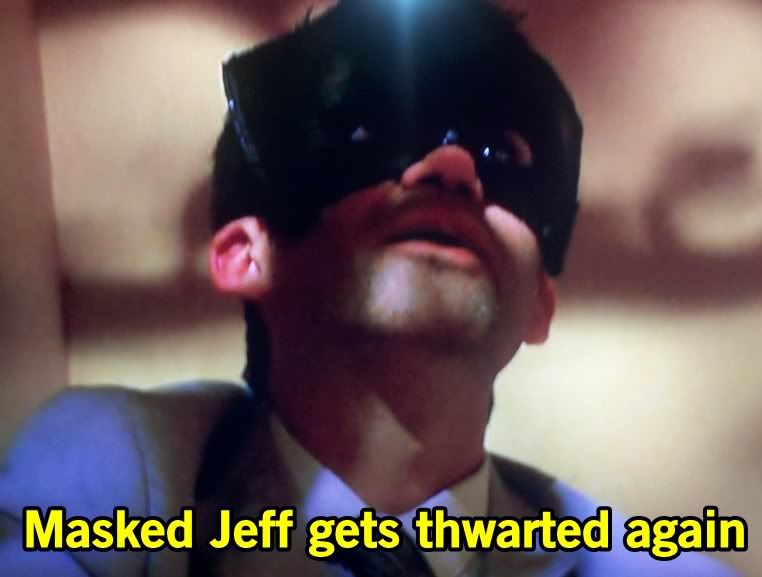 rocking the mask all the time and is hiding his true self. Maybe he should've considered shaving instead of growing some weird beard along with the mask. The guys joke about what could be under the mask, but Jeff still takes this totally serious. He takes Ashley aside, alone on a staircase, which is weird. Turns out years ago, Jeff had a brain hemorrhage, was hospitalized, got divorced. Jeff then drops the bomb: he's ready to unmask. As soon as he touches the mask, Matt (my friend's cousin, BTW- namedrop!) interrupts. Damn you Matt, we'll never see an unmasked Jeff! Good work, producers!
Matt's alone time is skipped to show Ben, who is super-into Ashley. He wishes he could've been on the dancing date and was honestly happy to see her outside of the limo. I like Ben a lot. Meanwhile, Bentley would rather swim in a pool of urine than plan a wedding with Ashley. Classy ass dude. Bentley decides he needs to amp up his game to ensure longevity, so he carries her to the fireplace and kisses her. The kiss, according to Bentley, started good and ended poorly. He's such a dick and I wonder how a person can be convinced to be such an asshole on television. It's crazy what people will do for 15 minutes of fame. Ashley totally has the best sincerity radar and she believes Bentley is legit; poor, stupid girl.
Rose ceremony: 3 guys will be eliminated. The guys raise their eyebrows when masked Jeff receives a rose. The eliminated guys are Matt (who called his mom last week, left her an elimination voicemail this week), Stephen (no idea who he was), and Ryan the impromptu photoshoot guy.
Next week: the guys shit all over Ashley in a roast.
Photo Credit: ABC.com