New!

Food Network Star • The Voice •


New!

So You Think You Can Dance
New!
Food Network Star
- Melissa, you missed "Next" at the beginning of this show title. No I didn't, the show has changed it's name for god knows why. Like even Bobby Flay says, "Who is going to be the
next
Food Network star?" so I think he didn't get the memo either.
The cooks begin to meet in front of Graumann's Chinese Theater and based on the women they cast, they clearly want a hot lady host as their next star. What, Aarti not doing the trick for you? Bobby Flay and Giada DeLaurentis come out of the theater to welcome the contestants and remind them that if they can't cook, they can't win. They also bust out the first challenge: sophisticated breakfast! As opposed to schlubby breakfast I suppose. Whoever makes french toast will be my favorite contestant. Penny is Middle Eastern and makes Challah French Toast. Congratulations Penny, you are my favorite for merely doing this delicacy; well, half-favorite cause she seems like this season's bitch. Some guy names Vic forgets to put his lobster on his lobster sliders and is crushed. He's likable though, like a friendly Vin Diesel of cooking.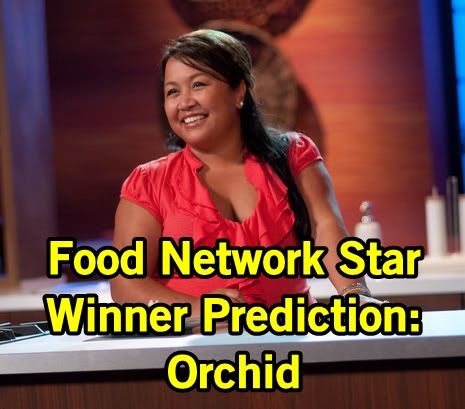 When presenting to the camera, I'm surprised at the onscreen presence most contestants have. Of course there are some exceptions, like food critic Mary Beth and the awesomely named Juba. Howie, who also made french toast, calls himself a novice which is a dumb movie if you are supposed to be a source for cooking. Chris, who left out the chicken and kept blabbing about being so awesome since he went to culinary school, sucked and said "frittata" about 19 times in a minute. Not surprising, when a Mexican girl makes a dish that isn't Mexican she is chastised. God forbid a non-white person make another culture's cuisine. The winner of the challenge is Orchid, who is warm and charismatic (and let's be honest, chubby).
The next morning, the cooks meet food-nerd Alton Brown at a Farmer's Market to film promos in teams of 3. The teams will only get 4 takes to get the promo down, but it's a continuous shot so it has to be re-done from the start each time. On team 1, Mary Beth is good, Justin is wooden and sucky, and Whitney is bossy. On team 2, Susie and Katie kind of ignore Chris, Katie uses a dozen props, and Chris talks like a loser that I'd never want to watch. Team 3 you'd expect to ace it since Howie is a radio personality, but sucks terribly at doing a promo, and Vic cannot remember Jyll's name. Perhaps it's because of her horrible spelling. Alton and Jyll get into a bitchfest with Jyll about using a teleprompter. Team 4 has to try to make Juba's "simple complex"
concept work. Jeff and Orchid are so great though, I'm immediately drawn to them; Juba clunks it up and doesn't smile much. Team 5 has Penny and Alicia the model and they butt heads since Penny is for some reason rubbed the wrong way by Alicia. Alicia tries to hide her accent by mumbling and whispering at the same time, which leads to her sobbing to Alton about not wanting to talk louder. So are we supposed to watch her future TV show with closed captions? Penny tries to do the sexy over-the-shoulder look but comes off like a psycho ex staring you down.
Alton drops a bomb that this was only part 1 of the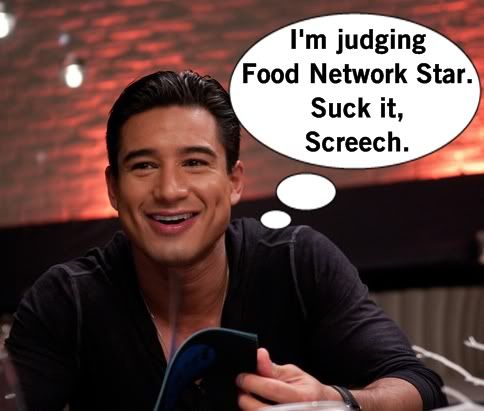 challenge: next they have to impress a panel of the press including AC Slater. The teams will create a four course tasting menu consisting of one dish a piece and then a collaboration. This allows more time for Penny to hate Alicia and Chris to be annoying (he wanted to get a six-pack of beer for him and the boys). Alicia asks Penny to help with the collabo pear dessert, but Penny doesn't like it; the pears end up boiling and ruins the dish. Juba, Orchid, and Jeff are so awesome: they couldn't find key limes so they make Que Lime Pie as in "what?" I think Jeff is my favorite.
Penny makes "sexy" beef stew with "sexy" fennel because her show "brings sexy back into the kitchen." I don't get it either. Justin makes seared halibut and Alicia makes a sticky balsamic glazed rib. Penny presents the pear collaboration, eventhough she loathes its existence. The judges like the dishes, though Alton lets the panel know about Alicia's sobfest on the promo shoot. Mary Beth makes creamy caramelized onion soup, Whitney makes carrot salad, and Justin makes lamb shank; the group dish is Bavarian chocolate cream. You can tell the judges are smitten with Whitney, but see potential with Justin. Howie is a mess in the kitchen, but it's Vic who fucks up again when his calamari falls onto the floor, leaving him to not having a dish to present a second time. Jyll is that one teammate that always helps others more than herself, so her dish suffers. Jeff serves chicken slides, Orchid pork skewers and coleslaw, and Juba shrimp boil. Juba ruins it all because he jumps in to introduce the Que Lime Pie, which Jeff was supposed to. Since Juba has zero personality it's all ruined. Chris' dish is ancho chile butternut squash soup, the group makes a sirloin with a super spicy puree (Chris hated it, judges love it), Susie a ceviche, and Katie an adult s'more.
Jeff, Orchid and Juba are the top team and all safe. They love the dishes, especially the que lime pie even if Juba mucked up the description. The judges advise Jeff to rename his show since "Between Two Buns" leads to giggles. The other teams aren't safe and get to dime each other out. Katie and Susie spill the beans on Chris' beer drama. Mary Beth is told she's clear and concise, but not an interesting personality. Chris has too much personality, Justin is an over-thinker. Chris, Katie, Susie, Mary Beth, Justin and Whitney are all safe.
The bottom teams are Jyll, Vic, Howie and Penny, Alicia, Jeff. Not surprisingly that the two teams with the most drama are at the bottom of the pack. Jeff makes sure the judges know that Penny and Alicia's bickering ruined the team mentality. The judges like Penny's food but aren't feeling the overuse of
"sexy." Justin is deemed safe and in the middle. Alicia's ribs receive great praise and warned she is going to be pushed a lot harder, so toughen up. Jyll took on the majority of the team dish, along with constantly helping Howie, so didn't make her dish as good as it could be. Howie thinks she is blowing it out of proportion, as flashbacks show she is a hot mess. His gnocchi wasn't very tasty either, but keeps trying to pipe in he did more stuff. Vic has to explain a collision caused him to have no dish this time, not poor timing. Jyll's promo stunk but Jill defends herself, citing Howie's flubs and redos meant she could only have one take. Howie's lack of expertise, and mediocre dish, gets him eliminated. I'd also blame the proportions of his head.
The Voice
- It's live performance night and to confirm that to us we're "treated" to the coaches perform a Queen medley, which takes out the word "ass." This just makes me want to watch
The Mighty Ducks
badly. I think my favorite part is Blake Shelton singing like all hardcore and rocking a vest with tie. Christina Aguilera comes out in a pair of extremely unflattering hot pants. Work on the thighs, sweetie. I'm guessing her horrible outfit and pornish makeup is because after the show she is heading to a gypsy wedding.
Ok, so the convoluted rules of this week is that 2 artists from each team will go home next week. There's a contestant's save and a judge's save. See, you don't vote for someone- you vote to "save" them. Um ok? On this episode, Christina's team will go up against Blake's team in the "hot seat." I guess I'll route for team clown whore makeup.
Let's break down Christina's team. Teen Raquel Castro gets to show off her dancing and vocals to Ke$ha's "Blow." If she actually sings it well, it'd be a step up from Ke$sha. You can tell Christina is her coach since they dress her like a clown baby hoe. Her performance is decent, maybe a little pitchy. Beverly McClellan, the white bald chick, performance Melissa Etheridge's "Cause You're the Only One" and this is a bitchin' song and one of my favorite voices on this show. Beverly wears a kilt when she performs, making her more awesome. It's the perfect song choice for her, though I
hope we can see more range so she doesn't just sound like a great Melissa Etheridge cover artist. Lily Elise sings Fergie's "Big Girls Don't Cry." Her fashion again is an epic fail (mirrored cropped coat over a leather/crystal dress) and I thought she did well until the end where it got shrieky and full of runs. Just sing normal. Frenchie, the bald black woman, performs "When Love Takes Over" and since she's last of the night, it's great. I think my favorite comment is Cee-Lo who says her "breath control is above average."
To top it off, there's a group performance of the coach with her girls to "Lady Marmalade" and I'm having
Making the Video
flashbacks. It's fun to see a group filled with such different female voices, like even more different than when the "Lady Marmalade" redux was done years back. Also, Christina was about one more bend-over from full breast exposure. Someone strap those bosoms in.
Blake's team is, well not my favorite here. Jared sings "Lose Somebody" and he sings it really well though it's not the style of music I dig. He's also rocking a shaved head while wearing a bandana Bret Michaels style which is always unfashionable. He also ends the performance singing super close to his wife which is even more awkward. Dia Frampton takes on Kanye West's "Heartless" in her unique vocal styling, along with playing the piano. I'm torn about the arrangement: it's cool because it's different but I also feel like it's trying to hard to be cool and "making it your own." Cee-Lo dips into the hyperbole pool to say "it's probably the greatest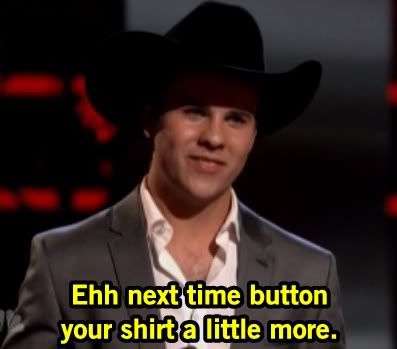 rendition of a song I've ever heard." Xenia sings "Price Tag" by Jessie J and I had no idea what song that was until she sang the chorus. Well, technically sang but was it just me or was she super quiet? She's also young and lacking confidence, so the wardrobe they stuck her in with the awkward dance moves makes it an odd performance to watch. Blake sings along the entire song like on
Toddlers and Tiaras
when there's a parent guiding their kid along the stage (cupcake hands, babygirl!). Patrick Thomas, the country dude, sings "I Hope You Dance" and dedicates it to his sister. You can sing, sis! But why did the stylists decide to dress him like baby Clint Black? Fire these stylists!
Blake's team also performs along with him and their song of choice is "This Love" by Maroon 5. Kissing coach ass- nice play, Blake. It's a notch above
American Idol
group performances but Christina's team smoked them in the group round. The voices don't mesh that well and honestly, Xenia looks like she's going to crap herself from fear so it's hard to get the full vibe.
So overall, Frenchie and Beverly were my favorites of the night. I don't care for Lily and Xenia. Christina's team kicked Blake's teams ass when it comes to group numbers. Next week, Cee-Lo and Adam's teams face off.
New!
So You Think You Can Dance
- Merely days ago, the 31 remaining finalists flew to LA to face the infamous Green Mile. This episode, as the top 20 dancers are revealed, they will then perform in group numbers. The news it that there will be a top 20 (10 guys, 10 girls) and when it gets down to top 10, then the All Star contestants will return. I like this change because
we grow to love the new crowd
then
bring back the favorites. Most importantly, last season's monstrosity of a stage is gone. Hooray!!
The first group team features a batch of contemporary dancers: Ricky, Miranda, Melanie and Sasha (her sister Natalia was cut, so cue people blaming her weight). They perform a wonderful Stacy Tookey contemporary piece with fog flooding the stage, as if they're angels dancing in the clouds. The season has begun in a splendid way!
Next up is hip-hop or as Kat calls them "street dancers," which sounds so shitty. The finalists are Chris, Wadi (who got a shit-ton of Vegas airtime), Chad, and "Can I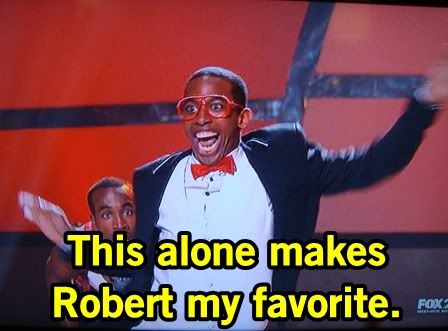 get a woooo" Robert. I am crushed when Virgil aka Lil' O didn't make the cut. And Bryce the Professor didn't make it either- I'm miss that massive cranium. Dave Scott choreographs a hip hop routine and it's refreshing to see 4 hip hop dancers on this show, especially after last year's contemporary domination. Robert's Urkel outfit immediately endears me to him. The routine was so fun and high energy. I am getting so excited for this season.
Out of all the auditioners, only 2 ballroom dancers remain: old face Iveta (who has tried out maybe every
year) and some dude Lenny. They don't keep the both and in fact pick Iveta, who from here on out I will call Xuxa- her doppelganger. Iveta is 30 and doesn't have a personality the young audience will gravitate to; I guarantee she'll be in the bottom each week, unless she has a star of a guy partner. She's super talented (and world top 10 dancer) but I know how people vote. Thankfully, Iveta's advancing allows her to dance with my dreamboat Pasha! To a Spanish version of J.Lo's "On the Floor." Caliente!
Bust out your jazz hands! The top 20 adds jazz dancers Clarice, Marco, Jordan, and self-described sexy dancer Missy. Kooky Sonja concocts one of her avant garde jazz pieces and seriously, this season is going to be so great. I feel it! The end pose is the three girls almost creating a chain to hold Marco- such a great visual. The judges just keep shouting "Sexy!" as their evaluation and it's true.
Since the Vegas episode seemed to focus more on the rejected dancers rather than the keepers, it turns out a tap dancer and a Broadway dancer made it all the way through to the finals and now the top 20. The story of the routine is great: it's a leather jacket-clad street dancers vs. the classy tuxedo Broadway dancer. Though Jess' tux and slicked back hair makes him look like nerd villain Maxwell Nerdstrom. Nigel drops a bomb that 4 female dancers can tap too which means this season they
might
throw tap into the hat for those who could maybe do it (since it's unfair to make newbies attempt it). Overall, the performance is great because along with good dancing, they were in character.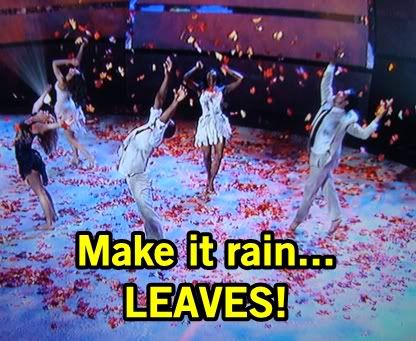 More contemporary dancers: Caitlyn, Ashley, Mitchell, Alexander, and Ryan Ramirez and her ugly cry. These 5 get to start a way many would dream: a Travis Wall piece. Swoon! He is so damn talented. It still remember him when I started watching the show season 2 and his star power. Who knew he'd turn into a star choreographer for the show that gave him his big break? The dance is jubilant (where's a word like that when I'm playing Words with Friends?). They're frolicking in the leaves and just celebrating life. And making it rain leaves!
With the 20 dancers complete (and 30 minutes of show left), we're treated to more routines. The top 10 guys tackle hip hop together choreographed by Christopher Scott of Legion of Extraordinary Dancers (a must-watch on Hulu).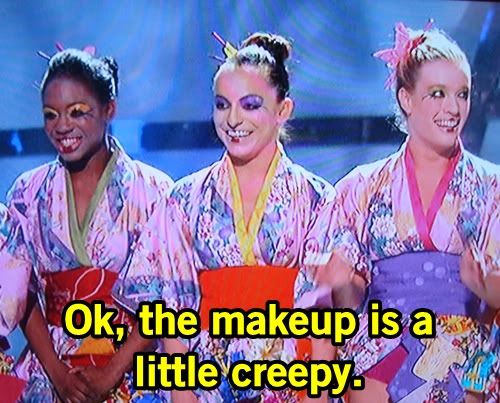 Decked out in slick Don Draper suits, the guys come dancing through bright red doors; one sexy office, amirite? Or really the Dalton Warblers in an office setting. The girls perform as creepy geishas choreographed by... Sonja, of course (who seems to have dipped part of her head in peroxide). I don't see it as creepy at all. It's fun and cute, like bubblegum geishas. The night ends with the entire top 20 working with Tyce Diorio. It's a big, busy routine full of acrobatics, pirouettes, and black fringe trim. And now, the season begins. And we can vote online! No shame!
Photo Credits: BuddyTV.com, FoodNetwork.com