Food Network Star •

Finale!

The Voice •
So You Think You Can Dance


Food Network Star
- The "stars" are greeted by former winner, Melissa D'Arabian, and a room full of Kellogg's products to create an "impressive and sophisticated" bite size hors d'oeuvre
for the Camera Challenge. The judge for the challenge is Iron Chef Michael Symon, who I heart greatly. Susie doesn't get the product name right, but hipster Justin (as opposed to dullard Justin) more awesomely sounds like he says his dish tastes like "human" than "cumin." Jeff makes a poop joke faux-pas thanks to his bran joke. Jyll is the winner of the challenge for her crab cakes with Rice Krispies. Chris makes a surprising improvement and is #2 this week for his harnessed performance of corn flake chicken nuggets.
The Star Challenge is to cater a lunch in teams for the
cast and crew of
Cougar Town
inspired by the different groups that work there: art department, crew, writers, vanities, and cast. Penny considers herself a cougar so is soo excited; vomit. She's not so excited to be paired with Mary Beth and the feeling is mutual. Hipster Justin misheards Susie over the phone and buys 2 boxes of quinoa instead of 10. Yeah, big difference there. His salmon is also chock full of bones so he better do a good job pokin' around there. Jeff/dullard Justin can't find ground chicken or turkey, so Jeff wants to get tofu. Later in the kitchen they get an inspirational talk from this week's guest judge, Paula Deen. The advice is not, "More butter, y'all," much to my surprise.
At the set, Bobby and Paula interview the "stars" as they do final meal prep and that's when Paula gives butter advice. The crew member announces it's time for lunch and in come the crowds. The stars of the show get to sit at a fancy table and get served while the rest of the crew it's buffet style, because they are lowly crew. Chris is a pleasant surprise again, while Orchid gets a little starstruck. Jeff uses his personality to charm the panel into liking his tofu, while dullard Justin keeps up with his nickname. Paula surprisingly likes the tofu dish, as does the rest of the diners. Hipster Justin still has a boring personality, Whitney's dish was a boring snack of vegetables, and Susie's called a spitfire and made a tasty dish. Vic impresses the rich and famous and his food is hearty, despite being vegetarian. Jill made salad- BFD. The best part is they like Mary Beth, hate Penny and her burnt tasting mac and cheese- ha!
The judges pick a winner from each team, and then the losers are up for elimination. Highlights of the best: Vic is praised for his turnaround and Jeff is given kudos for making the best tofu any
of the panel has ever tasted. The winners (safe people) are Jeff, Orchid, Mary Beth, Susie, and Vic. Aaand the worst: Jyll made a confusing salad, dullard Justin is still boring and his food wasn't even good enough to back it up, and hipster Justin has an identity crisis. Penny's mac and cheese is discussed and loudmouth Chris pipes in that he thought the cheese was burnt, pissing her off more. Jyll and Chris are quickly dismissed to safety, leaving Penny, Whitney, and the two Justins. For some reason, the panel is pretending viewers would like watching some major bitch host a show, so they keep Penny. Out of the competition is Justin B aka dullard Justin because watching paint dry is more interesting than him.
Finale!
The Voice
- The coaches decided "just hours ago" (suuuure) to perform Queen's "Under Pressure" to symbolize this experience for their finalists. Since there's 2 hours and only 4 contestants, I expect a lot of time filler. Each finalist will sing twice: once with their coach and once with an original song. Ughhhh, why?
Javier and Adam collabo with producer Rodney "Darkchild" Jenkins for his original song. His song is called "Stitch by Stitch" and it's a well-written song but boring. I'd change the radio station if this came on. Javier's duet with Adam is to "Man in the Mirror" by Michael Jackson, a personal favorite. Now I want to watch
Captain EO
on YouTube. In rehearsals I liked the duet, but live it doesn't work for me. It's missing something.
Dia and Blake duet to "I Won't Back Down" by Tom Petty and it's sung really well and a great performance, even if their
Men in Black
inspired costumes make them look like a-holes. Her original song is written by a dude who's worked with Adele, which is perfect for Dia. "Inventing Shadows" has Dia sitting at the piano (surprise!) with some backup dancers behind screens. She sings it well but all I can picture while listening is long, lingering
Grey's Anatomy
glances in montage form. Just not my cup of tea but I plenty of folks that are Dia's fans.
Vicci's original song is produced by Butch Walker, Cee-lo's "homeboy" and he's worked with Pink and Dashboard Confessional. Vicci also feels Cee-lo's producing capabilities is an asset the other contestants don't have. Her song "Afraid to Sleep" is really good, though I think she was a little flat at times. Her dance moves are a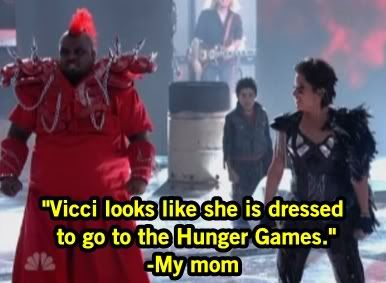 little corny too, but I think with some more time to finesse the song it could be a strong radio single. Vicci and Cee-lo's duet song choice is amazing: "Love is a Battlefield" by Pat Benatar. YES! The live performance is over the top with mediocre child break dancers, with Cee-Lo dressed like Bowser and Vicci sort of Mad Max looking without being covered in a layer of dirt. It's a fun performance but in all honesty it doesn't sound that great. It sounds like when I played Band Hero for hours and I did drums and vocals.
Christina's duet with her finalist Beverly pays homage to an artist Christina loves: herself. No surprise, she has the bald woman sing "Beautiful" with her cause get it, Beverly is beautiful too even if she has a shaved head. Gaaaah. The thing is, I think Beverly is so damn good so even with this stupid song choice I love the performance. Beverly sings so well that she distracts me from the maroon hat Christina snatched from Blossom's closet. Beverly's original song is titled "Lovesick" and it's good upbeat single, especially for her voice. She also dances around to the point of laying on the piano. Beverly rules, for realsies.
Based on all 4 finalists' performances over the night, and despite me not being her fan, I predict Dia will win
The Voice
. So let's fast forward and head on over to the results show.
Finale! If the crowd cheers are any indication in announcing the final 4, Dia's a shoo-in to win (my mom pointed out she was the top song on iTunes- sorry LMFAO, you're out).
Each of the final 4 gets to perform one last time with a famous musician. Vicci Martinez performs "Drops of Jupiter" with the lead singer of Train. I didn't think I could hate this song enough, but nope I can hate it more. Crappy duet and Vicci's weird bounce dancing- fast forward! Javier is joined by Stevie Nicks to sing "Landslide," a song I absolutely love though I kind of wish Beverly got to sing with Stevie. That aside, it is an amazing performance, with beautiful harmonizing together. Great duet! Beverly sings "Good Life" with that guy from One Republic because... honestly, I don't know. Kind of a random choice, as random as Beverly's super long suit coat.
This is not a good duet- fast forward! Blake adds one to the spank bank, having his wife, country singer Miranda Lambert, sing with his finalist, Dia.
Results are in! Carson tells us, or should I say poorly reads from a teleprompter, that the winner and runner-up were only 2% apart. Following the iTunes charts mold, the top 2 are Dia and Javier (they were the #1 and #2 single). The winner of
The Voice
is... JAVIER. So Adam Levine coached a champ and the guy who was used in the original promos to show an amazing voice won. The end!
So You Think You Can Dance
- This is such a tough night to decide best and worst, mainly because I am rocking the HitFix Fantasy SYTYCD League after week 1 and I want to stay in the top. Lil' C, king of Krump, and Kristin Chenowith, of Broadway,
Pushing Daisies
,
Glee
, and other awesomeness, sits in on the judge's pangel for the Top 16. Along with the partners, they 16 are split into 2 groups for routines. One group does a Tyce Diorio Broadway with lots of chair dancing to "Hit the Road, Jack." It's a fun routine with a little 'tude and lots of tossed chairs. The other group routine at the end of the episode is medieval women poisoning men. It's actually sort of a sad romantic routine as they lovingly dance and eventually convince the men to drink the poison and die. Debbie Downer alert!
Best: Miranda portrays an "upper class working girl" (that means prostitute, dummies) for a Broadway routine with her partner Robert. It's sexy and has this sort of Gregory Hines (faux) tapping bit I like a lot. Good thing for that week 1 reprieve of these 2 could've been toast. In a Nappytabs lyrical hip hop piece, Markko plays a jilted groom who realizes that Melanie, his BFF, is the one he really loves and stays by his side. The story is great, Markko's watery eyes are so honest, and the dancing is amazing. Still my favorite couple! This leads the judges to all make out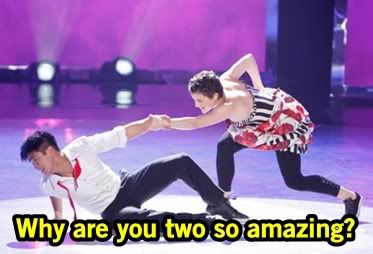 with each other (not kidding), including Nigel and Lil' C- HOTNESS! Rickey/Ryan are a couple in love, but full of heartbreak, in a contemporary piece by kooky Sonja. I pegged these 2 before the episode as bottom 3 shoo-ins, but the routine, which includes spinning Ryan out of a ribbon wrapped around her body, is beautiful and emotional. Jess is a crooner who sweeps a Clarice off her feet in a foxtrot. I think they both dance it well, but I also know these two are pretty low in popularity polls. I'm so torn!
Middle of the pack: Sasha and Alexander's routine is contemporary (by Dee Caspbary), meaning they both really lucked out again. Sasha's character is the memory Alexander has lost. It's a routine full of energy and amazing jumps, oh and Sasha hiding inside a piano and popping her hands out like a creepy magic show. Alexander does get some advice to learn to connect to the audience better, which is true. I much prefer Sasha over him. Caitlynn/Mitchell perform a hot and spicy samba choreographed by my beloved Jean-March Generaux!! Lots of sexy hips swishing and shimmies- all the good ballroom stuff. At the beginning it was a slam dunk, but now I wonder if they'll fall to the bottom for not being as
memorable. Jordan/Tadd wake up after a crazy night of one night stand bangin' and end up in each other's clothes. It's a good routine but I think they lack chemistry and Tadd is way stronger than Jordan in the dance. I know the judges loved it, but fans also aren't digging Jordan.
Worst: It's yet another kooky Sonja jazz routine, this time danced by Ashley and Chris. Decked out as Beetlejuice Swamp Things I guess, but I never connected with the piece and found myself bored.
After a really unsynchronized and kind of dull group routine we jump into the results show. The bottom 3 are: Ashley/Chris, Miranda/Robert, Caitlynn/Mitchel. FFFF my fantasy team of predicting the bottom 3 is screwed. Instead of Caitlynn/Mitchell I had Clarice/Jess. Damn my top scores are ruined! Time fillers into a performance by dance troupe Access (he's in a wheelchair!) and some ballroom dance champions- no lip synched performance by a singer! In a not unanimous decision, Miranda is eliminated for the girls. Her partner, Robert, goes along with her.
Photo Credits: BuddyTV, FoodNetwork.com