Food Network Star • The Voice •
So You Think You Can Dance
Food Network Star
- Why is this show 90 minutes now? Gah. The Camera Challenge is to make Hershey's chocolate products into dinner. A vending machine randomly assigns their candy and there's Reese's, Peppermint Patty's, etc. I'd name them all but I'm not getting paid to promote their candy like these fools are. Chris puts notes on his hand as if he's about to take an exam and never studied. Vic dips asparagus in chocolate (bleckh) and made an overcomplicated dish, while Alicia continues to be the worst on-camera presence ever and made something that tasted more dessert-y. Jyll is the winner for some her Almond Joy shrimp and great performance; as winner, Jyll gets an advantage in the Star Challenge which I hope includes a name re-spelling.
After hanging around in the "butler's pantry" (seriously Food Network), the chefs re-enter the kitchen to find
Ace of Cakes'
Duff Goldman and
Restaurant: Impossible
/former fraud Robert Irvine in the kitchen. The "stars" are split into two teams of six (one cooks for Robert, one for Duff) and most create an "over-the-top" dessert display, must feed 150 guests, and each make their own dessert as well as two team dishes. Jyll is able to pick her team (Duff, who wants kind of kind desserts) and her teammates: all the women except bitchy Penny. Smart move! Team Robert (sophisticated desserts) are all the guys and Penny.
In the kitchen, the men's team is loud and spilling, while the lady's side is calm, quiet, and full of girl power camaraderie. However, Alicia is still a frazzled nut who might not remember her cake recipe which is clutch for her cupcakes
and
the team dessert (cake pops). Susie's churro tanks so she comes up with a plan to call them pancakes. You know, that classic dessert of pancakes- durrr. There's a cookie disaster, but they try to turn it into a crumble. On Team Robert, the only thing messier than Chris is their actual kitchen, which is covered in pastry excess. When Robert notices there is no leader, he forces the team to select one so it's culinary talented but boring to watch Justin. The bigger problem is that Chris' cakes suck so Justin wants to remove these atrocious messes from the menu. Last minute, they make some fennel seed ice cream or something pretentious like that. Hurricane Chris drops his pies all over the floor and burns himself. God, go home already!
The displays are set (Team Robert's is eye-catching thanks to some boxes that Penny fought the women over) and the crowds roll in. The women are really personable and welcoming, while Chris is schmoozing with the ladies- ugh. Alicia and Susie's dishes are pretty terrible, with a cupcake being compared to cornbread and the pancake chewy. Penny has to prove Team Duff was so bad that she digs in the trash to show the remnants of terrible desserts. The judging panel hate the desserts on Team Duff as well, with a few exceptions (Whitney's cream puffs, Jyll's carmelized banana sandwich dipped in chocolate, Orchid's chocolate pecan pie). On Team Robert, Chris offends the panel by speaking only to Bobby Flay and ignoring the others. Their presentation is bland and but many of their desserts are delicious, a surprise since they are a team of cooks not bakers. Vic's cream puff with a tequila filling pleases the panel, Justin's corn pudding is tasty but should've had real corn, and Penny's dessert is a slam dunk. If only she wasn't a complete a-hole most of the time. Chris' dessert and Bobby obsession sucks.
Panel deliberation time. Team Robert discusses their hectic leadership. The panel worries that Penny won't translate into a likable person for viewers. Justin B's dishes are tasty, maybe a little easy, but he's a dullard. Other Justin is sort of the same- he doesn't stick out. The panel unanimously loves Vic's dessert, and hate Chris' tart and his Bobby Flay obsession while ignoring the others. They are the winning team and unfortunately Chris is still on this show. Kill us now.
Team Duff sucked. Their personality and presentation was wonderful, but the food made the diners gag with a few exceptions. I wish they'd just give Orchid the prize cause she's awesome, but the panel says she's not growing. Alicia takes credit for some leadership but also learns her cupcakes were underbaked (she's shocked). For someone who makes cupcakes for a living, that's pretty damn sad. She breaks down
again
. The bottom group are Alicia, Susie and her failed churro pancake, and Mary Beth's runny milkshake. We've saved from another cryfest next week and Alicia is eliminated.
The Voice
- I'm not even kidding when I say Christina Aguilera's stylist should be tarred and feathered in front of a public audience. Honestly, she dresses so fucking terribly. The only thing worst than Christina's outfits is Carson Daly's wooden hosting. How does a many host
TRL
for like 8 years and someone still have an NBC late night show have such terrible hosting skills?
Anyways, Cee-Lo's team gets the verdict from the votes. America saves Vicci Martinez who sang that amazing rendition of "Jolene." Cee-Lo gets his choice of a save which includes the longest rambling ever of god knows what. My beloved American Juniors are eliminated and Nakia, aka Not Horatio Sanz is saved in the competition. Then Adam Levine's team comes up and the most obvious vote ever is revealed: America saved Javier. Adam doesn't know what to do, babbles on (I fast forwarded), and eventually saves Casey (eventhough his original plan was to save Jeff). What sucks most is being told I was going to save you but nah, nevermind. Sorry mah man.
So the 8 semi-finalists perform and we vote and one person from each team will move to the finals based on our votes and the coach's score. Frenchie performs "Like A Prayer" with some weird disco beat, which I think sort of ruins the song. Nakia is assigned Adam Lambert's "What Do You Want From Me", which allows me to internally scream that in my head. He performs in a
white suit at a piano, keeping with Cee-Lo's trend of trying to make a current song super artsy when instead it's like Meatloaf. "Losing my Religion" by REM is Dia Frampton's song so it'll be acoustically delightful. If I liked folksy Grey's Anatomy music anymore I'd totally love Dia, but it's not my style. However, I think she stands the best chance of winning besides Javier. Because Adam Levine loves a good cliche pick, he has Casey do "I Will Always Love You" by Whitney Houston. Seriously Adam? Find a new song catalog. It's a super pitchy performance more like the Dolly Parton version, but at least her dress is adorable.
Beverly McClellan sings BB King's "The Thrill is On" dressed like a vampire, as my roommate points out.
But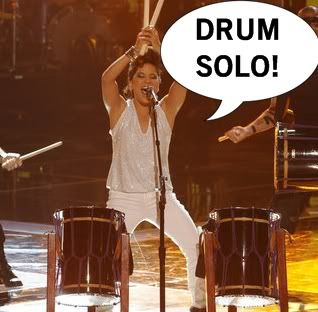 man Beverly sing; can I mention again she's my favorite? Fan favorite Javier goes for a weepy Coldplay song (but adds some rock pizazz) and it's another fantastic performance though he has some crazy facial ticks and squints. He even goes sans-hat, a first for him. The awkwardness that is Xenia sings something by The Script? Never heard of them and again, her Grey's Anatomy soundtrack voice doesn't appeal to me. Vicci Martinez closes the show with Florence and the Machine's "Dog Days Are Over" which is overplayed, but I bet Vicci can rock it. For some reason they give her a pompadour and some drums to play with a drum circle (but not in an actual circle).
Filler time, besides a lot of coaches blabbing about nothing. Maroon 5 performs their new "Moves Like Jagger" single and Christina Aguilera comes on stage in her Forever 21 hot mess of an outfit to sing. She sings better than she is styled. Blake Shelton performs some song called "Honeybee" (how dare his disgrace my name origin) with his team of ladies (Xenia, Dia) too but I mute it. We also see the system for votes: coaches score + audience vote score. The coaches votes split 100 points between their team and write it on enevelopes that we'll see on the results show. My prediction for the final 4: Cee-Lo- Vicci, Christina- Beverly, Blake- Dia, Adam- Javier.
The 8 perform as a group to George Michael's "Freedom" (no "I Want Your Sex"?). It is way better than
Idol
, that's for damn sure. Cee-Lo is a huge time waster by babbling about the troops and reading a poem. In the least surprising thing ever, Cee-Lo split his points as 51 Nakia, 49 Vicci. Wow, way to take a stance. America's "score" counteracts the 2 point different and Vicci Martinez advances and Nakia is eliminated. Cee-Lo then performs and I fast forward cause I don't curr.
Adam Levine's team jams with him and Gym Class Heroes then faces judgement. Adam gave Javier 65 points and Casey 35; he explains it's because Casey is young and has a career ahead of her and Javier needs to stay in to "play the game." Playing to win, nice one Adam. America obviously agrees and Javier moves on. Blake brings Xenia and Dia on the road with him to perform; Blake went 50/50 on the points, another non-shocker. The most obvious decision ever is revealed and Dia Framption stays alive. Team Christina is probably the only close battle of the night: the battle of the baldies. Both women are such powerful singers, but I thought Frenchie's disco Madonna last night didn't work. It's no surprise that Christina splits her 100 points evenly which to me means this whole point system was a big waste. My pick, Beverly McClellan, moves onto the finals- yay! So go me for getting all of the final 4 correct- I rule!
So You Think You Can Dance
- No one got eliminated last week, so all 10 couples perform again and 4 dancers are gonna get cut. The guest judge of the week is Debbie Reynolds? I hope she tells stories of being berated by Gene Kelly.
Let's first go over my favorites of the night. Caitlynn and Mitchell work with Stacy Tookey on a contemporary piece about a girl who is too insecure to leave her controlling boyfriend. It's beautifully danced and their emotions are so real- loved it. They get so into it Mitchell even cuts Caitlynn's nose- what an abuser. Wooo Robert and blaaah Miranda perform a Nappytabs hip hop routine
about a woodpecker. Yeah, just go with it. I liked this routine more than I thought I would and was surprised at Miranda's ability. Though I did think they lost steam about 3/4 of the way through. Overall, I dug it a lot, especially Debbie Reynolds' Woody Woodpecker impression. Jordan and Tadd are tasked with the Viennese Waltz with Jean-Marc Genereux (!!). I think the dance is really pretty. I also like Jordan's purple dress- it's so sparkly and such a good purple shade. It's surprising how good Tadd is at the waltz considering he's a b-boy.
I have 3 middle ground routines. Melanie and Markko are totally adorabz still and do a jazz routine with some sweet bowler hats. Markko drops his hat at some point but overall I like it though it might be my Melanie-love bias. Sasha and Alexander dance a topical hip hop piece about a soldier coming back from Afghanistan and reuniting with his wife. I'm torn because Sasha is beyond amazing in the routine; I can't look away from her. Alexander, in my opinion, was a clunker. I think the storyline biased the judges from truly evaluating them properly. Clarice and Jess' contemporary is danced well but something about it gets neither the thumbs up or down from me. Maybe it's because Jess had a dumbass costume.
And now my least favorites. Rickey and Ryan get a Mandie Moore an X-rated jazz routine to 80's classic "Addicted to Love." There's a lot of pelvic thrusts, Ryan has George Washington hair and makes ugly faces; I didn't care for it but the judges loved the skankiness. Missy and Wadi take on a cha cha with my most favorite choreographer, Jean-Marc Genereux and his fantastic French accent. Missy's leopard costume is so unflattering with side straps that give the illusion of rolls. Wadi gets the brunt of the criticism, while Missy gets praise. It's not very memorable. Iveta and Nick
get the dance everybody wants: Bollywood! I think the judges overly praise the Bollywood routines. They said it was entertaining and yes it was fun, but it wasn't synchronized at all. How did they not miss this? They are
really
trying to make Iveta last. Chris and Ashley tell the story of a woman visiting her man behind bars for a Broadway routine. They had me at the
Crybaby
soundtrack for "Please Mr. Jailer," but they lost me with zero chemistry. It was supposed to be super sexy but it wasn't at all (but the judges love it- Mary even puts it on her famous Hot Tamale Train); it just makes me want to pull out my
Crybaby
DVD and watch the original scene.
The top 20 dance as a big ass group again, choreographed by Dave Scott, dressed in coat, tie, and plain bermuda shorts. I enjoy the simulated slo-mo stage walking at the end best. Four dancers are eliminated tonight and since there's only 6 dancers in the bottom, this should get interesting. The bottom 3 are... imaginary drum roll please... Melissa and Wadi's terrible cha cha, "29 year old" Iveta and her partner Nick's uncoordinated Bollywood, and hammy-faced Ryan and Rickey.
The time fillers of the night include shoving Gatorade product placement down our throats (and learning to eat ice cream sundaes instead of a sleeve of crackers), a performance by Rage Crew (teen and kid dance crew that's really talented), and a pitchy performance by LMFAO with Quest [crew] as their backup dancers. They didn't even perform "Shots" but just know I'll sing that in my head all night anyways.
The solos are good times as always. I really enjoy the musicality of Wadi's breakin' but it's not the best breakin' solo ever. Rickey truly dances for his life and it's awesome- I think it's more anti-Ryan votes than non-Rickey fans. Poor Iveta (aka Xuxa) has to do that ballroom shimmying around the stage alone which is always really weird to watch. Ryan of course makes more ridiculous faces when she dances. The judges deliberate and are unanimous with their decision. For the women, Ryan stays and Iveta and Missy go. For the men, Rickey stays for his amazing solo, eliminating Wadi and Nick. Man, I predict well!
Photo Credits: BuddyTV.com, FoodNetwork.com