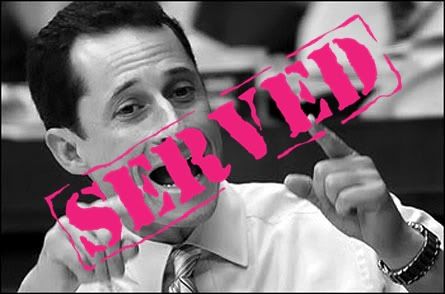 Name:
Congressman Anthony Weiner
SERVED:
I think I should literally
copy and paste last week's SERVING of the Week
and change the name to Anthony Weiner, the congressman texting/Facebooking pics of his... wiener. Yes, the man with the last name "Weiner" is in a penis scandal.
SERVED
. I don't think I need to recap the whole saga (Democrats want him to resign, wife could be pregnant, etc.) but here's my advice to anyone with nudie pics of themselves: DON'T SEND THEM. Delete now. Keep it to yourself or you're gonna get
SERVED
.
Think someone should get SERVED? Leave your ideas in the comments section, email me, or hit me up on Twitter or null.

Photo Credit: Dlisted