Food Network Star • So You Think You Can Dance
Food Network Star
- 1 hour episode, rejoice! The "stars" head to a parking lot with 3 food trucks and host of
The Great Food Truck Race
, Tyler Florence. The teams
will have to create a food truck concept and film a 30 second intro to their truck and that commercial will determine which food truck they try. Vic, Jyll, and Orchid decide to do a crazy taco truck, "Fierce Food Fusion." Their commercial is fun and friendly and really overuses "We're gonna have a great time!" Whitney, Jeff, and Susie do "Balls on the Roll" which I guess it like different meatball subs? Susie doesn't like the balls, but Whitney overrides her. Their commercial is balls puns overload, which worries Tyler. Chris, Penny, and Mary Beth put "the wrap back on the map" (didn't know it left) and say they're "Chris' Angels" (ew) and then bore us. Ugh, awful.
The next morning, Balls on the Roll puts on their red headbands and head to the other "stars" to see their poorly decorated food trucks. Was the budget for this $11? What terrible decals. The chefs prep their dishes in the trucks and then the 150 guests and judges enter the hanger where the trucks are. First, though, they have to watch the commercial to decide which one food truck they will dine at. Bobby Flay must have smoked up before because he laughs really hard at the extremely bad promos. As if they paid the crowd, there's double-take head turns to the mere mention of "balls" (except Tyler and Bobby who lose their shit laughing).
Penny is so slow so when a line begins forming for her filet mignon wraps and none are ready, it looks bad. Good news is it tastes amazing. Mary Beth places peacemaker to the crowd during the extreme delay; too bad her chicken is bland and Chris' lobster is non-existent and filled with cream cheese. The Fusion truck interacts well with the crowd, making everyone a happy camper, but Orchid feels left out of Jyll and Vic's BFF banter. When interviewed by the panel, Orchid tries to talk but the judges keep interrupting like assholes and when she gets to speak she gets overshadowed. Jyll's taco is way better than last week, Vic's "Phillrito" is a good combo of cheesesteak and burrito, and Orchid's slaw is sour. As for Balls on a Roll, guess no one likes penis humor cause they have very few customers (until people get tired of waiting in lines and then head to the truck). Once the people try the food, they love it (except Whitney's fall-apart falafel). Susie's soup is spicy and Jeff's meatball from a family recipe is a hit.
Judgment time. The panel liked the Wrap It Up concept, hated the commercial, but only liked Penny's wrap (but of course the team makes sure it's known that Penny's slowness affected service). The panel is completely turned off by the catfights and don't like Penny's animosity since people are supposed to like the stars on the network (insert immense laughter here thinking of all the horrible people on the network). Fierce Food Fusion is a hit personality-wise with the people. They love Jyll's shrimp po-boy taco and Vic's burrito and heart and soul. Orchid gets the criticism
for being overshadowed and having a subpar dish. Balls on the Roll is chastised for the abuse of ball jokes, especially Whitney who is trying so hard to have a personality that it hurts. Susie is informed that she needs to explain and define her food because if not the people won't get it. The panel loves Jeff's story of the food (as well as the meatball sub itself), but is tired of his hacky comedy. Vic is named the overall winner of the week, with Susie and bitchy Penny as runners-up. Mary Beth, Orchid, and Whitney make up the bottom 3 of the week. Early front runner is Orchid is eliminated from the show.
So You Think You Can Dance
- We're in the last episode where you vote for pairs which means we'll all be making the painful choice of supporting Melanie
or
Marko instead of the pair. Joining Nigel and Mary on the panel this week is Sonja Tayeh and
Modern Family's
Jesse Tyler Ferguson. There are 2 routines tonight so I'll just do a best/worst routine and not list everything as to not make the longest paragraphs ever.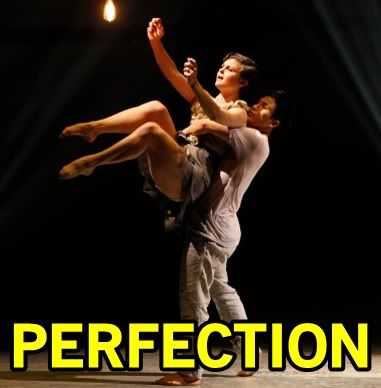 Best. Louie Van Amstel from
Dancing with the Stars
choreographs power couple Melanie and Marko in a tango. It is sexy and I love the move where Marko dangled Melanie over the edge of the stage, but the ending with the insane flip is where it's at. Words can't even describe this move- it's so insane! They follow it up with a beautiful contemporary piece, again highlighting their perfection in dance. Sasha and Alexander dance the paso doble clad in black leather. It's strong and powerful with Sasha being the matador (usually the male role), though it loses some steam near the end. Their second dance is a Tyce Diorio piece where they just sort of dance their hearts out and their passion shows; they are definitely in the top 10 now. Jordan plays a vulturous woman preying on Tadd in a Travis Wall piece, and it's nice to see the darker side of Travis. Jordan and Tadd can really shine, which is probably good since their other routine sucked (see next paragraph). Caitlynn is super-hot as a quasi-adulteress and even gets to slap Mitchell across the face, though she gives a lot of dance recital faces that bug me (and Nigel). Jess and Clarice's jive is so fun and happy that it's hard to not enjoy it. Their hip hop was danced well too, but the routine was too hokey for me (sorry Christopher Scott, but I don't think your work on this show is any good).
Worst. Ryan and Rickey do a Broadway routine about a movie poster coming to life. It's danced meh, it's a tad bit dull, not extremely challenging, and doesn't help them since they are unpopular.
Their cha cha is fast and Ricky does well, but Ryan is sloppy and they don't have much sexy chemistry so it didn't work well. Caitlynn and Mitchell represent the children of Uganda fighting in war in their hip hop. Ummm yeah. Unlike other routines that take on social issues, this one isn't good and they aren't synchronized. Jordan plays Sleeping Beauty in a Broadway routine to "Out Tonight" from Rent. There's just something that doesn't click about this. The pacing/timing is weird, Jordan makes dumb faces, and it's corny.
Results show! The group performs what seems like an eternity in a ballroom/jazz fusion thing. More importantly, guest judge Jesse Tyler Ferguson foretold the future the night before as Cat Deeley was nominated for an Emmy for best reality show host. The show was also nominated for best reality series and numerous choreographers (Travis Wall, FTW!). The downer of the episode is that 2 dancers will get cut and not get to dance with the All Stars. Who are the All Stars? Well not Alex Wong who snapped his
other
tendon a week ago. This show really does not want him back in karmic ways. The All Stars are Melody (S1), Allison (S2), my boyfriend Pasha (S3), Twitch, Comfort, Chelsie (S4), Brendon (S5), Kathryn (S6), and Robert (S7).
The bottom 3 couples are Caitlynn/Mitchell, Ryan/Rickey, and Sasha/Alexander. Wait, the one week I finally don't call Alexander awful he ends up in the bottom? Oh world, you amuse me. Alexander's solo is god awful, so bad that I am willing to take a hit in my fantasy team to never see him dance again. Ryan and her giant mouth are eliminated from the girls in a unanimous vote, however the guys vote was 3-1 and Alex is eliminated for his horrendous solo. Well I've wanted him gone for weeks and it's happened. Too bad I didn't put him in any spots to earn some points.
Photo Credits: BuddyTV.com, FoodNetwork.com