Food Network Star • So You Think You Can Dance
Food Network Star
- The 6 "stars" leave the Los Angeles mansion for Newwww York City's Flathotel, then quickly head to Food Network's HQ at Chelsea Market. Bobby Flay greets the "stars" in the shiny Food Network kitchens and then brings in Ina Garten,
The Barefoot Contessa
who hates being a good person. The Camera Challenge is to sum up yourself in a cupcake. FYI, I'd win the shit out of this challenge. I guess because none of them are bakers, a lot of the "cupcakes" are merely savory items stuffed in a cupcake tin. Whitney makes the "wise" choice of serving Ina Garten a complete replica of Ina's signature cupcake. I can't believe she doesn't get completely reamed for not making something original because it's supposed to be themselves in a cupcake, not your take on Ina. I liked Mary Beth best with her delicious strawberry cupcakes and story about picking strawberries with her son; the judges liked her best too. They also liked the taste of Jyll's chocolate orange cupcake, less her phony personality. Jeff is the challenge loser for "taking savory to a new level" which means "sucky."
Rachel Ray's raspy mug shows up on a TV screen to invite the "stars" to appear on The Rachel Ray Show for their Star Challenge. Each "star" is given a mystery dome and under each dome is a classic family dinner they have to put their own twist on. The dishes are: Vic- lasagna, Mary Beth- Shepherd's Pie, Susie- Chicken Stir-Fry, Jyll- Meatloaf, Whitney- Chili, Jeff- Porkchops and Applesauce. Along with the 3-minute cooking demo, they also have to do an intro to their segment and a Q&A with the studio audience. So complex! (not really)
Rachel gives a quick hello to the finalists in the Green Room before bringing each out to do their intro, demo and Q&A. Whitney is first and coins the term "gourmazing" which makes my stomach churn. Whitney begins very mechanical and teachy, but is able to get in some personal facts about her brother and gazpacho in thanks to the Q&A during the demo. Mary Beth is super enthusiastic about her Sunday Suppers but her Shepherd's Pie is a pretty basic recipe so she runs out of talking points and energy. Vic is the mam's boy that looks like a thug- get it?! The judges have a boner for him and I just see early flashes of a new Guy Fieri. Vic combines lasagna with chimichangas (lachanga), meaning he shoves leftoever lasagna into a tortilla (but forgets to mention this), fries it, drops in sauce. Oh superb. His demo is boring and has no Q&A. Susie kind of implies Mexican food is low class and she'll make it better. Her take on stir-fry is a fajita and it's sooo boring to watch. My favorite moment is her ignoring the audience member who wants to ask a question. That woman will go hungry forever! Jyll has a great intro and then gets totally stumped when someone asks how her show would be different from any others and she's like "Sheeeeeeit." Jeff's intro about turning any meal into a sandwich is a slam dunk and then high fives the crowd. I love him most. Along with a great sandwich, Jeff aces the demo and Q&A from the audience, while also schmoozing for a second appearance on the show.
Stop: panel time. The judges like Mary Beth's physical presentation of the Shepherd's Pie but her demo was an information-lacking bore. Jeff is praised for personality but said the demo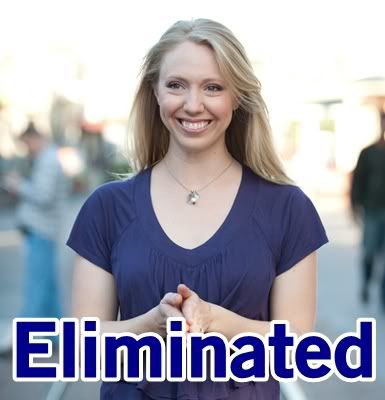 lacked in knowledgeable info. Jyll was not funny and has no idea what her culinary POV is, which is a bad move to make at week 8 when you can't articulate your thoughts. Vic's omission of facts about the lasagna being leftoever ruined it all, though Bobby still think it tastes crappy. Judge Susie doesn't like that star Susie perceives Mexican food to be a sloppy mess. Whitney's chili tasted good but was more of a soup. She presents and teaches well, but her personality and stories are lacking. Jeff and Whitney are the top 2, with Jeff taking the victory for the week. Jyll, who has been stumbling around for weeks, is finally sent home to give the robot that she is a well-deserved oil change.
So You Think You Can Dance
- The top 8 perform twice this week, paired with each other and then with an All Star. Joining Nigel and Mary on the judging panel is choreographer/film director Rob Marshall and one111111 of the biggest pop stars on earth, Lady Gaga. This is a pretty huge get.
Favorite routines of the night. Melanie is paired with Neil in a contemporary routine about the crossroads of a relationship. Melanie is effortless perfection, as usual, and receives a standing ovation. Gaga loves Melanie and even says she'd hire her immediately to dance with her. Marko and Allison bring tears to all eyes, particularly his mom and Gaga who has a soaking wet face by the end, in their
Sonja Tayeh contemporary piece about basking in the guilt of being judgmental. The dance is just beautiful and their dancing is so strong, and the tears in their eyes while dancing are so real. Marko and Ricky get our first double-dude dance in a janitor hip hop. Imagine if Bert Hoover had swagger: this is the routine. It's awesome. Melanie and Sasha bring the house down in the final performance of the night: a fierce jazz routine of sort of robotic creations or something. Know this: it is awesome and to me the obvious lead-in to these 2 being the last girls standing in this competition. I think a female winner is coming again!
Not favorites but notables. Sasha dances with my boyfriend Pasha in the best rhyme scheme name duo for a crazy quickstep to "Puttin' on the Ritz." The intro is fun and quirky but transgresses into the usual ballroom stuff that the kids don't vote for. Caitlynn and All Star Ivan (!!!) pair up for a hip hop routine where Caitlynn shows she's got some smooth moves and some great chemistry with Ivan. Jordan and Ade play badasses together in a jazz routine choreographed by Tyce. It's fast and has a lot of lifts and acrobatics. It's very 80s. Tadd dances with reigning
SYTYCD
champion Lauren Froderman in a jazz heist which involves Tadd borrowing a lot of Michael Jackson's moves. Caitlynn and Tadd do a classic foxtrot, reminiscent of Fred and Ginger and the old days. The costumes are gorgeous but you know no one is voting for this.
Least favorites of the night. Ricky is tasked with the jive alongside Anya. It's like fate keeps giving him the dances to get him eliminated. The dance is really fun and energetic but c'mon, no one ever votes for the jive. Nappytabs comes out of hip hop hiding to choreograph Jess and Lauren Gottlieb. I wanted to love it but I think the choreography is meh and they have no chemistry so it was dull to watch. But upside: no corny faces. Jess and Jordan do a sexy little rumba with no chemistry, but I can't focus on anything but the costume giving Jordan some nasty side rolls.
Result show! The top 8 perform a group contemporary piece dressed like an antique circus or in Jess' case, The Joker as a ringmaster. More surprising: that wonderful pieces is choreographed by Tyco Diorio and it's been so nice seeing him get out of his hokey Broadway box. The bottom 4 this week are Jordan, Caitlynn, Jess, and Tadd. Ok, now Tadd is a shocker cause I thought Ricky was a goner (see above). To fill our time, the Legion of Extraordinary Dancers performs and it's pretty spectacular. I've crapped all over Christopher Scott's routines this season and I think that's because he clearly excels at group choreography, not pairs. Later, guest judge of the week Lady Gaga performs "The Edge of Glory" and "You and I" in a relatively normal outfit: black bustier (like Selena!) with pointy shoulders and a black studded angular skirt. Most importantly, one of Lady Gaga's most prominent backup dancers for years now is Mark Kanemura from season 4. I loved him (and still do)! Enough distractions, let's get the verdict! Jordan and Jess are eliminated this week which means my fantasy team isn't a total bust. Cause let's face it, isn't thsis really all about MY fantasy team?