Food Network Star • So You Think You Can Dance
Food Network Star
- At the halfway point the "stars" have mid-terms, with 2 people going home at the end of the week. The Camera Challenge is easy enough: prepare your signature dish and do a 2-minute demo. All the demos are terrible except for the winner of the challenge, Whitney, who told a story about serving gazpacho to her sorority sisters. Yes, that is all it takes to win a challenge.
Bobby Flay comes right to the house to explain the next challenge: create a dinner party in their house for the selection panel and Wolfgang Puck. Since Whitney won the challenge she gets to assign who shops for decor (Mary Beth, Penny) and then the order the chefs will serve, and therefore the courses. Her order is Jeff, Vic, Mary Beth, Penny, Jyll, herself, Susie, and Chris gets sacked with dessert. The kitchen in their home isn't huge (and has only 2 ovens) and the pantry is far from stocked, so this is an interesting challenge. Chris has hardly any chocolate, no recipe, and warns everyone not to touch the temperature on his side of the oven (which of course happens), so yeah do the reality show math.
Dinner time! First course is Jeff's beef carpacchio over arugula, which is a surprise to the panel but they enjoy the dish and his presentation. Vic's course is mozzarella stuffed with arugula and fried, which is nice and crispy and another improved Vic performance. Mary Beth serves butternut squash soup but the cayenne she tossed in overpowered the rest. Penny's dish is shrimp over figs and more fucking arugula (find another green, people!); the dish is delicious and she's warm in-person. Jyll presents her sweet corn risotto and Wolfgang Puck winces looking at the dish.
He gets up from the table, takes Jyll to the kitchen, and shows her how to really make risotto. SERVED! She's humiliated but keeps that smiled glued to her face. Whitney's main course is a roasted chicken with an Asian puffed rice flair, channeling her parents as inspiration. The food's good but she's still meh. Susie didn't have Mexican cheese so instead use chile relenos using feta, impressing the panel with her improvisation and the taste of the food. Chris closes off the night with a chocolate fudge cake with Creme Anglais and a lot of apologies and excuses for being shitty.
Selection panel aka who else is going home besides Chris? Whitney and Vic receive praise for their dishes, but it's the personality element holding them back.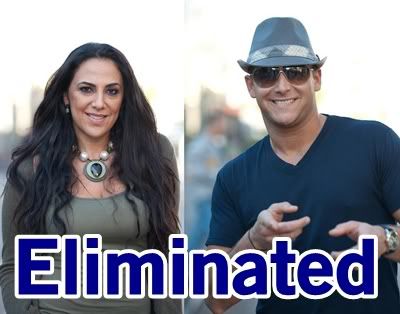 The panel loves Susie but has concerns about her lack of focus, which leads into her crying about her story of applying to cooking school. Jyll cries over her risotto humiliation. The panel enjoyed Jeff's salad but deep down wish he did his usual sandwich. Penny makes amazing food but has no life on camera. Chris is immature and tries to defend his cooking experience and Bobby puts him in his place immediately. It's awesome. Mary Beth can articulate her food well but her cooking hasn't been up to snuff. Chris and Penny are both eliminated meaning the trip to New York will be a lot less drama-filled.
So You Think You Can Dance
- The top 10 dancers so sayonara to couples and now will dance with an All Star from season's past. You know what that means: me drooling over Pasha. Also drooling over this week's guest judge, Neil Patrick Harris, who is such a great judge I would take him on the panel forever. Let's break down my favorites and least favorites (because there were no real clunkers).
Faves! Marko and Chelsie Hightower, now a
Dancing with the Stars
pro, do an insanely fast and sexy samba. For anyone thinking Marko might drop down in quality without Melanie, you're wrong. He's amazing. Caitlynn and my boyfriend Pasha sexily dance an Argentinian Tango together to make me super jealous. The lean-ins for almost kisses and the passion- ahhh love it. Sasha is paired with fan favorite Twitch (star of
Step Up 3D!!!!!
), but my heart sinks when Christopher Scott is the choreographer because his stuff on this show has been terrible. The good news is that the routine, about a married couple that re-ignites their missing sexy flame over breakfast, is finally great. Not just great, maybe one of the best of the season? In the new greatest pairing in the history of the world, Melanie gets to dance a Viennese Waltz with Pasha. Two Pasha routines? I die. Speaking of dying, this routine is about a guy who has lost his will to live, so his lady tries to make him OK again. Melanie is sort of ethereal, floating across the stage. The routine is just so beautiful. Clarice and Robert close out the night with a high-energy Bollywood number. This is the best Bollywood routine I have seen in a long time, plus Clarice and Robert have great chemistry even with his hammy smiles.
In the middle I'll put Jordan's contemporary. It was danced so well and a stand-out piece for Jordan, but something about Jordan has never clicked for me.
Least favorites. Mitchell and Melody (the only All Star I've never seen before since I started watch season 2) do a Broadway Jazz routine where they pretend she's a plane. I'd prefer a helicopter, but I'll take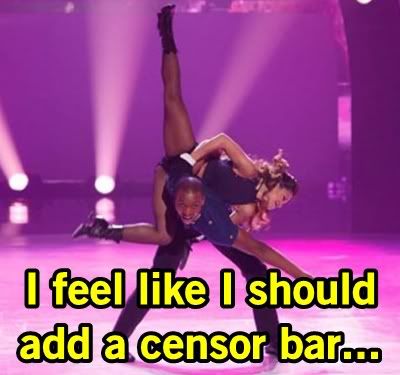 it. It's a very Tyce routine, it didn't seem like an airplane (and NPH shits all over it and I love it). I don't see the votes rolling in for it. Rickey and season 2's Allison are having a bad dream in a Tyce Diorio jazz routine. It's a much different style than the usual Tyce piece, which is great, but I think Allison completely outshines Rickey to the point that I hardly watched him. The judges think he kept up with her, but I disagree. Jess and Kathryn perform an eye-contact free contemporary routine. The routine is absolutely stunning, but I will say I feel this piece showcased the All Star more than the contestant for a large portion of it. And Jess sucks at lifts.
Results show! The top 10 perform a Broadway routine that I didn't like and it wasn't even choreographed by Tyce- the biggest shocker of them all. The bottom 4 dancers are Mitchell and Rickey for the boys and Clarice and Jordan for the girls. Besides the dancer's possible last solo, time filler includes a ballet dancer who looks like a young Steve Zahn, getting tested at the Gatorade Sports Science Center (you all fail!!), and a performance from Blush (?) with Snoop Dogg. Now it looks like the rules changed because in the past at the top 10 mark, America's votes were the sole decision but now the judges are involved. What this means is I planned my fantasy picks all wrong because I went based on
America
not the judges. After a long rambling about even losers are winners on this show, Mitchell and Clarice are eliminated.