Next Food Network Star • So You Think You Can Dance
Food Network Star
- The "stars" are brought to the LA food landmark Mel's Diner (like me!) where they are greeted by a bleached porcupine in a red convertible: it's Guy Fieri! Guy explains the Camera Challenge, which is that each of them will host segments of a
Diners, Drive-Ins, and Dives
fake episode. Turns out, everyone is pretty terrible at hosting except Whitney who is likable and natural. Highlights of the worst: Susie makes up words, Penny keeps interrupting the waitress, Jeff's interviewee grows to hate him, and Hipster Justin picks up a hip hop persona.
Magically, it's the Fourth of July in TV land and the Star Challenge is to cook an All American Food Festival sponsored by MGD 64 (more product placement- drink!). They are randomly assigned dishes and it's Orchid who gets most screwed since she gets brisket with merely 2 hours to prep. Along with serving the 150 guests, each "star" needs to do a 3 minute presentation to that crowd. Susie and Vic are the best presenters, getting
across personal family stories while also presenting the food. Mary Beth comes across as a pro, with the words flowing smoothly and naturally. Jeff is OTT with a flag cape, guitar and headband. The crowd hates Penny, which is hilarious. Jyll immediately admits Mexican cuisine defeat. Hipster Justin adopts a new personality again, this time of a maybe more annoying Guy Fieri. Even Guy tells him to get a grip, so you know that's not good.
In the judging panel, the top 3 are Susie, Vic, and Jeff. Vic made a more sophisticated lobster roll and had a nice story about his grandmother threatening him with a rolling pin. Jeff's craziness won over the crowd and his pretzel crusted chicken sandwich finally gave him "sandwich king" cred. Susie had a great personal anecdote, spicy
ribs, and a really unique and flavorful slaw; she is the winner of the week.
The bottom 2 are Orchid, Jyll, and Justin. Penny
almost
makes the bottom for being a bitch that the public doesn't like, but her food was too good to eliminate. Orchid's problem is that her brisket wasn't done enough and she's not growing in the competition. Jyll comes off as a frigid TV news anchor and easily admitted defeat for her carne asade. However, Hipster Justin is the one heading out the door for a gross hamburger and his ever-changing personalities.
So You Think You Can Dance
- The top 14 perform in front of the massive audience and "esteemed" panel of judges. I'm using quotes because Carmen Electra is a judge this week, so maybe strip aerobics is a genre this week? But the hugest news ever is Travis Wall joins the judging panel for the first time- yay! Some credibility is back!
There are 2 group routines, just like last week. New choreographer Justin Giles crafts a routine for the 7 guys, with each playing a different stage of the grieving process. With spotlights on each guy as they dance their stage of grief, it's a beautiful routine and what I see as the first of many amazing routines by Justin. The girls do a jazz routine of 7 sexy women ridding the world of men. Last week they poisoned them, this week rejoicing at their funeral. Hot? It's a sassy routine to a kind of creepy song; I dig it! I am loving the influx of new choreographers this week. Having these new minds in the mix brings new styles of dancing but also gets us viewers to truly vote for dancing and not our favorite choreographer.
Time for the best! Marko and Melanie play 2 kids who run off to elope in a jazz piece by newbie Ray Leeper. They have red hot chemistry and Melanie earns the title of Travis' favorite dancer in the competition. Clarice and Jess team up with Justin Giles (2 routines in a week for the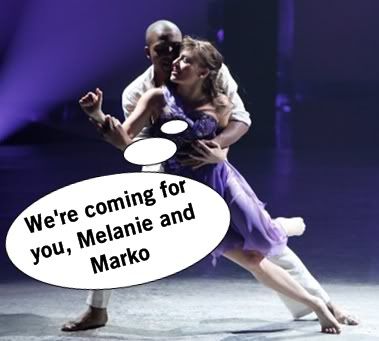 newbie!) for a contemporary piece about a couple whose relationship is ending. This is a dance this couple really needed to show they can be serious and emotional when they dance, especially dance clown Jess. Ryan and Ricky perform a jazz routine by Chucky Klapow (not related to the Chucky doll) about "cult of fashion" members. I'm expecting
Party Monster
club kids and am so excited. It's 80's glam to David Bowie's "Fashion" and I love its quirkiness. Caitlynn and Mitchell fall in love in a Mandy Moore contemporary routine. There's such a happy energy with spins, lifts, and passion. Such a refreshing change from all the breakup routines tonight! Favorite of the night!
And the bottom. In a smooth waltz choreographed by
Toni Redpath, Jordan plays a singing siren (like a mermaid) seducing Tadd. It's danced very well and a pretty routine, but maybe not exciting or memorable enough to lock in votes. It's not that they were bad, just not the best. Sasha needs a new partner stat, as Alexander totally brings her down in a hip hop routine by another new choreographer, Shaun Evaristo. The dance is Alexander trying to get a kiss but with his horrible moves and the lack of chemistry, it's a definite no. Ashley and Chris join yet another new choreographer, Liz Lira, for a sexy salsa. I know I harp on them every week, but it stinks and is sloppy, not sexy.
Results show! The group performs an energetic Bollywood routine with costumes in every color of the rainbow. Enough fun, let's get to the soul crushing. The bottom 3 couples are Chris/Ashley, Jordan/Tadd, and Ryan/Ricky. Sasha is clearly carrying Alexander, and I'm pissed cause they fudged up my fantasy scores. Time filler: Cedar Lake Contemporary Ballet performs, more talk of that dumb National Dance Day, and a performance by Florence and the Machine. To get the best fantasy points I'd like Chris gone, but his solo is slammin'. Heading home for the girls is Ashley, though warnings are given to the remaining girls to step up their dancin'. Despite an amazing solo, Chris' work with choreography sends him home with his partner.
Photo Credits: BuddyTV.com, FoodNetwork.com