Bachelor Pad - Week 3
The house is reveling in Ames and Jackie's romantic send-off, except Melissa who drunkenly slams kitchen cabinets in a Blake-rage. Melissa is mad Blake played her and feels a third wheel to Blake and Holly, but also thinks Blake should always pay attention to her. Melissa tells this to Holly who brushes it off because she says she flirts with everyone ("it's my nature!"). Blake really did a doozy picking a partner.
The house goes out to the pool for their challenge where they're treated to some synchronized swimming. Everyone has to learn and perform a synchronized swimming routine to perform in front of a panel; the men and women will both perform as groups. There are flowered bathing caps, boobs with flowers sewn on, and bright-colored speedos. The judges are a professional judge and then
Bachelor Pad 1
winners Dave and Natalie, and I was hoping for more crunkness but them legitimately judging is more humorous. Erica can't swim and only lays out at pools, so she never goes under water or does any moves. It's pretty hilarious especially since Erica's lack of
swimming isn't even the worst part; what a disaster! Jake humblebrags about his skills due to his time being a shithead on
Dancing with the Stars
. I guess he's workin' with something since Holly points out his big speedo bulge. Michael Stagliano, who I have always loved, is the the star with his sweet moves and great personality. The best guy and girl get their immunity rose and those winners are Mike and Michelle (due to her "dazzle razzle" according to the professional judge).
Michelle takes hot-ass Graham, Kasey, and Blake on her date, a little roadtrip to a vineyard. A table is set on a hillside with the most amazing view and of course with tons of wine. Crunkfest! Michelle takes Blake side first for alone time to relay that he's in trouble for being a playa with Melissa. Michelle tells Blake he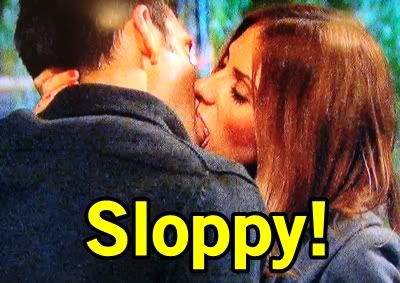 needs to fix it, not necessarily by re-seducing but making it good again; yep, no rose for Blake! Later, Michelle takes Graham for alone time of a whole different persuasion. Michelle has a crush on Graham and didn't expect a hook-up here; Michelle is interested in him but also wants the timing to be right since he may not be over his totally hot soapstar goddess of an ex. They end up in a super-tonguey kiss which leads to Graham getting the rose.
Michael's date card is brought into the house by his ex-fiance Holly, who hopes she doesn't get again. Tough shit Holly, you're picked! Michael takes Vienna, Ella and Holly on his horseback riding date. Vienna whines that she has to wear a helmet so here's my hoping she rejects the headgear and gets bucked by the horse. The horse-riding ends with a picnic lunch and more awkward Holly and Michael time. They have weird alone time and then Michael has to pick one girl to keep on the date (and give a rose), sending the other two away via
horses and- shocker!- he picks Holly. I wish Michael and Holly would stop winning dates so we'd be able to skip these uncomfortable dates where Michael is super happy and Holly is gagging to get away. HOWEVER, this week will be the one exception because Bret Michaels, king of finding fake love on basic cable, sings "Every Rose Has Its Thorn" to Holly and Michael ALONE IN A TRAILER (ok tour bus, but trailer is funnier). At least Bret acknowledges this is extremely weird to serenade a broken up couple in a bus.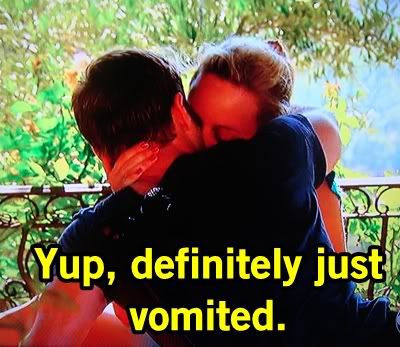 Jake sees himself as a dead man walking and knows he needs to get some girls on his side: he starts with wacky Erica. They get touchy flirty and it's gross. Jake tries to start an uprising with the uncool people in the house to get Kasey out of this game. Jake needs to work more on all the girls in the house and just not the one girl at the bottom rung (Erica). To really make sure he has Erica on-board he gives her a big ol' sloppy smooch. Excuse me, I just puked my vanilla ice cream all over my laptop.
Kasey will make sure Jake doesn't stick around but is worried Vienna not being a total bitch to him will ruin those chances. When Kasey asks why she's being so cordial and talking to him she starts crying and whining again. Then they cry in a supply closet or something;
they are overdramatic fame whores and really make me want to retire the word "protect" from my lexicon. Either way, Kasey and Vienna are running the game and no one will stand up to them so it's time to celebrate. Kasey gives Vienna a promise ring to express how much he loves her. Oh I puked again. Vienna is like "Oh don't let it be an engagement ring!", killing the moment. Vienna happily accepts this promise ring on their anniversary and Kasey caps it off with his terrible singing. I'm not even kidding and yes, Vienna is laughing in his face too.
Blake makes nice with Melissa with french toast offerings and a fake apology to cover his ass. Blake's not really sure he wants an in-house romance but Melissa's thing is more that he was flirting with Holly all the time. They agree to partner up again since Blake will do just about anything to last in the game. Blake is actually in better shape than Melissa, who is definitely one of the women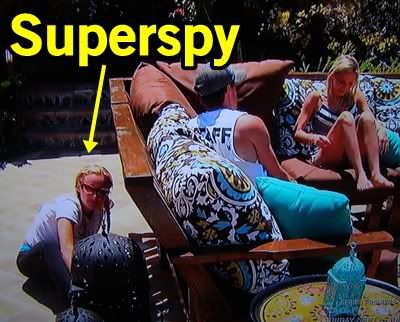 that could go home along with Erica. When spied talking game with Jake (and Erica is doing the spying), it doesn't look good for Melissa's chances of survival in the game. Melissa tries to take game with Michael and Erica again lays on the ground to spy on her, overhearing that she (Erica) has been spreading rumors that Melissa is working with Jake. Melissa confronts Erica and wants to bring out Jake, but instead Melissa is coming off like the crazy chick she was portrayed as on her season. Melissa runs inside and cries about Erica being a liar. Ca-raaaaazy!
At the cocktail party, Blake informs Melissa he'll remain partners with her but as friends only- not showmance. Melissa runs off sobbing into the arms of Jake, who will take any leftovers that might keep him in the game. Melissa wants to quit Gia-style, but Jake begs her to stay (because he wants her vote- selfish prick).
Chris Harrison goes to kick off the cocktail party to change the rules again. This week, all the ladies are safe and one man will be voted off; the guys and gals will vote for the man they want eliminated. The rules may have been changed last week for his benefit, but Jake is a goner. Seven is the majority and with lines drawn, Kirk is the swing vote to eliminate either Kasey or Jake. Because Melissa is crazy, Erica needs to talk her down and get her to vote off Kasey and not waste a vote on Blake.
Kasey is confident Jake is going home and thanks his alliance for supporting him mentally and physically. Uhhhh... you're welcome? Word starts to get out that the losery folks might be starting a revolution so Kasey goes to confront the women, particularly Erica who I guess is friends with Kasey outside the house? He should be careful: Erica is carrying a crystal gavel of justice.
Jake and Kasey have an outside man-talk since Jake is aware the votes will fall between the two of them. They shake hands. It's not a very epic showdown, but the votes are so close. The show ends with Chris Harrison saying, "Kasey." And then CREDITS! And by credits I mean, the Phantom of the Bachelor Pad house, Jeff and his mask, do synchronized swimming in the pool late at night.