Finale!
Food Network Star
- The final three are all amped to make their pilots but a twist comes: only two of them will make pilots. The chefs have one last camera challenge to make the best dish of their life; loser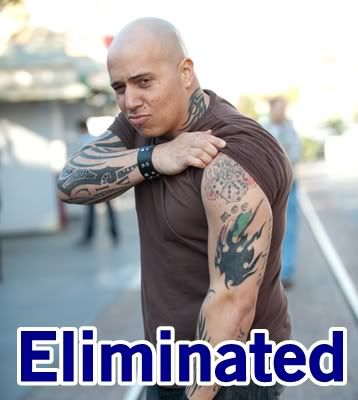 leaves. Jeff's sandwich is a deconstructed eggplant parmesan. The selection committee loves the sandwich and call it one of Jeff's best yet. Susie makes slow cooked pork in LARD. G-R-O-S-S. She presents it well, as Susie always lights up when she tells family stories; the carnitas were flavorful and the margarita doesn't hurt either- get crunk! Vic makes an Italian seven fish dish and tells his story of Christmas Eve stories and makes sure to tell his family stories more than food ones, which Bobby says he needed. The selection committee deliberates the pros of the remaining three before making a final two decision: Susie and Jeff will film pilots and Vic Mo aka Vic Vegas is out. Vic isn't upset at all and realizes this process help him find the real him.
Jeff and Susie head to the Food Network's studios to film their pilots by the most amazing director of all time: Guy Fieri. Guy is super annoying
but
he is really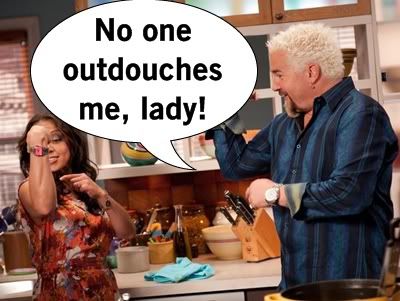 the only true star this series has produced, so it makes sense. Along with the selection committee seeing their pilots, focus groups will also view the pilots and provide feedback. Jeff overuses the catchphrase "Boom!" and even Guy is like, "THAT'S annoying." Jeff shakes off his "crutch word" and nails the pilot. Susie's mouth is going faster than her brain, so gets her pep talk and then, whaddayaknow, knocks it out of he park! So if you're keeping track, it's the same old thing they do every finale: start out terrible and then end on a high note.
Last evaluation everrr and someone is going to get a show. Jeff and Susie enter the studio and face Bob, Susie, Giada, and Bobby one last time. Turns out the focus group is not impartial strangers but the eliminated finalists. I'm sure Penny will be totally kind-spirited! Susie's pilot is called "Spice It Up!" and it's full of family stories and energy. The focus group gives their feedback, which includes Penny claiming Susie isn't engaging (BS). The rest of the focus group really enjoys Susie's personality and show. Jeff's pilot "Sandwich
King" has good information and the humor we've come to enjoy from him. The focus group is split: Vic and Penny see him as a star, while some other dude whose name I forget thinks it's too schticky. The selection committee provides their feedback too. Susie is radiant, infectious, cooks with soul, and tells beautiful stories when she cooks. Jeff really knows how to make a sandwich, has a big personality, would appeal to either gender, humorous, and has a very unique culinary perspective. So who is the winner of their own show? Jeff the Sandwich King!