The Amazing Race • The Biggest Loser •
Top Chef: Texas
The Amazing Race
- Teams head to the Hans Christian Anderson statue to retrieve their first clue for this leg of the race. It's a Road Block: memorize a poem, ride a bike with a map on the wheel, and then repeat the poem verbatim in a super dramatic way. Because it's a tourist landmark, Cindy encounters issues reading the poem since a bunch of schmos are blocking the poem. Most teams just can't ride a bike and look at a map on a wheel at the same time. Others need to step up their acting game.
After they finish the poem they head to LEGOLAND! George Michael, 20 miles to Legoland! At Legoland they need to put together some legos while riding a Lego version of the tea cups with a pirate theme. HURL CITY, YO. Sandy almost pukes and almost is no fun when you're watching reality TV. Do it to it, gurl. Once they complete the puzzle, teams have to drive across the border to Hamburg, Germany where I'm hoping there will be a Five Guys eating challenge. Nope, they now have to take a train to Brussels, Belgium which, quel surprise, is an equalizer. At some point, Cindy loses her ticket and we know this because the show does a dramatic zoom in. How do racers never notice their camera person not moving and taking a shot of the ground? Cindy/Ernie don't have enough Euros to buy another ticket and need to get ta thinkin' so they get on the train and decide to see if the conductor can help them reprint while on the train. Oh wait, the conductor never ends up collecting tickets so nothing happens.
The next task is a Brussels from Muscles challenge
where they need to get in some skiivies, get a nasty spray tan and oiled up, and perform body building moves. It. is. gross. From day one I'm like, man I can't wait to see the old people in speedos and bikinis so mind read. I don't know if there's any ball slips because of online pixelation but I sure hope there was! Amani and Marcus wisely make the choice to take their time practicing so they get it right the first time. It pays off because they arrive at the mat first except it's to be continued leg! I hate non-elimination legs, but I love to be continued. It lasts forever and they get cranky. Yesss.
The Biggest Loser
- The kitchen is covered in plate of delicious Thanksgiving food, which Alison decides is an opportune time to remind us we all eat like shit that day. There's three incentives benefits to this Thanksgiving temptation: $500 per pound lost this week, an at-home gym installed, and a 3lb advantage. They have five minutes to eat as much as they want but it's not about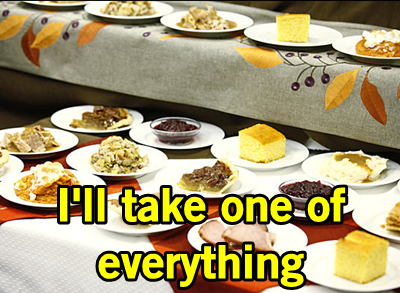 how much you eat, just who has the lowest number on the bottom of the plate. Lowest number gets to pick first, etc. Sunny can't believe everyone is eating and gives into eating to not be the only one not participating. It becomes a little psychological, deciding whether to stick to one dish and or try to get a lower number while perceiving others had a good number and that's why they ate less. The winners are, in order: Vinny 3lb advantage, Becky the home gym, and Antone gets the money for pounds lost.
The big cliffhanger this week is that if John, the last red team member, is eliminated, Dolvett is out. Anna makes her people play tennis. The losers have a Thanksgiving dinner where they say what they're thankful for. Bob likes Sunny best because she reminds him of her sister.
There's a challenge to race one mile on one of those Jacob's Ladder endless staircase machines. Enjoy those calves tomorrow, losers! There are three prizes, a give/get: give the Biggest Loser meal plan to an eliminated contestant (and get some for yourself), $2,500 to give and $2,500 to keep, and a 1lb advantage for yourself and a 1lb disadvantage for someone else. John completes the challenge first and picks the 1lb advantage (he will give the disadvantage at the weigh-in). Sunny comes in second and picks the meal plan (her meal plan to give goes to Bonnie). Ramon rounds out the top three and is given the remaining prize, the money (he also gives $2,500 to Vinny).
At the weigh-in, John gives the 1lb disadvantage to Sunny because it's easier to knock out a woman and Sunny has the potential to lose much more weight. Classy move! John loses only 5lbs (ouch), upped to 6lbs with his advantage (1.94%). Maybe the creepy slicked back hair reduced his weight? Antone wins $4,000 for losing 8lbs. Vinny passes the 100lb mark, making it a special weigh-in for him (11lbs lost
plus
a 3lb advantage). The two below
the yellow line Sunny (lost by 1/100th of a percent thanks to the disadvantage) and Ramon. Sunny is pissed because it's allegedly Thanksgiving week and this is a shitty thing. John gets the chance to save face and keep Sunny, yet still votes her out because he wants to compete against Ramon. What a turd. Based on a tie, Ramon is eliminated for having the lowest weight-loss. Ramon heads home, gets his own makeover, go on a skydiving date. And of course we'll see him propose on the finale.
Top Chef: Texas
- The kitchen is filled with tons of super hot chilis and the hotter they are, the more money their worth. This is because if you win the challenge, the hotter chili you use the more money you make (up to $20,000 if you use the ghost chili, the hottest chili in the world). Only one dude (Paul) chooses the ghost pepper for the money and to test his skill, while others choose varying degrees of heat. The risk pays off for Paul, who made a chilled coconut soup with ghost pepper relish; he wins $20,000 and immunity.
The Elimination Challenge is a chili cook-off and all I can imagine is a big bowl of
Scott Tenorman chili
. The cheftestants are split into teams of three to create one pot of chili and get all night to cook. No time limit? Score! Oh that's because they have to cook it at home, not in the
Top Chef
kitchen. They will serve their chili at a rodeo and the attendees will select a winner. Along with the raid on the supermarket, the house becomes a shitshow to grab equipment, stuff from the fridge, and a spot to cook. Chili tastes better the longer it cooks so a lot of teams pull all-nighters to get the perfect stew.
The rodeo begins and all the cowpokes start sampling all the chilis. Green team (Sarah, Chuy, Chris C) makes chili con carne, no beans with beef chuck topped with a roasted corn mixture. The flavor gets better as the judges eat it, but wish they had a bread or tortillas for all the extra sauce. Red team's (Dakota, Whitney, Chris J) chili is braised brisket and short rib and just typing that makes me hungry. It's smoky with a fair amount of heat (so kids don't like it) but the texture is a little odd. Blue team (Heather, Edward, Paul) have smoked brisket chili with summer pickles (and topped with pork rinds- ew). Black team (Nyesha, Beverly, Richie) serve chili mole with cornbread, so it has chocolate and cinnamon in it. The cornbread is a pleaser but the chili isn't what they judges necessary wanted. White team (Lindsay, Grayson, Ty-Lor) become mortal Texas enemies when they serve a three bean and beef chili (since beans in chili is a Texas no-no). They have poblano cornbread though and any cornbread is OK by me. The pickled veggies in the chili is divisive amongst the panel.
Padma rides into the rodeo on a horse to announce the winner, selected by the diners, of the chili cook-off. The Green team wins and while I'm sure the chili was great, perhaps Sarah's constant declaration of being an authentic Texan helped. The Black team is named worst chili by the judges. They have a chance to prove they belong in the competition by transforming their losing chili into a winning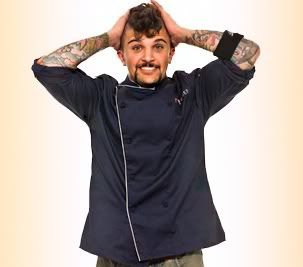 dish. Beverly makes seared tuna with habenero creamed corn. She is given credit for owning up to the mole by using the sauce while changing the flavor profile. Nyesha serves Frito-encrusted black tiger shrimp with roasted corn salsa. The judges think it lacked sauce and the corn seemed easy. Richie also rocks the Fritos, encrusting a pork tenderloin over potato hash and ricotta cheese chili puree. The judges find it lacking in seasoning, one-note, but made a lot. The person bucked from the
Top Chef
rodeo is Richie, making his BFF Chris very sad.