The Biggest Loser • Top Chef: Texas
The Biggest Loser
- A Temptation lies ahead in a room filled with Chinese food. Besides the crab rangoon, fortune cookies, and lo mein I'd pass on all that ish. This week will be face-off week where each team will put a person head-to-head against them, and the winner of the Temptation will get the make the decision. Winner also gets a 2lb advantage to either keep or split. Bigger twist: if no one eats or if it's a tie, they automatically face off against their loved one partner. Eeeeevil. The red team decide together to not eat anything. The black team decides to eat one fortune cookie and no one wants to eat the THIRTY CALORIES. Cassandra steps up and eats two fortune cookies. Cassandra gets the power and the 2lb advantage. I love the red team bitching about the black team being weak but it's like 60 calories and they didn't want to compete directly against a loved one sooo STFU.
Joe, whose brother was the dick that got eliminated last week, packs up his suitcase and decides to leave campus. His team is not happy but he wants his family. Bob is not happy to see his black team is short a member, giving a weird confused face and wishing it was a joke. Bob calls Joe at home, and BTW there is a camera crew with Joe, and is not happy and worries Joe might not have learned enough to finish the journey at home. But whatever, back to the gym to focus on the people that want to be there in a very tough week of battles.
There is of course a challenge, which is to pump water, transport it through an obstacle course, and melt an ice cube with a prize envelope inside. Slightly different, the trainers are involved in the event helping their teams stay on track. The red team wins the challenge, even if Santa Roy almost blew it by not hearing them. The prize inside is video chats with their family- not surprising. Some of the red team members give up their videos so members of the black family can have them. Mark gave his video to Chism since he's young and has a girlfriend and mom to chat to, so in turn Buddy gives his video to Mark. Aww.
After the tears from videos and last chance work-outs, the weigh-in commences. Since Joe forfeited and quit the show, old lady Nancy wins one point immediately for the red team. The the black team starts to get some points. Lauren lets the red team down a bit with a mere 3lb loss.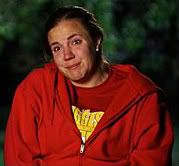 The biggest showdown is annoying red team bitch Conda vs. Subway sandwich winner Cassandra; Cassandra demolishes Conda and brings the victory point to the black team. Santa Roy has the highest percentage of weight loss so is immune, but before they depart Dolvett gives them a pep talk to let them know he can and will push them more. The votes come to old, weak Nancy or Lauren, a young girl with no screen time but I guess has a stable home to return to. Lauren gets eliminated and I truly had no idea who she was until tonight so goodbye girl I didn't know existed.
Top Chef: Texas
- The silver fox chef Eric Ripert is the guest judge at this week's Quickfire which is to grab three ingredients from a conveyer belt to make a dish. The catch is the longer you wait, the better the items but then time to cook is less. Some people, like Ed and Beverly, take ingredients right away while Chris, Lindsay and Sarah wait around a while. The winner of the Quickfire is Lindsay who made a bouillabaise and wins immunity. Beverly would've won if she remembered to put the damn Rice Krispies treats on the plate. Story of our lives, huh readers?
The Elimination Challenge is to make a dish for a queen: Charlize Theron who is playing the Evil Queen in
Snow White and the Huntsman
. This product placement challenge is to make a seven course gothic meal which means everyone is thinking of what would look repulsed and murdered. Bloody handprints, maggots, dead birds- truly mouth watering. The dishes are actually quite inventive and delicious, despite the grotesque overall theme. The judges are totally wowed but the meal and consider it one of the best they've had on the show.
Judges Table. The panel loved Sarah's amarone risotto in red wine. Lindsay's scallop over stew with dragon bean was creative and reminded them of something a witch would brew in her pot. Ed's black and white sauces had a lot of depth. Chris had dessert with some smoke and fog that was the perfect amount of sweet. Beverly's seared halibut is perfectly cooked and the rice not coconuty. Grayson
used a creepy black chicken which was a stunning visual effect, especially when the claw still on. Paul's bloody hand print was cool, but his enchanted forest sort of salad tasted great too, and Paul wins the challenge and gets tickets to the movie premiere. The bottom are Sarah, Beverly and Grayson and while they did well, someone has to go home so it's down to severe nitpicking. It's at long last the end of Beverly and since was so close to immunity, it's a suckier feeling.