The Bachelor - Week 5
Next stop in the Ben-wants-to-get-laid-televised-event is Puerto Rico (Whore-to Rico?). Everyone gets a date this week so no one can bitch and whine: one group date, two one-on-one dates.
The first date card is in Spanish and it tells Nicki she'll find
a new love in old San Juan. I hope "new love" in removing that neon yellow nail polish. I'm a polish aficionado and that color is horrible. Her nail polish is almost as vibrant as her multi-color dress. I love color too but damn girl, simmer. But after all my shitting on Nicki, IT'S A HELICOPTER DATE!!! Nicki is excited to be with Ben and do things she's never done before... like each snow cones. The outside walking date is a rain-out so they dash around the streets barefoot until the rain stops. Because they are soaked, they stop in a store to buy the most authentic duds. This means Ben dresses as a Puerto Rican guy from 1967 or John Hammond of
Jurassic Park
. They sit outside a church where a wedding is happening, gawk, and talk about wedding shit. Or second wedding shit cause Nicki is divorced. Later they dine in the rainforest and talk about Nicki's marriage and how it ended. Ben feels a connection with Nicki and gives her a rose and some kissin'.
On his second Puerto Rican excursion, Ben and his harem go to the Roberto Clemente Stadium for a "diamonds are a girl's best friend" date. Cue the dunces being bummed that it doesn't involve free jewelry. Many of the girls are quite athletic, though it's no
A League of their Own
. Chris Harrison shows up with a megaphone and has trade hand motions of just opening and closing his arms. The date will only continue this evening for the team that wins the baseball game. Because there are nine girls, one girl gets to be on both teams and is guaranteed to get to be on the date later; Ben chooses Lindzi. There's a lot of runs scored because 1. Ben's a sucky pitcher and 2. the ladies can't field. The red team (Kacie, Jamie, Courtney, Casey S, and Lindzi) win the game and an evening with Ben. Blakeley is a sore loser and bitches at her team for blowing chances. The girls cry the whole bus ride home and it's fantastic.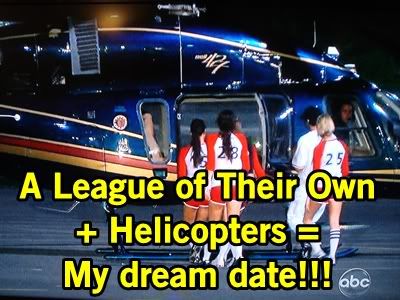 A HELICOPTER!!!!! lands in the baseball field parking lot to bring the ladies to the romantic night date. There's a couch and bonfire on the beach and of course some booze. Everyone gets their Ben one-on-one time on the date and Courtney is beginning to notice Ben has feelings for some other girls. Ben and Kacie B have a really nice conversation where he confides the women he's loved have never loved him back. It's very nice and Ben takes her aside another time to give her the rose. I will agree with heinous bitch Courtney on one thing: Kacie B does seem much younger than the rest. Courtney grabs Ben for alone time as soon as he returns from rose-giving. Courtney just wants a bottle of wine and some skinny dipping, giving Ben an immediate semi and something to ponder.
Elyse gets the one-on-one date after kvetching to the group that she's only had one group date the entire time and no other Ben time. Elyse's date to find love "somewhere private" is actually a private mega-yacht which all the girls see and get totally jeal of. This is a make-it-or-break it date since Ben and Elyse's relationship is the slowest grower of them all but he thinks maybe the
magic of the sea can help. I can't focus on anything Elyse says because I am transfixed at the dinghy being dragged behind the boat for when Elyse probably gets dumped. Aw boo, she makes it past the boat date for a night dinner date. Dinner is mad awkward and Elyse talks about honesty so Ben decides to be honest. Ben grabs the rose and talks about missed connections, but admits he didn't find what he was looking for today and dumps her. Ben walks Elyse to her dinghy of shame (it's actually a different one than the behind-the-boat dragger). I'm assuming this boat will bring Elyse sobbing back to America, Elian Gonzalez style.
Courtney is so pleased that Ben listens to her (?) and dumped Elyse that she makes good on her promise to Ben. Still in his tux from dumping Elyse, Courtney brings some wine to Ben's room wearing only her robe. They sip wine in his room but Courtney hints they should go to the beach to you know, bare each their privates and get all up in the salt water. Ben's head says no but... well you know the rest. There's an option to go undies but nah, they go full nude, hop in the ocean, and kissing and rub all over each other. This is the closest we'll get to seeing actual sex on this show. The other girls will not be pleased.
Ben feels like a total skeeze the next night after what he did with Courtney considering he's still dating nine other women. Blakelely uses her alone time to pour her soul out to Ben, talking about some list she makes each day of something new she likes about Ben. Her speech may have saved her from getting dumped. As Ben chats up the girls, Courtney brings up skinny dipping and they all talk about how freeing it is; Courtney smugly agrees and chimes in that it's great to skinnydip with someone you care about. She even says she'd love to skinnydip in the Puerto Rico moonlight. Dumb girls. Emily uses her alone time to apologize for using her time last week to ramble about Courtney... then does it all over again. Emily done fucked up again.
The tropical colors of all the dresses at the rose ceremony almost breaks my HD. One girl is getting dumped since Ben already shipped Elyse off on a dinghy. I'm pretty shocked when Ben dumps "best kisser" Jennifer, the redhead, gets dumped. I know the main spoilers this season since I read Reality Steve, but I don't really know the week-by-week. Ya got me there! I thought wouldn't-STFU-about-Courtney Emily would get dumped.
Next week: the other Casey cries a lot after being around Chris Harrison. I completely understand.