The Bachelor - Week 2
Ben and all his ladies are brought to Sonoma to get their crunk on at the vineyard they'll be staying at.
Kacie B., a 24 year old administrative assistant, receives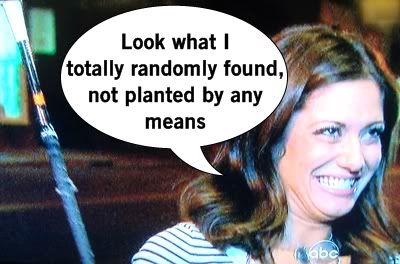 the first date card and she proclaims herself the luckiest girl alive. Ben picks Kacie up in his mediocre Jeep (the most realistic car on this show ever) and gives her a tour of Sonoma. Why are there no people on the streets of Sonoma except four people hanging out the front door of a bar? After looting a candy store Kacie "coincidentally" finds a worn-in, beat up, tattered tape baton and twirls for him. They share a romantic dinner together talking about Ben's history in the town, his dad, and his passion for NoCal. He's digging Kacie and could see her fitting in the town so he gives her a rose and a kiss. Ben teases something another surprise: a private movie showing lame-ass home movies of Kacie B and Ben and their dads. For Kacie it's nice but since Ben's dad is dead it's kind of heartbreaking. But back to snark, if you don't think these dates are pre-determined, how do you explain an entire compilation movie made for ONE girl? Please don't insist they made a video for everyone. Staged!
A dozen skanks head out on the first group date of the season with their all their boobies hanging out, particular horse-toothed Blakely (can't anyone get natural veneers?). Showing the boobage seems wrong since they are performing a play written by elementary school kids, but I bet the boys are happy. The women have to audition for the children which means humiliate and degrade themselves,
moreso than initially agreeing to be on this show. Best moment in
Bachelor
: the kids also agree showing the tits is inappropriate. The girls put on their ridic costumes (gingerbread skank, wizard, princess, hippie, donkey- the usual) and perform the play about "Prince Pinot" in front of an audience. I'm going to fathom a guess that an 11 year old didn't come up with a character named after wine, so it's sadder that 20-something year old production assistants wrote this shit. It eventually allows Prince Pinot, now a sheep, to strip down to his undies.
Post-play they head to a hotel for a pool party!! No rooftop... yet. Blakely, the 34 year old fake-tittied fake teeth VIP cocktail waitress annoyance, will do anything for a rose and feels no competition. All the girls hate her because she's a skank and it even leads Samantha to go mope in a handicapped bathroom stall. Soon everyone strips down to their bikinis for some pool and hot tub time. While Blakely plots how to get a kiss, Jennifer is getting her smooch on in the pool. Blakeley is desperate for attention in her teal 90s ruffle bikini and keen to show her kissing skills to Ben. I'm sad he accepts her teeth and veneers in his mouth. That bitch gets the rose, shocking me and the roomie who thought he and Jennifer really his it off. Errbody on that date is pissed.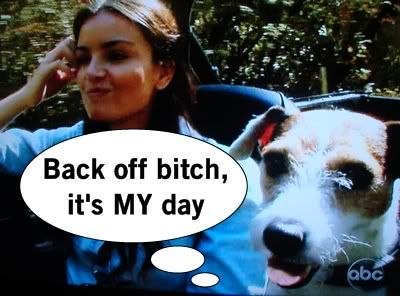 House bitch Courtney receives the second one-on-one date card and she makes a Charlie Sheen "Winning!" reference and I hated her before, I hate her more now. Make "winning" stop, seriously. She's also a major bitch when she gets the date card to everyone just to piss off the other girls. Ben brings his awesome Jack Russell terrier Scotch on the date and he better not give that dog wine because it's made of grapes and that's toxic!! They walk into the woods and try to get Scotch to howl. He looks terrified because he can read that Courtney is a total bitch. His howling is cries for help. "Hooooooooooooooe!!!" They sit by the water for a picnic and some wine and talk about the future, like kids and shit. Ben thinks Courtney is the perfect package and they have a little kiss. Ben and Courtney kick Scotch to the curb at night for a romantic dinner in a vineyard. They have some deep relationship talks like why a hot model is still single and that reason is LA guys (read: Jesse Metcalfe from
Desperate Housewives
and
Passions
) all party and are douchey. Ben's smitten and gives Courtney the rose then they share a really awkward kiss.
Cocktail party. Ben assures horse-riding Lindzi she made a good enough first impression to not need a week two date (she'll probably get a solo date next week). Blakely explains her mentality for the group date was to pretend no one else existed besides Ben. And because she's crazy, cue her cutting in on Samantha at the key line "I don't like drama." And since she has a rose it sparks the every-season argument that people with roses don't need cocktail party alone time. So Ben has alone time with another girl and Blakely interrupts
again
for more alone time (he kind of ditches her). Crazy, ain't that the tooth- I mean truth. Jenna "the blogger" gets insecure and cries in the bathroom. Somehow they blame Blakely for this, the girls talk shit, Blakely cries in a corner. Ben learns she's the scapegoat and comforts her in the corner. His next duty is to check on a sobbing Jenna laying in a bed. Sober up, assholes.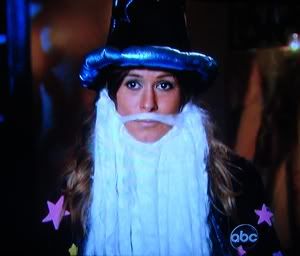 Rose ceremony. Blakely, Courtney, and Kacie all have roses so it's time for a bunch of girls with no screentime to go home. Heading home is neurotic "blogger" Jenna and some chick with skunky highlights (Shawna?). Jenna, no surprise, has a crying fit that is moreso a case of the drunks or as I call it, see you on
Bachelor Pad
this summer you loon. And bring your wizard's sleeve.
Next week: a bunch of skanks terrorize the homeland of the Tanner family.