The Biggest Loser • Top Chef: Texas
The Biggest Loser
- Samantha Gene Brady comes to the kitchen to give some insight into the week. The person with the highest weight loss on the winning team can give immunity to a player on the other team, a huge incentive. But first, two team captains from each team have to follow Ali into another room. Black team sends Joe/Emily , red sends Kim/Kimmy. There is a chance to win a 5lb advantage for their team by gambling how much they expect their team weight loss to be and the highest bet wins.
Then
(ugh, long rules) that highest bet team must lose that amount to get the 5lb advantage or the other team wins it. Red bets 3.8% which is 94lbs or 10 1/2lbs per person. Worst bet ever and of course black doesn't try to top them. Kimmy is laughing that they intimidated them which is dumb because it's that they set a totally unrealistic goal for week two for a kind of older aged team but maybe Dolvett's team will triumph again. The rest of the red team? Not so happy. Dolvett? Not loving it, considers Kim/Kimmy worst gamblers ever.
After initial workouts and a Dr. H visit that is luckily interrupted by a Mitt Romney New Hampshire primary thingy, there's a challenge at a pier. The challenge is for a prize of the Biggest Loser meal plan for six months once they get home which will definitely help keep up healthy eating once they get home. The teams have to turn an anchor wheel to lift puzzle pieces and solve a puzzle (giant team photo) and then raise the puzzle up. Seriously, did the
Survivor
people consult on this season? The black team wins the challenge and gets their meals on wheels for fatties.
Hey remember the aqua team siblings that got eliminated because, you wouldn't believe it, they were out-of-shape? Well back in Chicago and nutritionist from the ranch comes to visit them at home to help teach them the tricks. Don't worry everyone, we DO get Jennie-O product placement to make turkey breakfast burritos.
Workouts, workouts, workouts, Dolvett graffitis the wall, emotional chats... which I fast forward through because I reeeally want to start
Dance Moms
. Kim, the red team big mouth who made the terrible bet, only loses 3lbs. Haha idiot. Kimmy, the other shitty gambler, loses 4lbs. So... don't go to Vegas with these two schmos. The rest of the team continues to lose not even close to 10lbs a person so of course the red teams fails in the overall task (2.09%), but at least they are losing weight. Black team gets the 5lb advantage and has to lose over 48lbs to beat the red team. Since it's week two, a typically weak week, black team isn't getting huge numbers either. Bob's team is able to pull the victory (2.22%) thanks to 8lbs loss by Jizzum, I mean Chism, and the 5lb advantage.
The person on the black team with the highest percentage of weight loss is Chris who gives immunity to her husband Roy aka Santa Claus. The red team heads to deliberate aka cry a lot and someone sacrifices themself. Mike is pointed out to be the laziest at last chance workout; we saw him earlier get a Dolvett therapy time talking about his
on-ranch partner being the half brother he didn't meet until age 12. Mike thinks Kim's dumb bet should get her eliminated over him. In the voting room, Mike's snacking behavior, need for breaks, chewing tobacco, and shitty attitude becomes a hot topic. I don't recall ever seeing a heated vote-out like this before. Mike gets the necessary five votes and is eliminated and expresses he felt like a loner. This goes on for far too long, delaying my
Dance Moms
experience.
Top Chef: Texas
- I cannot begin to tell you how bored I am with this season and that it took me three days to even turn this episode on. This week is the week everyone is typically excited for: Restaurant Wars. This twist year is that it's a battle of the sexes
and
they'll be dining in each other's restaurants (a two-day affair).
Canteen, the men's restaurant, opens on night one with a rustic mess hall sort of feel. Their service is a mess since no decisions were made before regarding expediting the food and the servers are morons. The first course is a Thai style crab and shrimp salad and a ham and pork pate with a fried egg. Second course, the main dishes, are poached salmon in warm totato water, clams, salmon skin and tomatillo jam and a crispy pork belly with green apple and sweet potato puree. To wrap up the meal, desserts are an Almond Joy cake with banana coconut puree and malted chocolate mousse and cracker jacks with peanut butter ice cream.
The women name their restaurant Half Bushel; insert "bush" joke here. Seating customers becomes completely backed up because Lindsay refuses to only work front of the house and keeps going back to the kitchen. Then the kitchen backs up. First course served is a peach salad with pickled shallots, candied pistachios and bacon vinaigrette and a mozzarella filled arancino (risotto ball) with a sweet and sour eggplant and celery salad. Main course are braised short ribs with a potato puree and apple slaw and grilled halibut with Spanish chorizo and a fennel and sherry salad. The meal is completed with a schaum torte with vanilla meringue and champagne berries and hazelnut cream Italian donuts with banana sugar glaze (OMG I WANT THOSE NOW). The night is completed by having Lindsay go into the kitchen and bitch that Bev ruined her halibut when I say if you have a hard dish, don't run front of the house.
Half Bushel wins Restaurant Wars, despite the horrible service Lindsay did as front-of-the-house. The only critique is that Lindsay's halibut was slightly overcooked, likely making her blood boil. The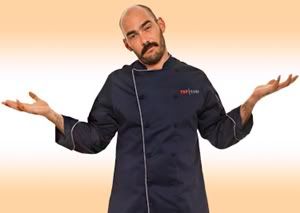 best dish winner is Beverly for her short ribs, and she wins a 3 liter bottle of wine and a trip to tour a vineyard. The men get their critique which is that the judges and diners both disliked the cuisine. Ty-Lor's Thai dish lacked any Thai flavoring. Seasoning is the biggest critique across the board. They are also critiqued for a sloppy presentation, lack of coconut, and soggy croutons. The judges think all should go home, but it's Ty-Lor that gets sent packin'.