Ben and his six women are deported from Panama City to Belize. Next week is the big family visit so two chicks are getting dumped this week. The solo dates won't have roses but the group date does.
Date #1: Ben and Lindzi take a helicopter ride (!!!)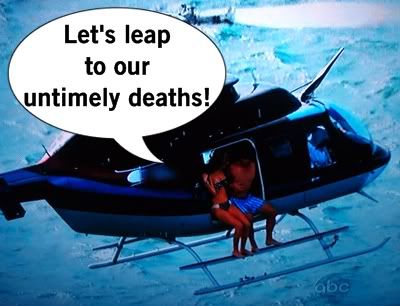 over the amazing crystal blue ocean. The helicopter hovers over this big ass blue water hole where there's a coral reef. Oh how are they getting to the blue hole? By jumping out of the helicopter into the water. Extreme H.R.E.A.M.!! Then they make out of a boat with their red belly flop tummies. Miraculously night falls (must've been a dull day date) and it's time for dinner on a dock. Deep conversation is had with the question is Lindzi ready to bring Ben home to her family. Lindzi definitely wants to bring Ben home to meet her family. I can't focus because I want to just scour her face with makeup remover from the white eyeshadow and heavy black liquid liner. They break out one completely beat up piece of notebook paper and a Ghostwriter pen and write a fairy tale together and shove it in a bottle and set it off to sea. Some poor castaway is going to be so fucking bored by this story.
Emily gets the second one-on-one date, pissing off Courtney. Emily hopes on a private plane and is escorted to Caye Caulker to ride bikes around town. They drink from coconuts, play basketball with locals, shop, and sightsee. It's basically the most normal date one could have on this show... until they are taken out to go diving for their own lobster. Yeah, totally spontaneous and not set up at all. At night they go dancing at a club and enjoying their freshly caught, cooked by others lobster. They talk and kiss a bunch.
The last solo date is with Courtney who spent the entire day bitching, whining that the spark has fizzled, and claiming she would dump Ben and not bring him home if she didn't get a solo date. Courtney also gets a plane ride to meet Ben in the jungle to hopefully be devoured by an python. Actually the date is to visit a Mayan temple which is so astonishing. Courtney comes clean to Ben about disliking Emily and her plan to refuse a hometown date if she didn't get a one-on-one this week. Ben isn't happy to hear her doubts, particularly the declining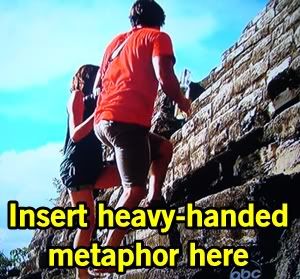 spark, because he is falling for her. Ben reassures Courtney that he always notices her, even on group dates, and wants a woman with edge and weird. They finish the day by climbing up the template steps and making it a lame metaphor for steps forward in the relationship. They have their dinner date and Ben expresses his feelings, saying he sees a future with Courtney. Ben asks about Courtney's experience with the women and she said the women don't care to know her and she's tried sooo hard. Ha! Ben's concern is that she doesn't get along with the women and worries it will apply to real life.
Rachel, Nicki, and Kacie are the trio that have been given a group date which is the only date with a rose. Is it not already obvious Kacie will get the date rose? To start the day, Ben wakes the women up at 4am and says "We're going swimming!" You are eight years old. Ben then miraculously disappears and reappears on the beach to greet the girls. They hop onto a boat, drink some mimosas, and head off to go shark diving. Kacie and Nicki are so excited; Rachel not so much so Ben holds her hand while they swim. Let's add this isn't the shark diving in the cage but rather swimming over the wimpy
sharks that don't kill people. The stingrays are probably more dangerous (RIP Steve Irwin). Post-ocean, they chill at the resort pool (so that Courtney can angrily overlook) and have their respective alone time with Ben. Kacie B drops the "beginning to fall in love" bomb; she gets the group date rose. Usually this is where I stop, except the three girls feel that they need Ben to know about Courtney, her two-faced nature, and maybe she's not there for the right reasons.
At Tribal Council, I mean the rose ceremony, the mood is somber but Courtney tries to lighten the mood with her pina colada and
Old School
quotes. Ben's mind is made up so no lame cocktail party. Before Ben can hand out roses to his obvious picks, he pulls Courtney aside to have a word. Ben wants to know from Courtney she's there for the right reasons and what idiot is going to say anything but yes? Courtney insists she's there for him and didn't come for the girls/to make friends. Like Ben really gives a shit what these other girls say: he wants to go to the bone zone with Courtney. The roseless ladies are Rachel and Emily (knew it), so Ben will be meeting the parents of Kacie, Courtney, Nicki, and Lindzi.
Next week: awkward parent interrogations with zero helicopters.