The Biggest Loser • Top Chef: Texas
The Biggest Loser
- Adrian puts his foot in his mouth
again
by telling the black team that he didn't vote for Nancy. Bickering ensues again and Cassandra has no time to cry about her grandmother. Mark feels Adrian possibly threw the weigh-in to have bigger numbers this week when he isn't immune again. This show was once about changing lives. No it's about a house of assholes. It's like an MTV Challenge but fatter.
Speaking of challenges, this week's is to hold onto a rope to keep their trainer out of the water. The team that loses the challenge won't have their trainer for the whole week. Neither trainer is happy to be in the dunk position, especially Bob the height-phobe. Despite the red team being packed with men, Bob's black team wins the challenge. Dolvett sorta gets the week off; he's not in the gym but instead gets to watch them on hidden cameras all week. Well I guess it's not hidden when you're on a reality show. And then black team works out a lot, sympathizes with the newbie, and then gets some restaurant menu tips. The only good part of this episode is when Dolvett whips out a piece of paper called "The Conda List" which describes all her complaints about Adrian and everything in general. She is horrible.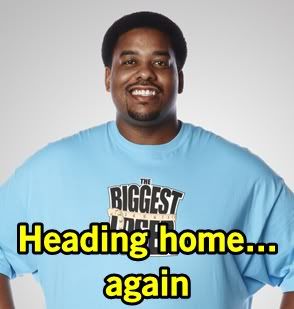 At the weigh-in, the Red team loses 2.73%. These are good numbers and moreso impressive when you remember they did this work on their own this week with merely a last chance workout with Dolvett. It looks like the black team is going to lose but nope, they don't (3.16%). It would seem like Adrian is the easy target. The votes are split between Adrian and Mark (who some say could complete the journey at home). After too many excuses, Adrian is eliminated, pissed, and asks everyone not to hug his sister. Ok, bye.
Top Chef: Texas
- The cheftestants enter the kitchen to find five dome covers and since there's four chefs, that means the winner of Last Chance Kitchen is joining the gang. That winning chef is... Bev. Cue the fucks and bitterness. Onto the domes, the Quickfire is to raid the pantry while wearing a blindfold and then use all those items to make a dish (don't worry, they don't have to cook blindfolded). The winner of the Quickfire has a choice of prizes: a new car or an automatic spot into the final round. Sarah wins the Quickfire with a corn soup; Sarah chooses the automatic spot in the finals, the biggest duh prize ever.
Padma and Tom brings the final five's mentors into the kitchen, leading to everyone sobbing about how inspirational their mentors are. They are of course here for the Elimination Challenge which is a dish to impress their mentors. The winner gets that leftover Prius and Sarah, now automatically in the finals, doesn't have to compete and can instead chill with her mentor.
Beverly's dish is gulf shrimp and BBQ pork singapore noodles. She is praised for cooking with her heart and using a wok to cook for so many people. Lindsay makes a seafood stew over toasted couscous and a broth with emulsified cream (Lindsay regrets the cream). The judges don't get the cream either but the seafood is cooked perfectly. Paul serves a chilled sunchoke and dashi soup with summer vegetables. I'm wondering WTF sunchoke is, but that's a Googling for another time. He's commended for his balance of flavor since initially there was hesitation it might be too salty. Ed finishes off the meals with braised pork belly and smoked oyster crema with pickled vegetables. Tom notes he didn't care for this kind of oyster and we the viewers know Ed has to settle for a pre-packaged smoked oyster and not fresh so we all know how using pre-cooked/packaged items usually means.
At Judging Panel, Beverly and Paul are the favorite dishes of the week; they are both in the finals. Paul is chosen as overall winner so he gets Prius. The judges really enjoyed Lindsay's dish but didn't care for the cream or the dried herbs. Ed's oyster sauce is what killed the dish and the lack of fresh oysters is, of course, frowned upon. In sad news, one of the only chefs I liked on this horrible season is sent packing: Ed. Booo.