Ben and his final three "amazing women" "incredible women" depart Los Angeles for fantastic Switzerland. I'd love to go there for the beautiful mountains, pale skinned people, and of course chocolate.
Nicki meets up with Ben on a grassy field which looks like a
horrible date location but an excellent location to be picked up via helicopter!! H.R.E.A.M.!! Nicki says it's "majestic" and feels like they are the only two people in Switzerland. You know except for the cameraman with them and the person piloting the flying machine you're in. The helicopter lands on a mountaintop and they share a romantic picnic and recap that Nicki is in love with Blah. I mean Ben. She's like so giggly and happy and he's his usual lame self. They get dropped of on another mountaintop to hug and take a 360 degree camera-shot. Later, they have a private romantic dinner by a fire in a log cabin with Nicki swooning more about it being the best day ever. Ben says he has a better time with her each time they're with each other. The conversations flows nicely so Ben eventually busts out the fantasy suite card where Nicki pretends she doesn't know what it is. No shit she accepts it, they always do, and they head to another candlelit, fireplace room to pop champagne and makeout in a glowing bathtub. Nicki says she's not cocky but very confident she could make Ben happy.
Lindzi runs into Ben's arms for a monkey hug greeting before their extreme stunt date: rappelling 300ft down a cliff and by that I mean, professionals just lower them down. Then they cuddle and talk in a big barrel hot tub and share a bunch of closed mouth kisses. At night they dine in a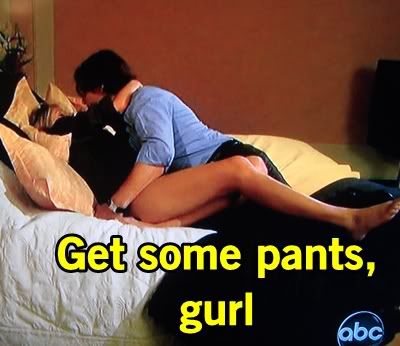 private Victorian room that's very pretty but ruined by Ben's horrible ensemble. A bowtie? You are not Brad Goreski. Lindzi admits to putting up walls but is ready to be vulnerable to be her truth self. Lindzi tells Ben she is falling in love with him and would like to see this end in a proposal. Lindzi accepts the fantasy suite card after explaining she doesn't just spend the night with dudes all the time. Oh man, Ben might see her without all those cakey foundation layers on!! They makeout on the Ben and holy crap Lindzi I can almost see your vaj. BONE ZONE!
Ben and Courtney take a train to a little town called Wengen for a "very Swiss date." If this doesn't include Swiss Miss hot chocolate, I don't curr. They shop around town for picnic goodies (bread, fruit, swiss cheese) and see garden gnomes which makes me a little jel cause I love gnomes. Ben and Courtney have a picnic in a pasture and play "Hey cow!" where you yell at a cow to try to get its attention. Ben is a serious catch. They talk openly about Courtney being a
bitch to the others, often intentionally. Ben thinks her behavior was messed up but decides to table the conversation to not ruin the date. Man wants to get laid afterall. Courtney is worried her nasty actions will loser Ben. They later have dinner in another cozy setting because that's what this show does. Courtney tries to smooth over her turd behavior and wants him to not think she's being fake. Blah, blah all is well, Ben's doubts are soothed. They head to their fantasy suite cabin to awkwardly kiss and get in another barrel hot tub, just teenier.
Ben ponders his existence on a sunset balcony and is happy he got answers, particularly about Courtney's bitchiness. Suddenly a pair of skinny jeans comes walking down the hallway and it's Kacie B, the young'n who got dumped last week. Ben greets her with a "Holy shit, hi" and a hug. The producers flew Kacie all the way to Switzerland to try to get answers of why she was dumped. Ben explains they were "worlds apart" with very different backgrounds. He didn't see his life going in a direction that goes with Kacie's; she didn't do anything
wrong, he just didn't see her in the end. Since the answers aren't helpful, Kacie lets Ben know she doesn't want him to get heartbroken again and that Courtney is a bad choice. Kacie feels Courtney is there to win it not necessary fall in love with Ben specifically. It's really awkward as it is every year when they force an eliminated contestant to return for answers and stir up drama. They hug, Kacie leaves, Kacie lays on the dirty hotel hallway floor. As we all do.
Ben's not sure what to do. Kacie's words about Courtney hit him hard and now he wonders if he's been played. The most overpaid host ever shows up for a lame chat with Ben. Ben's feelings are real but he is really concerned with Courtney's motives. Ben is about to make the biggest decision ever, he doesn't want to screw it up. Ben gives his final two roses to Lindzi and Courtney. No surprise. Nicki hopes Ben doesn't get hurt but it devastated and humiliated to know she fell in love with a guy who didn't love her back.
There's a sneak peek mid-episode of the upcoming
Bachelorette
Emily who you may remember as the beautiful, dullard single mom who got picked by two-time-
Bachelor
Brad and it didn't work out. The shows it up for Emily to visit Ali and Ashley, former
Bachelorettes
to give her advice, like how to be a giant famewhore like Ali. It's stupid shit
like shopping, make-up, how to pin roses onto the guys, and then an extremely obvious product placement for
Titanic 3D
. My favorite moment is Ashley explaining she hopes Emily finds a love like Rose and Jack. Well I hope it's a little better cause Emily already had a lover die on her. I DO hope she asks a suitor to "draw her like you draw those French girls." Good thing I am hilarious because Emily is going to need my magic to make her season interesting.
Next week: the women tell all. And by all I mean bitch about Courtney.