The Amazing Race • Survivor: One World •

Finale!

Top Chef: Texas
The Amazing Race
- Teams drive to Cafayte Town Square which means... equalizer. In the morning they mob a poor man on horseback to retrieve their first clue: a detour. The teams have the choice of assembling a solar kitchen to boil water or gather firewood and clay and deliver to a shop. Most teams opt to boil water but the Border Patrol dudes opt to grab wood, getting lost in the process. Bopper and Mark, the redneck ebony and ivory best friends, have sons so they are masters of Legos and quickly assemble the solar panel, but the boiling takes a while for them (and all teams). Art and JJ (Border Patrol guys) may have gotten lost, but the task allows them to catch up and pass the teams by a lot.
Teams then travel by bus for 18 freakin' hours to Buenos Aires and I'm jammin' to the
Evita
song in my head. The teams end up on three buses and as we're getting a jaunty drive montage the show cuts to black and them a slam noise. Bus #2 was in an accident, smashing windows and all. Bus #2 is some dating couple, the twin bros, the married clowns, and the Jersey guys; suddenly this bus is in the back of the pack.
The clue in Buenos Aires is a "Where's the beef?" Roadblock to calculate cattle total while an auction is going on. WTF?? This challenge sucks. Non-BB Rachel (the married one) and Border Patrol JJ work together to solve the math and guess the correct weight and get the hell out of the dumb task.
Big Brother
Rachel starts to get stressed. The Border Patrol explains that they wouldn't help Brenchel because their team is perceived as tag-alongs that follow what everyone else does instead of figuring it out themselves. Mark of the best friends help her with the answer. Brenchel's cab takes off because Rachel asked for a delay or something, leading to her having one of her trademark
annoying breakdowns.
El Gomero, a big ass tree, is the Pit Stop for this leg of the race. Married couple Dave and Rachel check in as team #1 again and win a trip to Granada. All the other teams are checking into the Pit Stop as the final bus is pulling into Buenos Aires. Phil uses the bus breakdown to tease the two women teams originally on the final bus. Not too surprising as I figured they'd be out early, the clowns are eliminated.
Survivor: One World
- A storm's a-comin' and that's not some metaphor for tribal chaos. The men extend the women an invitation to stay in their shelter but the women decide to tough it out. Enjoy a sleepless, freezing, ladies! The men are the total opposite: dry and they still have fire. The women cave and cuddle by the fire in the morning to warm up and dry off. Turns out the jock a-hole guys (aka Matt) doesn't want the women honing in on their shelter.
Reward challenge separate from immunity challenge- woo! It's a memory task to look at a series of objects and then recreate it. The prize is fishing supplies and a canoe, an excellent prize for survival purposes. This is the challenge I plat along with at home, shouting the patterns to prove I am fantastic at memory. Hey, it's the only challenges I'd ace if I were there. In terms of pathetic, Troyzan vs. Kat is completely embarrassing as neither can remember anything. It takes SEVEN tries until Kat wins. At last, the Salani women win a challenge and perhaps this will give them the momentum into the immunity challenge they need to not lose another member.
The storm starts up again when the women try to get their shelter up. Kat and Monica ask the men for an ember and while there's some pushback from Matt, they give it up. The men are willing to help but only if they are getting stuff in return. The women keep popping up to dry by their fire and the men are ready to tell them to GTFO and tough it up after being denied the ability to use the canoe. When the sun comes out the women decide to become self-sufficient and fish. Well without fire it'll be sushi but whatevs.
Immunity challenge! Everyone will be blindfolded except a caller who will direct them through an obstacle course to collect puzzle pieces. The caller will them assemble the puzzle pieces. Yup, return of the damn puzzles. The callers are Sabrina for Salani caller and Bill for Manono. Sabrina's calling skills are not so great, while Ben is right on in his directions. The men retrieve all their puzzle pieces first, giving him a big lead over the women who only have three bags at this point. Bill takes his time with the puzzle due to his lead and finally the women get together their pieces. The puzzle is this really intricate cool tree puzzle so I give them kudos for not picking the same dumb puzzle as every year. Sabrina's teammates help her out (particularly Kim) and begins to catch up to Bill. It's a nail-biter and in a big shocker, Salani wins! Girl power!
Now it's time for the men to tear each other apart. Colton hates Bill for blowing the lead and being annoying. Colton can be annoying but Bill does say "brah" and "bro" so he kinda has a point. Until he calls Bill "ghetto trash." Um yeah, not cool bro! Colton makes sure to convene with his alliance to try to get Bill out this week. Tarzan is like uhhh we should get rid of Matt the dick. Jay comes over to eavesdrop and with his back against the wall, opts for vote with the five. Matt pulls Troy aside to try to make maybe another deeper alliance that takes out Colton tonight. Troyzan ain't biting at Matt's alliance of all the "roosters." That's right, cause you're a cock!
Tribal time! The men get the fire is life speech, always a favorite moment of mine. Right away Colton blurts out at Tribal that he has an immunity idol and that he will play it tonight. Jeff tries to make Colton realize that him fraternizing with the women's tribe is making him a bigger target. Bill makes an accurate assessment which is that while Colton felt like they pre-judged him, Colton are pre-judged his tribe. Matt uses more stupid bird metaphors to basically say he doesn't like Tarzan. Meanwhile, no one likes Matt cause he's a dick. So glad I went against my alpha-male-for-the-win pre-season pick strategy. Bill, well he's just happy to be there.
Finale!
Top Chef: Texas
- I have never wanted a season of Top Chef to end so much in my life. This has been by far the worst season ever. First: unbearably long. Second: horrible chefs. Third: horrible challenges. I know Tim Riggin said "Texas forever" but I'm ready to ignore it for a long time. Onto the finale.
The final task is no frills, no dumb fucking Texas theme: create a four course tasting meal and the restaurant of your dreams. Like a mini Restaurant Wars. For the usual sous chefs, it is actually a competition between this season's rejects and two legit master chefs. This is to fill the time of an otherwise boring finale. The losers have 45 minutes to prepare a dish and then Paul and Sarah taste them all and pick their three favorites. Paul's team is master chef Barbara Lynch, Ty-Lor, handsome Chris, and Keith. Sarah's team is Nyesha, Tyler (the annoying audition episode dick), Heather, and Grayson. Must suck to be the master chef who didn't get picked but he can get his revenge by being an asshole at the final meal. Speaking of being a dick, Tyler is horrible for Sarah and obviously wants to shine on the team rather than help Sarah with a win. Paul and Sarah also get a chance to sit down with a glass of wine and tell their menus to Tom and Emeril and get some tips.
Paul's restaurant is Qi is Asian dishes and has no meat courses, though he has two fish courses. First course is chawanmushi, edamame, pea shoots and spot prawns. Chawanmushi sounds like that Alan Jackson song. Next course is grilled sea bass with clam dashi, pickled radishes and mushrooms. Third course is congee with scrambled eggs, uni, kale and smoke albacore. The texture was weird and the dish not as interesting as the first two. Paul's final dish, dessert, is a liquid nitrogen coconut ice cream with puffed rice, kumquats, mangosteen, Thai chili foam and a jasmin gelee. The foam is spicy and the rice is a nice constrast; it's a bold dish. One judge calls it a "sexy meal." Paul runs out of eggs which isn't a good thing she he has two egg dishes.
Sarah names her restaurant Monte Verde and looking at the menu appears to be maybe Spanish or Italian food? First course is a squid ink tagliatelle, spot prawns and fresh coconut. Second course is rye crusted steelhead trout with a fennel sauce, pickled beets and gras pista. The judges note that the beets are undercooked but the rye crust is great. Sarah's third course is what she considers her riskiest: braised veal cheek with crispy veal sweetbreads. Padma calls is "luscious" though Sarah is upset with the texture of the polenta first time around so modifies it for the next judges. The meal concludes with a hazelnut cake with kumquat and roasted white chocolate ganache. The dessert is considered the best of them all, wowing the judges and diners. However in her second round of judging, a diner calls her aside and warns her that her fish might have bones in it, stirring a panic because a bone is a game-ender.
Tom said that this is probably the best finale food they've ever had. I guess this terrible season has one thing going for it then. The judges break down the dishes course by course and it really is even. Sarah's main faults are the polenta in the first group of judges and the pickled beets. Padma, who hates white chocolate, praises Sarah's dessert as the best the show has ever had. Paul's spot prawns were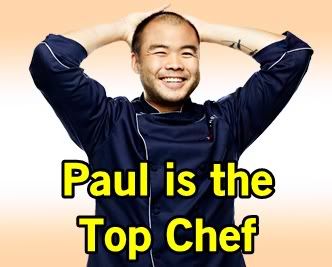 overcooked at the second judging but Paul knew it was bad. His congee is praised for showing "great confidence" but some have squabbles about the dish so it's mixed opinions. Tom doesn't like sweet desserts so he loved Paul's dessert. Both meals were pretty impeccable and if it weren't obvious Paul wasn't going to win all season, it would be a pretty unpredictable event. The judges deliberate and call Sarah and Paul back into the room. Paul is named Top Chef. The season finally ends! Well sorta since there's a reunion that I won't be watching next week.