The Bachelorette - Week 2
The show makes a big intro showing how this season of the Bachelorette is being filmed in Charlotte this season so Emily can be close to her daughter. Except this show is hitting the road in two weeks and the kid is being brought around the world so yeah, so much for that Charlotte tourism boost. Young mom Emily talks to the old soccer mom crew, while Chris Harrison works on expanding his arms' wingspan to tell the guys about the dates this week. And then they get drunk at the pool.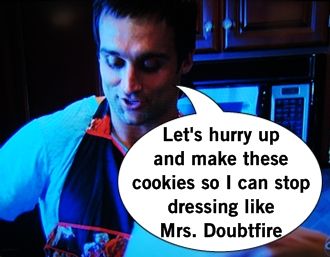 The first date card is for Ryan, the ex-football player where he'll "be her King in the Queen city." Queens are fucking amateur; it's all about the Khaleesi. Ryan and his nips in the sky blue V-neck gets picked up by Emily in her Tahoe, then speculates for what crazy date they'll have. Helicopters? Hot air balloons? Nope. He gets to go to Emily's house and help her unload groceries and make cookies for her week as soccer "snack mom." This is the real Emily deal people! All I can think while they are making these cookies is gurl, get a KitchenAid, mixing cookies by hand is bullshit. Then they drop the cookies off but Ryan has to stay in the car and stare creepily at a soccer field full of six year old girls. God if the cops rolled up it would've been hilarious. But the date isn't over and Ryan gets decked out in a suit and Emily in a sexy magenta asymentrical lace dress for their evening date. The restaurant Osso has a red carpet and all the townies take pics like Kate Middleton came into town for a quick bite. They talk about relationship stuff, like how the chase is fun but the chase ends and then what. Emily doesn't want this process to be a competition; she doesn't want to be the game, she wants love. Emily worries Ryan is possibly too perfect like Brad (Brad was NOT perfect and a total dud), but she gives him the rose and a cheek peck. No real smooches. The night is wrapped up with awkward slow dancing in front of the entire town for a not-so-private concert of "one of her favorite bands" Gloriana. What an odd date and Ryan pointing out it's surreal is astute. This show is a weird form of dating.
Date card #2 is a big ass group date with thirteen dudes which means a lot of strange hugs. The guys and Emily will be performing (singing, dancing, comedy, whatevs) to raise money for a very verbose charity that I didn't get the name of. Since these guys are just aspiring famewhores with no experience, true talent is brought up to bring the talent: Kermit and Miss Piggy. Best. Date. Ever. The only way this date could be better is if Emily and a guy doubled with Kermit and Piggy in a helicopter. Ahhh Fozzy is there too for stand up comedy lessons! Charlie goes to see Emily and admits he can't do the comedy bit because he's still having speech issues from his accident and is really insecure; Emily had no idea he had any issues, but understands, so Charlie opts to dance instead. Kermit is the first one to gets handsy with Emily, getting the prime job of zipping up her dress. Piggy is livid. The show begins and it turns out Emily's dancing could maybe be worse than mine. The crowd eats up the flashy number, especially Ricki who is in the audience scoping out the future dad prospects. Fozzy introduces Kyle and John do their terrible interpretation of stand-up and Miss Piggy hosts a talk show for a dating game-esque segment. Stagefright Charlie just has to answer
what he'd do to impress a girl, and with a bright red face he says he'd keep reminding the girl how special it was to have someone so great in his life. Since the saying goes that you have to kiss a few frogs to meet a prince, Emily gives Kermit a little peck, setting Miss Piggy into a fit of rage to force Kermit into admitting his love for her. Emily brings Ricki on stage to sing (or stare in a state of shock/awe) with Kermit and Miss Piggy and it's such a sweet moment I could get verklempt because they sing "Rainbow Connection." Chris Harrison sits in for Waldorf, making snide remarks with Statler which is the most I've ever like that robohost.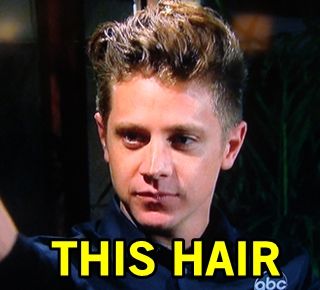 After the greatest date ever possible, Emily and her guys head to a rooftop cocktail party and a rose is looming on the table. Game on, fellas. Emily thinks Jef with one F is cute, but he's sort of avoided her and she feels like a 12 year old with him, weird missed glances. Jef is getting used to her glancing at him, but also glancing at others. Rain interrupts the rooftop fun, so it's inside to a swanky loft to continue the nonstop wooing/harassment of Emily. The annoying party MC asks Emily about her dance choices and the guys spy on MC and laugh at his dorkiness. Kalon (aka Heli-Kalon) interrupts the madness and gets a chat time with Emily, but then some dude interrupts almost immediately into the conversation and refuses to wait the two minutes Kalon requested. Party MC says oh well, you did the same to me. Touche, whatever. Emily gives her date rose to Jef with one F because, I'm reading between the lines, she loves his Brandon Walsh hair.
The last date of the week is for supposed Matthew McConaughey looklike Joe (yeah, no Emily) to take a private plane with Emily to her home state of West freakin' Virginia. DYING. Muppets AND West Virginia? It's like all my favorite things in one episode (except helicopters). They go to The Greenbrier which is this beautiful spa resort that I've been obsessed with the idea of visiting for years. Emily has been coming here since she was a little girl, getting makeovers and shizz. They cannonball into the pool and that's all we see until Joe waits for Emily at the bottom of the staircase for her grand entrance for dinner. Down she comes in a dark pink evening gown, taking Joe's breath away (assumption). Emily sees potential in Joe but is also noticing the spark she wants is missing (foreshadowing!) Posed the question of where he sees himself in five years, Joe is sort of vague but promises if he's there in the end he'll move wherever she wants. The topic of kids comes up and Joe doesn't want to be so planny and textbook in a relationship, whereas Emily wants to pop out a shit-ton of kids it seems. Emily and Joe write love notes to put into the Greenbriar's love block, and Joe's note is to come back again some day with Emily and Ricki to meet her parents. Emily's heartbroken because despite that beautiful note, she can tell Joe is not the one. She tearfully breaks it off with Joe and I guess seeing him leave his suitcase at the door earlier was even bigger foreshadowing. Cue the ill-timed fireworks at the hotel while pulling a semi-Mesnick!
Meanwhile at the house, the conversation comes up about Ricki and that whoever is seeking Emily needs to be ready to become a dad as well. Heli-Kalon says it's something he's coming to terms with and then tells single-dad Doug that by Doug coming on the show he put being a dad on hold. WHOA Heli-Kalon, not cool. Doug puts Kalon in his place, explaining he wasn't going to do the show but his son is the one who convinced him to give it a chance. And Heli-Kalon officially becomes the season villain.
Emily's hot mom helps her get dressed in a royal purple one-shoulder floor length gown for the cocktail party and rose ceremony (I want that dress). Race car driver Arie didn't have a date this week, so gets time with Emily first and they laugh and bond as it turns out Arie has dated a single mother before. They hit it off and she gets all giggly and smiles; they could be a good pair. Ryan gives Emily a gift of a rolled up parchment longest letter in the world while Tony in lurking in the shadows having to listen to this deep letter to get some alone time after. Awk-waaaaard. Tony finally gets his alone time which he needs because he wants Emily to know he is a father as well. Heli-Kalon tells Emily that the environment and experience is a lot different than he expected, meaning he didn't realize people wouldn't love him being a douchey asshole. "Wolf" sums it up best with his life theory: "If you're a dude and you have Louis Vuitton luggage, you're an asshole." Chris Harrison pops out to clang the champagne glass and get this show on the road.
Rose ceremony! The first rose goes to Heli-Kalon just to get reaction shots of a bunch of angry dudes. The roses are handed to a mix of well obviously he gets one and "Wait, I've never seen that guy before." So really at this point with so many guys in the mix, the question is who got jilted? Not stupid Party MC Stevie, leaving me to internally groan. The roseless gentlemen are biology teacher Aaron (the fake hipster glasses didn't help his case it seems) and financial adviser Kyle. I don't know who he is either.
Next week: Dolly motherfucking Parton's glorious tittays at Dollywood.