The Bachelorette - The Men Tell All
Recapping the reunion special is always terrible. It's such dumb filler to push off the finale and it annoys me. I don't care about the rejected guys, especially now that it's just become a forum for people to be as loud as possible to get cast on Bachelor Pad. But the blog must go on...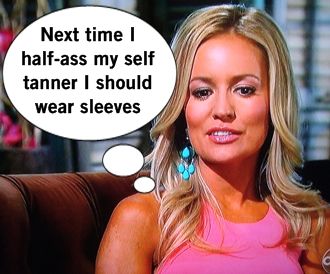 The extremely drawn out two hour episode starts with a video-taped interview between Chris Harrison and Emily, with the blotchiest self-tanner application ever, recounting the season. While Ryan was the guy who made a great first impression, he turned into a chauvinist dick. In terms of Kalon, Emily thought maybe the guys jumped to hating him just because of the helicopter... until she realized he sucked big time too. Doug picked an awful moment for a first kiss (getting dumped). In unseen footage, Emily spills on an expensive dress, sings a lullably to Shelly the egg, Arie's brothers spy on them making out, and Chris is a horrible dancer humiliated in front of a private date crowd. Thrilling stuff I tell you.
There's a preview of Bachelor Pad which includes a lot of crying, tons of hookups, and shit-talk. It's the same as every other preview except this season has "superfans" competing alongside to freshen the hookup cesspool. But at least Michael Stagliano is back being lovable and Erica Rose for that weird, slow, half asleep way she talks. From this season there's single dad Tony, Heli-Kalon (he needs the $250,000 prize "because helicopter fuel is expensive") and Chris who got dumped in the final four. And when Chris comes out later still fighting heartbreak, just remember to flashback in your head to this Bachelor Pad preview where he's making out with a bunch of chicks who all want to partner with him. Devastated by the loss of Emily.
Kalon gets dropped into the hot seat first since he's the season villain and it still doesn't make sense for a guy that only wanted his own biological children to date a single mom. When he initially signed up, Kalon didn't know who the Bachelorette would be and when he did learn it was Emily, he thought it would be unfair to back out. Oh really? Unfair to lead someone on or unfair to miss out on a bunch of free shit knowing you weren't likely interested? Still a skeeze. Kalon won't admit he was rude and makes excuses but know this, he had to be there for fame and the cameras because he signed up for
Bachelor Pad
. If you only wanted love and meeting a girl, you'd turn down the spin-off show. Proof he's an asshole: Kalon is no apologetic for calling Ricki "baggage" and thinks he shouldn't sugarcoat thinks. Skeeeeeeze.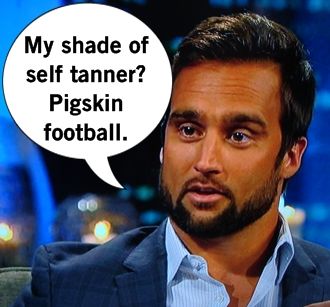 Ryan is the next villain but less villain and more overinflated ego that turned the world off. Ryan is rocking an unnatural shade of tan; a brown orange glow that looks like my TV needs to be adjusted. Ryan thinks some of the answers aired on the show were taken out of context. Ryan insists he's not arrogant, but confident (eyerolls from all). Chris gets real pissed at him, asking if Ryan did have actual feelings for Emily, and calls out a conversation where Ryan told other frontrunners they'd be the next Bachelor. Chris Harrison, showing the personality he lacks all season, soothes fans minds and assures us this is not the case. Ryan gives some horrible answer about being there to find his wife, except maybe it wasn't Emily. Ryan denies being a total ass, which Chris Harrison keeps pointing out is hard to argue when you are a giant ass on TV.
After getting time to shout at others, Chris comes on stage to recount the love lost. Chris was definitely crushed after getting dumped, even angry. He's ready to love again as Emily showed him how to love again (of course). Sean is still mending his first real broken heart as he really thought Emily was going to be his wife at the end of this process. Let's call this conversation "set-up for next season's Bachelor." Only one broken heart ever, a sincere nice guy, guy who wants the love his parents have, and can't wait to find love? Sign the contract now.
Emily is brought up to see the guys she dumped, her spray tan applied better than her video. Emily ugly cried when she watched the episode when she dumped Sean. She did have true, genuine feelings; Sean thanks her for opening his eyes to love. He's hopeful for the future. The future of being the next
Bachelor
. Chris also thanks Emily for "opening his eyes." This phrase should be the night's drinking game. Emily is ashamed for not being able to see Kalon for the dick he was; Kalon apologizes but she's not buying it, calling it "the biggest load of bullshit I've ever heard." YOU GO GURL. Emily points out all the stuff Kalon's said on social networking recently and knows he's full of it and a true a-hole. After a quick talk with Ryan about him being a smooth talker, they wind it down with bloopers including Chris Harrison asking Emily how many guys she plans to sleep with ("hopefully all 25"). Important blooper note: in Scotland, there WERE balls shown.
And now we wait until Sunday at 8pm (special day/time!) for the season finale where Emily will choose between Jef or Arie. OR if you're like me, maybe you're hoping it comes full circle ala her prior fiance Brad Womack and picks neither, or maybe dates both of them past the show to make a decision. We shall see!
Oh and next Monday: Bachelor Pad!