Erica hates newbie David for targeting her so she plans to torture him until he's gone. The twins are hot messes, donned in identical eye-burning-in-HD hot pink dresses, crying, fighting, and slurring over one twin calling the other a slut. The whole house laughs at their idiocy.
This week's challenge is perfectly timed to go along with the Olympics because we are the fools watching this shitshow while the greatest sporting event ever is on (in defense, I'm DVRing and tuning in later). The challenge is to perform a rhythmic gymnastics routine. Everyone will learn a routine and perform in teams of men vs. women and the best man and woman get a rose. Like last week, the suckiest gets a vote against cast against them at the rose ceremony. Both routines include fabulous ribbon dancing, reminding me of the
brilliant 90s toy
. I would've enjoyed all the puns the show could've done if they had to use the balls but hey, the unitards lead to enough ball jokes on their own. Judging the routines are former Bachelorette Ashley and her fiance JP and then an actual Olympian named Tasha Schikert (they do this shit in the Olympics?) The women perform first and it's god awful, hardly a routine and more like a freestyle by toddlers (my soulmate Michael Stagliano makes a similar comment). Maybe it's because they count aloud, but the men are a trillion times better and their sense of humor with the leaps makes the routine even better. The worst dancers are Erica Rose (ha! again!) and Ed. Maybe he needed a few more beers and a bare ass to be happier. The best dancers, recipients of roses and dates, are Blakeley and Michael "just give him the prize money again" Stagliano.
For the ladies, desperate is what we shall call the potential people Michael might bring on his date. There's desperate Donna, the newbie who has a secret crush on Michael and wants him to like her back, and Erica Rose who is desperate to be saved since she's a challenge loser. Erica and Michael chat and he promises to have her back. Erica assumes she'll be going on the date and getting a rose, buuuuut Michael came onto the show this time not for the game but to meet someone. Michael chooses Rachel, Lindzi, and Donna for his date, infuriating Erica Rose. Michael wants a love connection and sadly Erica Rose will have to get saved the old fashioned way.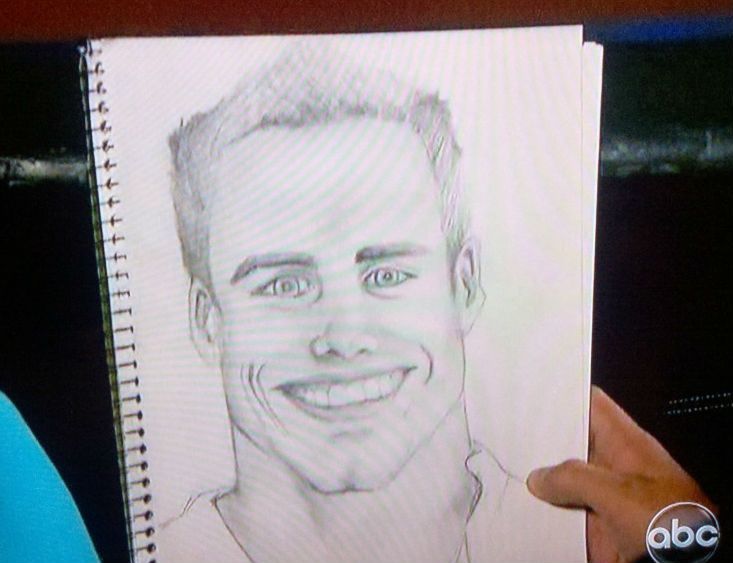 Michael has on a black tee, black vest, and a black scarf; he loses ten cool points there. They arrive at an old movie theater with their names on the marquee and inside there's a concert by some no-name band with paid extras pretending to like them dancing. Donna can't believe she's living the corny lame concert dates she sees on TV. But Donna's time is up and Michael switches to Rachel and they really hit it off, like so much that they kiss. Donna scoffs, the paid extras gawk - good times! The after-concert is drinks in some lounge and Michael pulls Rachel aside to "talk" first and by that I mean continue their makeout party. Donna makes her attempts to be noticed by showing Michael the picture she drew of him. OH. MY. GOD. I am laughing so hard. It's a cross between a mall kiosk that does portraits of celebrities and a police sketch artist. Michael thinks it's sweet and fulfills a fantasy for her: making out, tongues poking out, against the theater backstage wall. I'm assuming Michael didn't make out with Lindzi or else we would've seen it, but I was hoping for a trifecta. Michael gives the date rose/immunity to Rachel, crushing Rachel's youthful pining soul.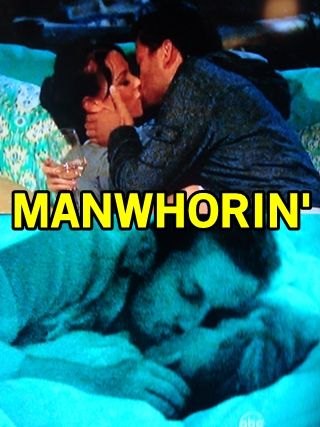 Meanwhile, Ryan the token black virgin bakes a cake and decorates his partner Jamie's bed with candy for her birthday. He believes they have the strongest partnership in the house, and hey he wouldn't mind if perhaps some romance happened. Blakeley hates Jamie, the potential partner thief, and for good reason because Jamie
does
intend to dump nice Ryan for Chris. Too bad for Jamie because he overly nice partner keeps interrupting and it becomes clear to her Ryan might want more. Oh boy. Ryan tells Jamie that Chris told him specifically that Ryan and Jamie should remain partners as Chris is sticking with Blakeley. Jamie is confused because she thought she would be banging Chris by now. I mean she's a nice girl that parents would want to meet (and what parents wouldn't love her Madonna 1985 black lace gloves?!) Jamie decides to talk to Chris because she feels confident they'd make it to the end together. Chris doesn't want to be romantic with Blakeley
but
Blakeley has the rose for immunity this week, so he aims to please her while still getting some Jamie side action. Makeout with Jamie, makeout with Blakeley in the bunk bed below Jamie and let Jamie catch you cuddle sleeping together. Chris is a manwhore.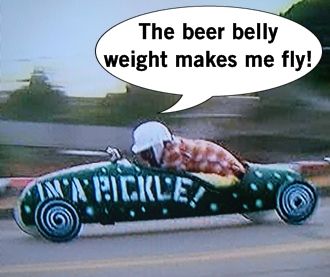 Blakeley brings the manwhore, Ed, and fan David on the "racy" date. David is so touched that one of these vets would choose him, making him and Blakeley weepy. Blakeley though is tired of Chris thinking he's the HBIC. The date is kind of awesome. It's riding downhill in self-designed soapbox derby racecars (full size, not the teeny carved-in-wood Boy Scouts ones). Ed's cart is the most LOL worthy thing which is that he paints his car like a pickle and calls it "In a Pickle" because with one vote already against him this week, he's in a pickle. God Ed, I want to hate you but sometimes I simply can't. Chris, however, makes himself so easily hateable; his arrogance is so annoying. The night portion of the date is drinking and hot tubbing at the house the Bachelor or Bachelorette usually lives in. In David's alone time, he tries to appeal to her emotion angle about how much he loves being here and knows she was once an outsider too on her season. Aw you sneaky devil! Chris admits to Ed he is not romantically interested in Blakeley and wants to win the game; apparently she sucks the fun out of the game for him. When she gets serious with him, the drunkass lies to her and she can read his insincerity. Despite David's heartfelt conversation and Chris' horrible behavior treating Blakeley like shit, Chris still gets a rose.
With roses out of the way, the house focuses on getting ridiculously drunk, naked, and hooking up with each other. This includes drunkass Ed drinking out of his soapbox derby trophy and I can't believe I haven't thought of winning something just for the drinking apparatus. Time for some night vision camera hookups and by that I mean, Ed got a beej under the covers from Sara (or so the show implies). The twins decide that while everyone is slurring, blackout drunk that they should campaign to stay which again turns into whining and fighting with each other. The better looking one wants to leave, while the ugly one wants to stay because she wants to showmance Dave, but the sisters are a pair so either they stay together or leave together. My pick: leave together, go away, you're not hot and are really, really, reeeeeeally annoying. In the end, the wins quit the game to the relief of the house (and me- their voices- gahhhhh).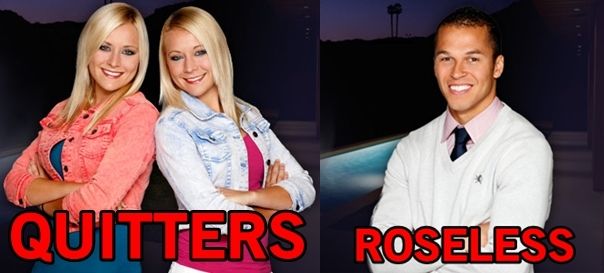 Since the twins quit and the show is all about even pairs, all the women are safe this week. Erica Rose is so happy. One guy will be eliminated, voted by the ladies, and it's a forgone conclusion that fan David will get eliminated. Kalon hates the obvious pick and tries to shake it up. He suggests the girls get rid of Ryan to Lindzi, who spreads this idea to her gal pals. Reid feels left out and doesn't like Ed/Chris controlling things so he approaches the other girls to vote off Ed, who already has one penalty vote against him. This plan makes sense and many go along with it, including Ed's BJ hookup Sara who tells him straight-up she voted for him. Ed's shocked, Sara cries, and Reid is wondering what idiot tells a person about the votes before voting is over. The swing vote is Ryan's partner/Chris' hookup Jamie who will have to officially choose a side. Ryan unwisely full trusts his partner Jamie: her final vote is the one that sends overly nice guy Ryan home.