The Glass House • So You Think You Can Dance
The Glass House
- Jeffrey cries to Joy and Gene that his buddy Erica is in Limbo, but moreso that the house has protected Andrea who is against gay rights. Andrea feels similarly, citing that she is being targeted for her religious and personal beliefs and she's allowed her own opinion. Joy thinks Kevin is a skeeze for hooking up with Erica and then vote her out a week later. Ashley relays this news to Kevin who doesn't like Joy attacking his character and confronts her. Joy thinks the hit it, quit it, vote it out strategy is (rightfully) douchey, while Kevin maintains his position that it's a game and someone has to go each week. Speaking of relationships, Gene and Joy continue to bond but Mike (Kevin's bestie) thinks it's fake. Joy thinks it's a race issue, but Gene says it's not race and just her form of gameplay. Andrea, Mike, and Kevin make a final three agreement and want Jeffrey and Joy down the bank tube. They just need Robin to return from Limbo. But tough shit guys, Erica is back!
With Erica back in the house, the house division is bigger than ever. Jeffrey, Joy, Erica, and Stephanie are all so happy and let Erica know they told Kevin off in her absence. The other side realizes they got cocky real quick meaning they know viewers hate them. Andrea knows it will all come down to this week's team captains. The bottom two players from the viewer votes are Ashley and Holly. LOLOLOL Ashley again, I'm dying. Maybe the feeds show more but Ashley seems like a non-entity, though she is aligned with the shithead group so that could be it. Truth be told, I was surprised Andrea wasn't in the bottom two. The other group rejoices that they are the cool group with the viewers. Ashley is used to being down due to family struggles, which she cries about (but I was busy reading Dlisted gossip instead of paying attention to her).
Trying their hardest to win our love, Orie lets loose a big ol' group of puppies into the house. AWWW. But the puppies each have a collar with a nametag for each player. The fanswers are on the tags. AWWW. Holly is just such amazingly beautiful hot shit and refuses to get dog slobber on her over-made up face. Andrea learns that she should stick to her current alliance instead of branching out on her own. Mike gets a blow when he finds out he has less support than Stephanie, though he was sort of expecting it. Gene's puppy brings good news in that fans see him as a hero, not a villain. This week's fanswers faaaar better than last week's
Bachelor Pad
cameos.
Trying to get one of the other side house, the shithead group decides to get Erica/Jeffrey/Joy/Gene all on the same team together so that one of them ends up in Limbo. Holly agrees to take the "bad" people but then wonders if the "good" (HA!) people are OK if her team wins. They're like hey moron the point is we want your team to lose. Holly's not 100% cool with the plan because setting yourself up to lose is a dumb risk to take when there's a good chance she'll be sucked down the Limbo tube forever. Cue Mike and Kevin repeating "we have to win this one!" over and over and over.
The challenge is balance a ball on a disk across the arena, completing the course three times. The red team is Ashley, Stephanie, Mike, Kevin, and Andrea. Mike gets all pissy with Stephanie a bunch of times and the idea crosses their mind that maybe Stephanie is throwing the challenge. Stephanie admits in interviews she didn't go out of her way to help her team and win/lose, she's in a great place. The yellow team is Holly, Erica, Joy, Jeffrey, and Gene and initially falter from rushing. Their communication is far calmer than the other team, but they have a lot of blunders before getting a rhythm going. Holly isn't ready to throw in the towel for the sake of others and her team wins. So looks like the "good" guys are screwed.
While Mike's temper makes him a good candidate to send him into Limbo with Ashley, there's the argument that if he stays he won't be team captain next week. Kevin is the ideal candidate to send into Limbo, but the swing vote lies with Gene again. The house is split 4-4 for Stephanie and Kevin, so there's one last vote (obvs Gene's) that will determine who heads down the tube: it's Kevin.
So You Think You Can Dance
- After a break because of the holiday my beloved dance show is back. I'm excited but I do think that week off killed a bit of the momentum. Joining Nigel and Mary at the judge's table this week is director/choreographer Kenny Ortega. Because the results show episode has been eliminated, Nigel explains the revised rules. Instead of voting for couples, we'll vote for individuals. Next week, 2 boys and 2 girls will get eliminated. Dancers will perform twice (once this week, once next week) and then the judges will choose from the bottom 3 who is eliminated. But there will be two winners in the end so be happy.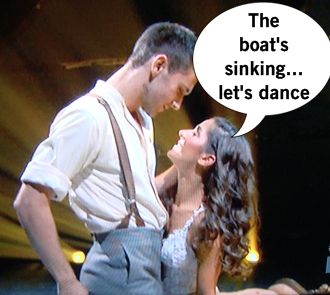 Let's get real right here. For the first hour of this show, I was so bored. I really found the routines lackluster and nothing exceptional. And then the second hour happened and the greatness came. I'm going to keep my top to 3, but there were some some routines after sitting through a bunch of duds. Now truth be told when they said Travis Wall was choreographing I was like "it could suck and it would still get votes" but goddamn it was brilliant. Set to the most overused romantic song ever, "Unchained Melody," Travis choreographed a stunning routine for Audrey and Matthew. The energy as they rolled and leaped over a chaise lounge into each other's arms was moving. Was the Titanic bit necessary? I think no, could've just been the 1900s. Lindsay and Cole perform this kickass, fierce, powerful paso doble that was maybe the best I've ever seen on the show. It used Cole's martial arts at times, which added to the physicality. Wrapping up my favorites is Eliana and Cyrus' Broadway routine from the musical Hairspray. It was high-energy and their personalities were shining and connecting with the audience. Eliana is someone I overlooked before but she set the bar high for girls now; I think she's a contender. And well Cyrus is amazing. He's like Jodie Sawyer in
Center Stage
: not the best dancer, but you can't take your eyes off him. I'd say he's the frontrunner for the prize if he can survive tougher choreography (aka ballroom).
My "medium" group, which is more like honorary mentions, starts with Amelia and Will's hip hip piece from Nappytabs. They play a classy cat and an alley cat, grindin' and dancing near a dumpster. It's not straight-up hip hop, more of a jazz fusion, but it was the first routine of the night where I was excited. After them came an African jazz routine with the spitfire personalities of Janelle and Dareian. High energy with great partner chemistry, just a hint of sexy.
Ok, so my bottom routines. Amber and Nick were dealt a super shitty week one hand with a Viennese waltz. It's kind of unfair to get a genre that usually guarantees a spot in the bottom 3 the first week. The routine did have this spectacular lift/spin, but it was beautiful yet boring. Alexa and Daniel's horrible red costumes and her wild hair were just one element of distraction to a routine I didn't like much. It was too frantic and nonstop, allowing for little connection with the audience. As Kenny Ortega put so perfectly, he liked the exercise but not the performance.
Other routines were a samba from Witney/Cheon, contemporary by Tiffany/George, and an alcohol addiction hip hop from Janaya/Brandon. I have no opinion on these really, just meh. So with no results, we'll have to wait another week to see the fate of the dancers. Until then, let's keep the face of Abby Lee Miller of Dance Moms sitting in the SYTYCD audience etched into our minds.