The Glass House • So You Think You Can Dance
The Glass House
- Andrea wants to stick to her alliance, but also wants to win so starts to chat up Joy and Stephanie to try to make strides forward with the other side. When playing peacemaker Erica tells Andrea that she likes her, but she doesn't trust her. Mike is surprised Gene picked a side, meaning the other side, and finds that other side arrogant and cocky. I think they're fun, especially when the viewers make Gene and Jeffrey swap clothes for 24 hours. Holly gets pissed that the other side hates Ashley and gets into a yelling match with Joy, accusing her of being jealous of Holly's immense beauty. Alcohol makes this show way better; take notice
Big Brother
. Mike then jumps into to fight with Joy because Mike seems to butt into everything. Joy gets snippy with her flirting partner Gene, and he gets a little sad but they cuddle and make amends. And since viewers put them in the same bed/bedroom, they cuddle, kiss, and use a pillow to block boners.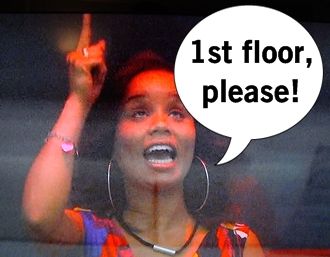 Kevin and Ashley come up the banking tubes to find out who the viewers have saved and who gets sucked away forever. Considering Ashley has been a team captain since week one (which means viewers hate her), I think we know how this will turn out. Down the tube goes Ashley, meaning at least we'll get to find out which player the viewers hate next. Kevin turns and pow-wows with Mike and Holly to focus on "taking the high road" and getting the other side eliminated. Jeffrey from the other side talks to Kevin and Mike to maybe work a deal, keep the communication open; they agree but it's a bit of plotting and gaming on Jeffrey's behalf. I love the Ginger Bear.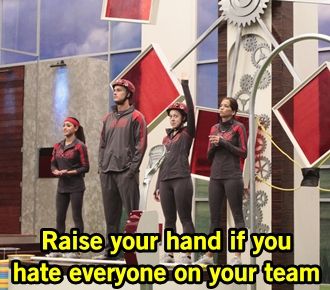 Holly and Mike are the team captains, meaning the strategy of Kevin being sent to Limbo to assure Mike could possibly go next time was a great strategy. Mike is willing to be the team captain with the "other side" since Holly did it last week, hoping to lose and bring someone they hate to Limbo. The challenge is for teams to break the other team's panes on glass on a rotating windmill using launchers and slingshots. Once slingshots are allowed, Mike really gets his rhythm whereas Andrea fails terribly. The red team didn't strategically plan the shooters and blocker (strong Kevin blocking? Such a waste). So the plan to lose again to eliminate the other side doesn't work but Mike isn't stressin' because he wanted to win to save himself.
Orie's soothing chimes bring all the players into the living room for a special visit. Up from the tube comes week one asshole Alex Stein and his baggage in the other tube. Alex immediately apologizes for his actions of being a huge dick and rude to everyone and says it was because the viewers told him to be a villain. It seems the viewers have voted from Alex to return to the house- NOOOO. Oh just to give the Fanswers- PHEW. Jeffrey learns sending someone to Limbo twice in a row isn't a bad thing, Joy's happy to find out the viewers would rather keep Gene around than Kevin, and Stephanie gets validation from the viewers that Andrea is who they want in Limbo. And then thankfully Primetime Alex Stein disappears down the tube again.
The question again becomes who do you send the Limbo with Holly who I think obviously will be out (team captain two weeks in a row means the viewers hate you). Stephanie isn't an option because she's the "other sides" bud, so the choice is Andrea or Kevin. It seems cruel to send Kevin for a second week in a row. Jeffrey thinks Andrea is low in popularity so maybe they should keep her around, betting on the chance she'll be voted captain next week (because if she goes to Limbo, she's immune from being a captain). Andrea cries about losing the challenge and wondering about her place in this game, but also knows if she goes to Limbo she'll at least know how she stands with viewers. Andrea will find out soon enough as she is sent to Limbo along with elimination-no-brainer Holly.
So You Think You Can Dance
- The show begins with a spectacular hip hop routine that I swear could've been from the mind of Sonja (but it's Nappytabs!). It's sort of a skeleton goth number set to Marilyn Manson's "The Beautiful People." I typically hate when all 20 dance together because the stage looks overcrowded, but Napoleon and Tabatha balanced it well to be an exciting number. It's good that the big group numbers are staying on the show eventhough the results show has been cut.
All twenty dancers get to perform again this week and at the end of the episode, a bottom six will be named and two guys and two girls will be going home. In the guest judge chair this week is director/choreographer Adam Shankman, still nursing the wounds of Rock of Ages being a failure. Also, to fill some time, there is a special preview of the movie event of the summer (in my mind only), Step Up Revolution, and some SYTYCD alumni are in the movie so they perform a special routine. Twitch alert! But for any Step Up fans like myself you know it ain't shit without MOOSE.
Now something is revealed mid-episode that I'm torn about. In the past, partners drew their style of dance out of a hat. This season, they draw a number and then in order from 1-10 (number of teams) they choose a style of dance from a list of options. What I don't like about that is of course partners will pick their specialty over and over if they get a good number. Sure maybe they challenge themselves but as revealed by Cyrus and Eliana, who were 7th to pick, they had the choice of jive, foxtrot, Argentinian tango, or Bollywood. So jeez of course all the early teams picked contemporary and hip hop. But at the same time, now fate is in your hands so I see the good side too. I'm torn.
Ok, so onto my picks of the week: favorites first! Will/Amelia - Sonya Tayeh creates a contemporary routine for Will and Amelia about trying to find the light, with heavy moves, relying on each other so much with long, strong holds. It's a beautiful choreographed and performed piece with simple music that increases in tempo as it progresses. Amelia glows when she dances; she's going to be a real end contender for the prize. Audrey and Matthew continue their dominance as a power couple with a strong and sexy jazz; their chemistry sizzles and could sell a crappy dance. Lucky for them, this dance was great. Whitney and Chehon perform a speedy, energy-filled Bollywood that's a great closer for the night. Whitney is hard to not watch, not just because of her red sari, but her face lights up. Chehon, sort of a bore thus far, was able to show personality and have fun which really helped him this week.
A few dances were fun, but couldn't be dubbed favorites for little reasons. In a Broadway number by Sean Cheesman, Brandon nails it as a random dude on a park bench getting violated by some 50 Shades of Grey devouring woman. Janaya's an improvement over last week, but meh. Cyrus and Eliana's energetic jive (which btw, aren't all jives supposed to be energetic?) is a fun routine because they're great partners with good chemistry. I couldn't call it a favorite because Cyrus' actual dancing was only OK this week, his personality saves himself. Eliana so fabulous and one of my favorite girl dancers. I also thought Tiffany and George did a beautiful foxtrot that gave me old Hollywood flashbacks. Truth be told, both are dancers I didn't even remember existed until they came on to perform. Will the foxtrot garner votes though? We'll see.
My least favorite of the night is definitely Alexa and Nick's bathtub contemporary piece. While the pair have great execution, being amazing dancers, I feel no connection to them as dancers at all. The judges agree with my assessment, with Shankman calling it "chilly." I also didn't dig Amber and Nick's tango, a second week in a row of ballroom that I'm assuming Nick dictated not Amber. While Amber was a powerhouse in the number, I overall found myself bored during the dance. Great dancers, but personality that isn't connecting (Nick in particular; Amber has a chance with a better partner).
Other routines include Lindsay and Cole's slutty dentist hip hop and Janelle and Dareian's lyrical hip hop about a cute proposal.
After all the pairs dance, the twenty dancers are brought on stage and Cat announced the bottom six vote getters: Janaya, Alexa, Whitney, Nick, Dareian, Chehon. I say all of these are right except Whitney who I think was a shining light in a crummy routine, but if the dance sucked sometimes you can't smile your way out of it. However, I was surprised to see Nick and Janaya made it to the bottom without their respective partners, so personality does matter to an extent. Nigel, the voice of the judges, explains they don't need to see anyone perform again as they've seen them dance twice, consulted the others judges, and both weeks choreographers. Nigel re-iterates that this isn't an elimination as viewers vote FOR dancers, not against dancers to eliminate them. The four leaving the competition are Janaya, Alexa, Nick, and Daniel and I 100% agree with all four.