The Glass House • So You Think You Can Dance
The Glass House
- The house is pretty shocked that Jeffrey voted his BFF into Limbo. Jeffrey's a sobbing mess about his actions. Jeffrey also admits to Andrea, Kevin and Mike that he did take a little bit of money too (Mike's not alone on the greed side). Everyone laughs, but Kevin and Andrea are actually pissed they worked so hard to save themselves and Jeffrey in the process and he took the money. I think everyone thinks Jeffrey has the game wrapped up in the bag. I'd say considering the edit of Kevin these couple of months, nice-ish guy, funny, rolls with the punches, underdog... I think he totally has this game won and done. I'm calling it.
Erica and Gene head back up the Limbo tubes and it appears America has finally had enough of Gene's arrogance, as he heads out of the game for good. Erica hugs everyone except Jeffrey when she returns, not forgiving him for sending her to Limbo. It takes some time but eventually Erica caves for a hug. Erica wonders why Jeffrey would send her to Limbo. Jeffrey explains it was because he felt her vs. Gene would guarantee Gene going home. Erica's fine with the strategy but just doesn't appreciate Jeffrey couldn't tell her beforehand. Jeffrey wanted to avoid the emotional drama and it comes up about Erica's big crush on Kevin, her gravitating towards Kevin and the others instead of former-bestie Jeffrey. The bickering keeps rolling in, fights over everything. Aw friendship crumbling. Sadness.
With five left in the game there is only one team captain, the lowest vote getter of the week. The captain of this week's challenge is Mike which doesn't surprise me; the viewers got rid of him before afterall. The twist is that Mike will go head-to-head against one other player in the challenge, voted on by the four other players. They also get to vote for someone to win a "luxurious vacation" to Panama City Beach, Florida. Holy hell I am laughing so hard. I went to PCB and that city is a dump. There is not a single ounce of luxury there. Erica wins the vacation and Jeffrey is voted to compete in the challenge. Jeffrey lets everyone know he voted for himself to compete, and then the house starts whispering that they'll definitely send Erica back to Limbo this week. Erica's well aware of the plan and unsuccessfully tries to guilt trip Kevin, Andrea, and Mike.
The challenge this week blows anything Big Brother has even done out of the water (not saying much but this show does have amazing production values). In the yard is a multi-story dollhouse that's "apartments" of the former players of the game. Mike and Jeffrey have to rappel down the sides and peer into the house to answer questions about what they observed in the house. Mike's advantage is that he is a lot quicker so he can run to the question board, see the questions, and rappel back quicker. Jeffrey's more of the slow-and-steady, taking him time to really observe and count the items. A totally-winded Jeffrey wins the challenge, sending him to tears for his perseverance. Jeffrey's underdog victory in an overall physical challenge has the house wondering if this was his defining moment to win. But the week quickly wraps up with the casting of the stones. Mike has his automatic spot in Limbo when the votes are revealed it's 2-2: Erica and Kevin. As the Limbo guy, Mike gets to choose who joins him and of course he picks Erica and not BFF Kevin.
So You Think You Can Dance
- It feels like it's been forever (two weeks is eternity after my Olympics binge) and after being off those weeks we're losing
four
dancers tonight to get down to a top 10. Normally I might be upset about losing this many people but I kinda forget them. The twist of the evening is that all routines will be choreographed by Mia Michaels... in previous seasons. So remember all those classic numbers you've loved with certain people? Let's shove in some newbies and then remember how good they were before and not now. I like the idea of everyone dancing the same genre because then people don't get screwed on genre (ballroom), but I hate repeating the old original work. There was two weeks off, the minds should've been racing. The only thing new this week are the guest judges, Royal Ballet dancers/Ballet Boys Michael Nunn and Billy Trevitt and since they haven't seen this show before they can provide unbiased opinions.
So yeah, I have a huge chip on my should about this episode. Instead of enjoying people dancing, you're comparing it to far better performances, Emmy nominated, iconic performances of the show's history. Not to mention many of these past routines were choreographed with specific dancers in mind, making it their routine. This entire night is pale imitations to the past and no matter what, sucked. I have loved this show since I started in season two but as I watch this episode I'm just angry. I found every second of this episode boring, tedious, and I wished it would end. I have never felt that way about this show. It saddens me to be such a dick but it's the honest truth and I can't give a best/worst performances rating this week. I'll recap what people danced and instead you should YouTube those past routines to see the amazing bits.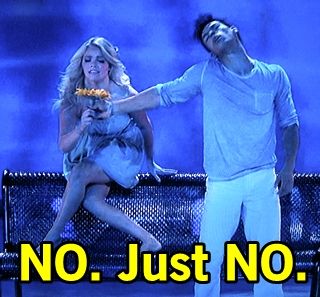 Since I didn't like anything, here's what routines they decided to remake and pale in comparison to the originators. Cyrus and Eliana get Katee and Twitch's season 4 "Mercy" routine with the door separating between them, kicking it around. George and Tiffany have season 4's "Hometown Glory" which is the one where Josh lifts Katee in this assisted running step, like floating on air. Mia cries, judges say they "murdered" routine in a positive way. Amelia's pale butt gets tapped a bunch of times by Will in an embarassing rendition of season 5's butt dance. Janelle's wild hair and a lack of partner passion make the remae of Kherington and Twitch's bed routine dull. The crowd didn't even chair when Janelle leapt over the bed throwing roses. Audrey and Matthew get a lecture from Nigel about not truly appreciating and telling the story of Mia's dead dad dance as well as the original by Lacey and Neil in season 3. Lindsey and Cole are I guess the best of the night with "Addiction," originally danced by Kayla and Kupono in season 5. I thin it's because Cole is so convincing and creepy in the role. It's the only time I admitted I liked a routine in this debacle. The biggest AW HELL NO is when Whitney and Kheon perform the bench dance, the iconic, definitive routine of this entire series performed by season 2's Travis and Heidi. Sorry, but no. For me, this was an untouchable routine so yeah, I'm very annoyed at this night.
The 14 perform as a group in tuxes and gowns, swinging off some rope things from the ceiling. Let's add that everyone in this routine kisses their partner a long time, so swoon alert I guess. Or if you're like me you think "Finally some original choreography tonight!" After Nigel explains why this was a good theme (hey choreographers replace dancers all the time!), the bottom 6 are announced. Amelia, Whitney, Janelle, George, Dareian, and Matt are the bottom group and all dance solos. Well considering Whitney was part of the only routine tonight that wasn't 100% awful, she's safe so it's a done deal and Janelle and Amelia are out. For the guys George is saved, sending home Dareian (OK) and Matthew (an actual shocker, I thought he was a frontrunner). And then I breath a sigh of relief that this truly horrible episode has ended.