Finale! The Glass House • So You Think You Can Dance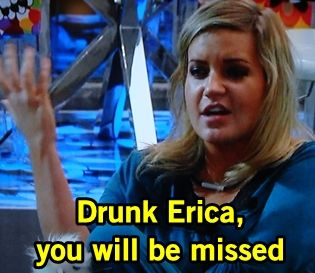 Finale!
The Glass House
- Jeffrey tips Erica off that Kevin has a long-term friend with benefits at home. Erica isn't getting the hint that Kevin isn't interested, probing for my info on the kinda girlfriend. Yup, she cray. The alliance of three (and even Jeffrey) decide to try to get Erica to implode and get the viewers to turn on her, letting her get really drunk while they fake the funk. Drunk Erica starts her ramblings, asking why Kevin "shits on her all the time" and leads her on, starts crying when Kevin straight-up rejects her, and thinks she deserves the money for liking everyone. It appears "put a baby in you" is a joke Erica takes seriously which is pretty hysterical. Andrea tries to console Erica, who then says Andrea is a "conniving little snake in a peasant dress." Erica thinks Kevin is just downplaying feelings in front of the others to look cool, so Kevin dodges the conversation and explains they need to keep cool for votes. Yay drunk Erica, you so fun!
Mike and Erica enter the Limbo tubes to see who is heading down the tube to loserdome. It's Mike, again, no surprise there. From there, the final four compete in one last challenge; the winner is guaranteed a finale spot while the others will face the vote. Everyone gets hooked to zip lines and fly across puzzle pieces and assemble said pieces on a pyramid. Jeffrey makes weird wookie noises as he zips in terror, Erica is preoccupied with calling "Hey boo!" to Kevin, and Kevin/Andrea are focusing to win. As usual. Jeffrey finishes first but has two pieces incorrect. Andrea wins the challenge and her guaranteed spot in the final three. Meh.
Kevin and Jeffrey are the bottom two in the viewer vote (Erica is safe) and head to the Limbo box for the final three verdict. Jeffrey slinks down the tube and I'm so sad. He was my favorite! Andrea, Kevin, and Erica are the final three- yaaaawn but not surprising. They receive a feast with champagne and grub to celebrate their impending finale. Orie shares the live feeds moments viewers have seen in the oddly timed live feed times. This of course shows Kevin dissing Erica to Mike, then the time Kevin told Erica they have a connection, and Andrea making fun of Erica for wanting to constantly makeout with Kevin. Now do you get it Erica? This of course leads to more bickering about Kevin being unattached, Erica being too attached- blah blah.
So finale night is finally here (sorta, I'm watching days late and ABC aired the finale days later because of stupid football). All decked out in their finest, as they enter the kitchen the wall covered with patriotic ballons explodes to reveal a giant crowd in the yard. In the midst of strange weirdos at the finale: their families. There's a big stage set-up with podiums for final speeches about what a wonderful experience, blah, blah. Reveal the obvious winner already! The final three must each cast a final stone and the face still in tact wins (the viewer's choice the winner). The winner is Kevin, DUH.
So You Think You Can Dance
- After last week's abomination of an episode (and yes I know some enjoyed it), the top ten dancers will now partner with all stars of seasons past in their routines. My initial reaction? OMG THERE MIGHT BE PASHA. Get out of my imaginary restraining order. Judging alongside Nigel and Mary is choreographer/ballet dancer/Natalie Portland husband Benjamin Millipied. After my negativity of last week, let me say: this week was awesome. I tweeted during the live episode what would've been better is it they introduced All Stars last week and done the Mia routines with one of the all stars in the originating dance. But that's my two cents. Now let's get to my faves of this week.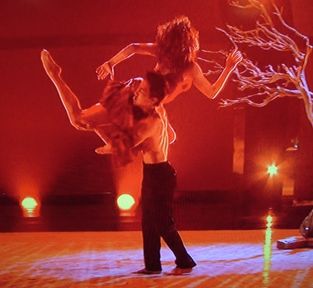 Goosebumps formed on my arm for Eliana and season 7's Alex Wong contemporary piece, choreographed by Stacey Tookey. Set to Nancy Sinatra's creepy "Bang Bang," it's a haunting, passionate, angry, quiet piece about two lovers that can't quit each other. It was brilliant. I watched it twice in a row. Lindsay is paired with Jacob from season 6 in a Broadway number where they dance between a screen as shadows mimicking each other until they come together. I'm a sucker for silhouettes dancing, but Lindsay really held her own against mega-talented Jacob. How I missed him! Step Up: Revolution star (and season 6 alumni) Kathryn is given the role of super sexy, slithering snake being charmed out of the basket by Will. It's a fun, vibrant, fast-paced routine that made me smile. Will is just awesome.
My runner-up routines are Cyrus' contemporary with season 3's Jaimie about the last two people on earth after a disaster. The opening with a dark stage and their shadows in the amber lighting was beautiful. I compare Cyrus to Jodie Sawyer in the movie Center Stage. In terms of technical skills, not the best, but you can't take your eyes off of Cyrus when he dances. Witney and season 1 winner Nick do this interesting Travis Wall jazz about two ghosts still performing together eventhough no one can see them. It's sexy and slinky, Witney's specialty. I didn't see season 1 of this show so I was really happy to finally see Nick Lazzarini dance.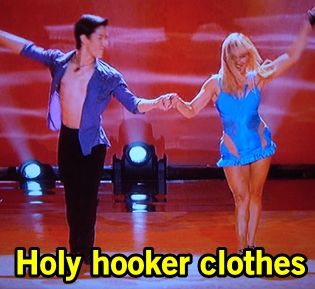 Now let's address that the routines in my bottom group weren't bad, they just weren't my favorites. All were danced well, they just didn't get me excited and raving. Like Tiffany who gets sacked with a dumbass disco with season 5's Brandon. It had 11 lifts which is impressive, but meh. Plus I truly never remember Tiffany is on this show. Zero personality for me. Martial arts Cole is paired with ballroom vixen from season 3 Anya for a cha cha. His faces are weird but it's Anya's nasty weave and wardrobe's decision to dress her like a cheap Russian prostitute that distract me. Cheon's hip hop with Lauren was a big step forward for him, especially for being a classically trained ballet dancer, but the routine was not my hip-hop style. I like a grimy routine, something more bucc, if I may say. But then when we do get a creepy, interesting hip-hop, Audrey dances like a competition dancing white girl. She clunked up a routine where tWitch was just being his awesome, talented self. My least favorite of the night was Tyce Diorio's jazz about a French dude who misses the train because he sees a hot chick. The music choice is odd, there's no chemistry, and season 2 beauty Alison gets dragged around on a cane. It never clicked for me, just a weird performance.
The top ten dance a Broadway number alongside choreographer Tyce Diorio to some swing music, a fun little number set on the set of a Gene Kelly film of yesteryear. I hope the 100 year old ghost of Gene Kelly berated them for last week's bad dancing. The L.A. Dance Project performs while the judges deliberate the solos of the bottom group. Witney and Audrey are the bottom two girls; Cheon and George are the bottom two guys. No surprise that the bench routine performers are there. Sorry but that routine is untouchable and no one wanted to see that recreated. The judges are not unanimous for the girls but they save Witney, eliminate Audrey. For the guys, it's clearly a lack of audience connection that continues to put these guys in the bottom two. Because Cheon has breahtaking solos, he is saved and George is out. Eh, I wasn't attached to either but I did early on peg Audrey a frontrunner. This show, it's fulla twists!