Bachelor Pad 3 - Week 3
Sarah mopes more that she actually cast a vote against a guy she banged. Reid is worried Ed will learn he spearheaded the movement. Ed can't believe this show is full of backstabbing and lies. Hey moron, maybe you should've watched an episode before and watched it sober.
All the famewhores pile into a van to the location for their next challenge. Wait, actually leaving the rented house and having a challenge outside of the driveway? I'm confused. Dropped off at a field, there's a big ol' obstacle course called "Hot Sludge Funday" where everyone gets covered in hot fudge sundae ingredients. Oh man, remember the Sundae Slide on Double Dare? The women start the race by wading through ice cream, going down a hot fudge slide, crab crawl through whipped cream, and getting into a potato sack to dump nuts on themselves and tag their partner (and yes, Chris Harrison tells them "While still in your nutsack..."). The men then have to complete the same obstacles but in reverse, finishing the race by eating a cherry. The big twist is the couples aren't who you picked, but a random match-up based on where everyone stands. After all the long and drawn out explanation, it's a messy shit show of a challenge and I love it. I also want ice cream which seems like a weird response considering this cesspool of humanity is getting all up in the ice cream's business in a nasty way. Ed blows the massive lead Jamie gets for him, a slipping fool, and as the last place team get a vote cast against them. Fan David and Michael Stagliano complete the race in a photo finish, for real, and the tapes reveal David and Rachel won the relay. Now David isn't a target for being an outsider, it's because he's an actual threat.
David brings Blakeley, Erica, and Jamie on his date and there better be a Blakeley/Jamie smackdown over that goofus Chris. Their date is a club all decorated up for a prom, photo station, dresses, a band, and a dance floor covered with balloons. It's a pretty fun idea for a date, especially on a show like this that beats the same dates to death. But of course, a no-name band plays a private show while Dave and his trio spike the punchbowl and dance. The photobooth is hilarious until Dave sneaks a smooch on Jamie; Blakeley is not pleased. Jamie is so glad she had a chance to re-live the prom she missed because of family issues in the past. Blakeley interrupts Jamie's alone time to make sure Jamie does not get that rose, as she's the planned target this week. Blakeley brings up that she got Dave through last week and a rose to save her would show the house he's a man of his word. With a vote already against her, Dave plays prom king hero and gives Jamie the rose. Blakeley and Erica get kicked out of prom while Dave and Jamie stick for a solo dance as prom king and queen. Seriously, WTF is with every guy in the house obsessed with Jamie?
For Rachel's date, her, Nick, Tony, and Michael Stag sip champs in a limo that takes them to Madame Tussauds, the celebrity wax museum. Everyone takes hilarious and weird pictures with the wax figures of celebrities but they come across a sign that says "The Bachelor Experience." And there stands a terrifyingly accurate wax Chris Harrison and yes his hands are in a trademark position. Who the hell wants their picture with this waste of wax, I ask myself (OK truth, ME of course). Suddenly BOO, it's real Chris Harrison with his face all shined up. The date for Rachel and her guys to get turned into wax versions of themselves to prank people visiting the exhibit. Hidden cameras and all. GD I wish I was in LA to have experienced this. I would've grabbed Michael Stag's butt- KNOW THAT! I think the best part is when the fans come in and either pretend they love no names like Rachel or flat out don't remember who Tony is and then are like "Oh yeah, he's boring!" They love meeting the fans which is pretty hilarious considering when fans entered their beloved game they shit all over those people. Rachel gives her date rose to Michael, of course, and they get to spend more alone time together wandering the museum and making out on some randomly placed couch near Butch Cassidy or something.
Jamie's confidence is at an all-time high: she's got a rose, Blakeley and Chris are crumbling. Jamie is so excited that Chris likes her to she goes in for the kill, desperate for love on TV to show her kids. Mega eyeroll. Jamie goes to Chris' bed, ready to profess her love, and he's like "Not tonight." He also drops a "It's not you, it's me." HAHA! Instead of happy Jamie, she snaps at him that he never reciprocates the feelings back. Jilted Jamie.
Eventhough Sarah isn't part of Ed's alliance, she still feels that loyalty of telling some guy she blew that everyone is conspiring against him. It's funny she still cares considering Ed hooked up with Jaclyn mere days ago. Sarah tells Ed that it's his buddy Reid that is leading the movement and Ed is totally betrayed. But Reid's strategy was to pretend to be bros but then get Ed eliminated. Ed realizes it's a vendetta from their past with Jillian, so he confronts Reid about the lies. Reid keeps pretending to be in with Ed and the others, but he knows he is screwed.
A power couple alliance emerges but the singles are looking to band together to take out the couples. The targets: Blakeley and Ed. Uggo Chris tells Blakeley he's pretty confident they have the votes on the guy's side to save her, but she's still a wreck. Blakeley decides to grovel to the singletons for her safety. Michael Stag wants everyone to vote for fan Donna. Bet she regrets that fan art masterpiece from last week! Actually, Donna is pissed she might get voted off before getting a chance to hook up. But then she makes out with Nick so that helps, right? The goal is to get the ladies vote to be a tie and rose winner Dave would cast the deciding vote, but really Kalon is the swing vote in the dickish way he aspires to be.
Reid approaches Jaclyn as a potential partner or at least not hate him for when his dream plan of getting Ed out happens. Jaclyn thinks Reid has a bit of a vendetta- uh duh. She doesn't take this news well and just starts sobbing to Ed about it, and he's really bummed Reid isn't the friend he thought he had. Ed understands that Reid is likely still hurt from Jillian picking Ed over him, so he takes him aside to talk about the game and their fallen friendship. Instead of a possible partnership, Jaclyn decides to get all the girls to vote Reid off. Ed's hookup Sarah becomes the swing vote between Ed and Reid, choosing between not voting off Ed again or aligning with a strong leader.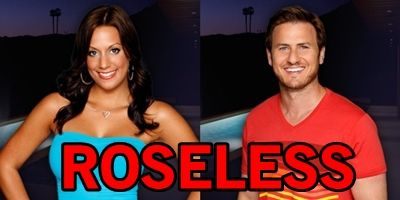 At the rose ceremony, after being reminded a trillion times by Blakeley that she really needs the prize money, Blakeley and Ed both receive roses. Donna and Reid get eliminated and sent into their reject limos. While Reid laments losing the money, getting played by the game, Donna can't believe the guys voted her off because she's so hot. And delusional. Buh-bye. But we'll always have Donna's fan art: