The game changes this week as it's no longer a solo game. They will compete as couples and be eliminated as couples. Nick and Rachel are forced together as partners; she's heartbroken and he's apparently been here since day one but we barely know him. Even as couples there's one goal: get Chris out.
A big yellow school bus escorts everyone to their next challenge: a spelling bee. Yup, these total idiots are going to have to attempt to spell. The catch for this spelling bee is that they're in pairs, so they have to alternate letters. Judging the spelling bee are a bunch of whiz kids AKA homeschool kids in coke bottle glasses. The words start easy at the reading level of most of these people (love, rose), but progresses to "harder" stuff where they fail (engagement ring, jewelry, obsessive). The children are disgusted by this batch of contestants and it's purely based on academics and not that they've all had sex with each other. After 11 rounds, #1 target Chris and Sara narrowly defeat Jaclyn and Ed in a three-strikes tie-breaker. Both couples win dates this week, but only Chris/Sara get immunity. Another week of this season's villain and the show didn't have to rig it like last week? Success!!
Sara and Chris celebrate their roses and immunity outside before being whisked away on their overnight date. The limo brings the couple to a red carpet pathway to board a tiny plane which drops them off at Santa Margarita Ranch (wine country- let's get cruuuunk). After an old fashioned train ride, the pair arrive at their private picnic by a lake and why eat when you can get into your teeny swimsuits and swim in a scummy lake?? Come night time there's of course some romantically decorated barn with another private meal (and plenty-o-wine). There is nothing sexier than hay fever, amirite? Conversation turns to Chris and his recent break-up with Bachelorette Emily. Chris and Sara seem to be blossoming into a nice relationship considering he's been a dick thus far. They slow dance and make out near the hay bales. And so Chris and Sara have their literal roll in the hay overnight. Ughhh. I hope you popped a Claritin beforehand.
Ed and Jaclyn's date should be a real blast, especially since she was humiliated last week by Ed saying he doesn't want a relationship with her despite banging around this whole time. They also the tiny private plane treatment, landing on a dirt runway on some random California island. They have a picnic in some grain field near the water (is it a picnic when there's no food and just a lot of wine?) Talk gets into the weird zone right away, addressing the weird she likes him/he just wants a BJ relationship they have. Turns out Ed has been pursuing someone at home for a while, taking a brief hiatus so he could come be single on Bachelor Pad. Ed's whole logic is like you come on this show needing to hook up, and now Jaclyn feels like a real fool knowing he had a kinda-girlfriend and 1. falling for him and 2. fooling around with him. Their nighttime dinner is under a beautiful archway and talk, again, turns to this other woman. Ed doesn't understand why they have to label their partnership, calling this drama "like a Facebook status thing." Jaclyn feels like they have been a couple throughout the game and doesn't want to look like a whore. Those are her words, not mine. So Ed likes sleeping in the same bed and cuddling so says they are a couple? IDK I'm so confused and they kiss, and Jaclyn can't live without him?? And so they complete the overnight date with likely some bone zone action.
Now that things didn't go their way, the whole house mopes. Mostly Rachel who is suffering from Michael Stag heartbreak, ready to quit the game. The sorta-proble is that Rachel's partner, Nick, was never part of the big group alliance. Nick encourages Rachel to not be a quitter and stay strong. And then Rachel mopes more to her closest friends, Blakeley and Jaclyn, who are working to keep her around. It seems to work and Rachel seems more positive about staying in the game while still acting like her boyfriend was killed. The new target: Kalon and Lindzi, and they pinky swear not to tell.
Jaclyn and Ed return from their date with rose news: they have to give roses to a couple of their choice to grant them safety (can't be themselves- shucks). Everyone gets a chance to chat with them AKA kiss major butt. Neither seems to want to hear the groveling, set to a Godfather-esque soundtrack. The roses go to Blakeley and Tony, a nice extra gift for them after having alone time to grow their newfound relationship. It hits Kalon that he's in big trouble.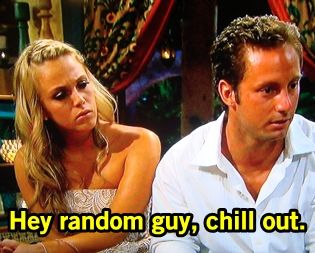 So begins the night of the rose ceremony where couples will vote together in the voting room, rather than the previous individual votes. Rachel feels very safe in the game because of her allies and decides to trust her partner Nick and let him in on her alliance. Well there's no one else to trust so they vote right away for Kalon and Lindzi to go home. Kalon isn't ready to give up or let Lindzi down, so he gets to work on flipping Blakeley/Tony to their side. Kalon's argument is Nick/Rachel aren't real partners like the others (sexy time couples) and Rachel would prefer to be home with Michael anyways. Nick goes to chat with Blakeley/Tony and when he senses they are unsure of their voice, he's not happy. Nick feels like he had to go with a plan he didn't agree too, but Tony points out that they never personally shook on a deal. Nick's little tantrum is making the case to save Kalon sooo much easier.
Rachel magically gets ahold of a cell phone to call her beloved Michael. Nick is pissed, relaying said pissiness to Chris as well. Kalon's puppetry is working fantastically and this game could turn again thanks to manipulation. Even Ed and Jaclyn re-think their alliance because no one thinks Nick deserves to be at the end of the game. But friendships hold strong and Rachel and Nick receive the final rose, sending Lindzi and Kalon home. While Kalon is still a douche for calling Emily's kid baggage, he was a fantastic manipulator on
Bachelor Pad
. Lindzi and Kalon get into separate limos, but he stops his limo to get into Lindzi's so they can be together. Well who the hell thought of all people KALON would find love on this show?
Bachelor Pad
, maker of miracles.