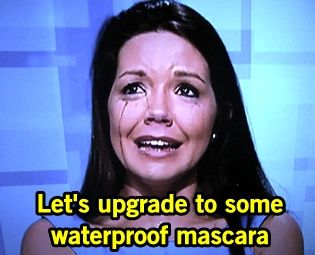 Ian is shocked, pacing around the house breathing heavily, quacking, and repeating mantras. Danielle rips into Dan for more lies, bawling in the diary room about Shane's eviction. Dan does Danielle dirty (again) by whispering to Shane while he leaves that Danielle was playing him. Dan still plays the "I'm here to coach someone to the end" card but he's full of shit and after 69 days maybe it's finally sunk in that Dan is there to win for himself. Bring on the revenge, bunny boiler!
And then this episode, after an awesome run of crazy episodes, gets super boring with flashbacks to past moments. You can plow the houseguests with all the mimosas in the world, but this bit is so boring considering all the better nonsense going down. No way in hell I'm recapping stuff we've already seen this season or stupid random funny stuff you would've seen on live feeds.
In part one of the final HOH competition, Dan, Ian, and Danielle needs to hold onto a swaying "anchor" (rope) slamming them into a wall through simulated storms and even dunking them into a little pond of water to throw them off. Ian throws the first competition as part of a deal he made with Ian as part of eliminating Shane. Once Ian drops, Dan convinces Danielle into dropping so that he can compete (and win) the third round of the competition. Keep drinking the Kool Aid, kids. In part two, the houseguests have to place the eliminated houseguests in the correct elimination order on a fake dirty-windowed skyscraper. Ian has a smart strategy of only wiping the bottom where the names are, not to mention his monkey-like climbing ability. He wins part two of the HOH competition and now Dan and Danielle go to work.
See a plan was constructed beforehand that if Ian won this competition, Dan would high five Ian and Danielle would get pissed that Dan prefers Ian. Dan and Danielle fight about Dan "celebrating" with Ian and final two deals. Danielle is a horrible liar at first, but she assures Ian that if he takes Dan to the end she'll poison the jury. Ian confides to Dan that he's afraid now his chances of winning are gone because of Danielle's influence, which starts the next part of Dan's evil plan: try to convince Ian to throw the third part. We don't know if that happens though, because it's to the final part of the HOH competition.
Part three of the HOH is the same competition as usual (no surprise there) which is to guess how a juror completed a statement about the summer. Judging by Dan's performance, I'm wondering if Dan threw the final HOH to avoid getting blood on his hands, much like Boogie pointed out Dan would do weeks ago. I'm just going to assume he did to make this picture. Ian wins the final HOH competition and gets to decide who he will evict and who will be his competition for the $500k prize. Ian stands up and casts his vote to evict Danielle, bringing Dan to the end. Adios nutso!
The jury convenes in the backyard and rejoice when Shane enters their group. Yup, another Dan blindside with Danielle inadvertently involved, shocking everyone. Then they discuss each member of the final three and their pros/cons. The topic of Ian yet again leads to a Frank and Britney bicker fight, but Jenn's anti-Ian because he's a rat. It's agreed that Danielle had the easy way, with Dan playing the game for her, but she has won competitions and took out Janelle. And then Dan. He may be evil, but everyone is shocked and awed by his gameplay. Dan has run this game from beginning to end, though others find his ethics a bit wary.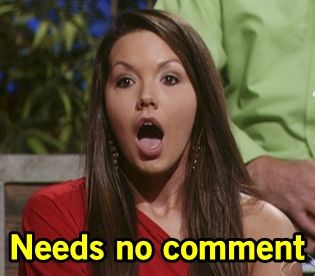 After Danielle's eviction, the full jury is brought to the live studio audience for the questioning of the final two. Ian insists he didn't take orders from the Quack Pack, he took destiny in his own hands. Dan interjects to claim the opposite but Julie basically tells him to shut it. Frank really puts it to Dan, asking if he crossed the line swearing on the bible and his wedding ring (Dan says yes). Dan takes credit for using and abusing everyone to get ahead in the game, barely having to win competitions. Ian's argument over and over is that he "put his fate in his own hands" and played a less dirty game. Dan understands their anger, but points out the Quack Pack came after the four and Britney is the one who literally brought Ian with a leash to join them. Danielle's question is great, asking Ian if she knew Dan had a
true
final two with her. Ian said no and hopes that was a lie because Dan gave Ian his grandfather's gold necklace as collateral. Danielle is SHOCKED, though Dan insists it was true. Ian is red-faced and embarassed. Yeah you should be Danielle and Ian cause you got major played.
Ian and Dan give one last final speech to plead their case. Ian's speech is how he's disgusted with Dan, won many more competitions, and Ian didn't backstab everyone like Dan did. Damage control Dan time. Dan kisses all the jury's ass first, praising their poor game while pretending it's good, but explains that to win the game he had to play ruthless. He didn't play the game personal, just calculating to win 24/7. The jurors then do their awkward voting where they put a key for the winner into the box while giving a corny one-liner. "I definitely put you on my dream board!" says Ashley. Kill us now. Just tell us the winner.
Finally it's time to reveal the winner. Julie removes the keys one-by-one, sooo slowly that I want to shake the TV. In a 6-1 vote, Ian wins
Big Brother 14
. It's nice to see a die-hard superfan win the show. Not so great on my pockets for pre-show winner predictions. Speaking of fans of the show, Frank wins America's Favorite Houseguest which is the most surprising reveal to me. Another summer of
Big Brother
is over and I'm so happy you read my recaps and laugh with me.
PREESH!!!
And now, the biggest pre-show winner prediction trophy gallery ever! Congratulations everyone and I'll be in touch about your prize.