So You Think You Can Dance
So You Think You Can Dance
- The top six perform
three
times this week, a solo, once with an All Star, and once with a fellow season niner. The judges just get to sit pretty and not make any big decisions as all choices are now in the hands of the public. Christina Applegate returns to guest judge because god forbid they get a choreographer or someone new there.
First routines: paired with All Stars. Tiffany keeps up with SYTYCD legend, season two winner Benji Schwimmer in a fast and fun jive. I'm more excited because while I love Benji, choreographer Jean Marc Generaux returns! Cole and last season's winner Melanie showcase a softer side after weeks of Cole being creeper characters. There were a lot of lifts but it was her lifting him which was crazy. Interesting, different number which is where Sonja's choreography shines. Christina Applegate says "See you next week 'cause you're so good" which in retrospect of watching was the worst comment ever. Eliana and Twitch dance a doo-wop twinged hip hop with Twitch where she's a gorgeous ballerina in love/lust with the postman. Christopher Scott's corny choreographer failed them. In a Tyce Diorio contemporary routine, Chehon and Kathryn become people who move on from a tragedy with just one suitcase left. It's a wonderful piece, bringing so many emotions to the table along with amazing dancing. I'm not a Chehon fan, but mad props to his dancing. Witney and season eight's Marco (didn't even recognize him) perform a lyrical waltz about a bride having second thoughts at the altar. A chemistry-filled partnership, there's some beautiful lifts and as Christina Applegate points out, a lot of hair in the face again. Cyrus is given a golden ticket when teamed with All Star Comfort in a dubstep number, which is crazy paced and features a lot of different facets. The intro was stunning to me, as Cyrus is entranced and pulled into the screen by the vixen on screen tempting him. It then gets full on and faster, a fun hip hop that essentially is handing him the SYTYCD male prize next week.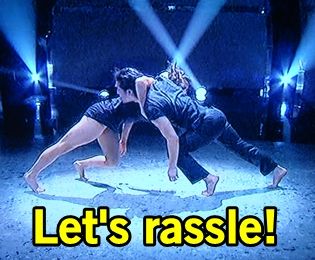 After the All Star numbers and solos, the season niners dance together. Witney and Chehon perform a cha cha by Jean-Marc Genereux (again!! I'm dying) and it's OK. Mary Murphy points out Chehon's improved but still isn't very good, though it's Witney's specialty so she helps sell it. Mia Michaels returns for original choreography (and not shitty knock-offs) with a phenomenal routine about hatred, mimicking the headbutting rams do. This number basically leaves me speechless, which isn't great for blogging. Who knew fighting could be so beautiful?? Cyrus and Tiffany's ballroom number is a 50s episode of a TV show that never aired and I could make the obvious joke here but I won't. Instead they sexy dance in the house because that's what the kids do: sexy dance parties. It's a good routine, another solid performance to give Cyrus the win.
Favorite routines of the night: Cyrus/Comfort dubstep, Eliana/Cole ram fight, Chehon/Kathyrn's contemporary, and Witney/Marco's lyrical jazz.
In other dancing, the six perform as a group to some contemporary/jazz routine featuring masquerade maskes and a lot of tulle. A guest performance by Oakland Access Company features a handicapped man in a wheelchair dancing with a partner who is not handicapped. It's very interesting and unique as the standing man mimics the other, including some interesting poses and angles.
The dancing numbers over, it's time for the crappy part: eliminations. The judges don't get to do diddly so it's all based on America and they better get it right (I might've voted? I forgot already). Tiffany and Eliana are the two girls heading to the finale, eliminating peppy little Witney. I honestly said "Whaaaaaattttttt?" when Tiffany got through. I don't get it. People must love Celine Dion. The biggest travesty, however, is Cole being eliminate in favor of a Chehon/Cyrus final two. Chehon did perform amazing the past two weeks, but his personality is Dullsville, USA. So tune in next week to see Cyrus win and see which girl America likes more.