So You Think You Can Dance
So You Think You Can Dance - The eight dancers kicks off the night with a routine with fans and the girls dressed in Chinese silk dresses. Interesting routine but not a favorite. It's a new choreographer whose name I missed but don't feel it necessary to find out. Jesse Tyler Ferguson from Modern Family makes his return appearance as a guest judge, which should make for some fun commentary. All dancers will perform a solo and a routine with an All Star; don't expect solo recaps cause that ish is dull (and because I took a late nap I probably fast forwarded through them for time).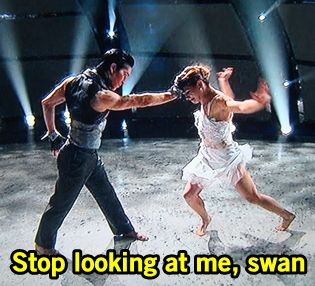 I only really loved a couple performances tonight. Truth be told, I found myself a bit bored at times and maybe it was the sleepiness from my nap. But I looooved Cole and Alison's funky Sonja contemporary of the desperate woman after a soulless man. Cole's face is stoic and angry, while Alison's emotions are front and center. It's dramatic and I love it. Perhaps it's my Team Eliana stance, but I loved her quickstep with Ryan from season 6. She's a bored housewife who wants attention from her husband in the form of a fast, fun dance that screws people with votes. Don't worry Eliana, I voted for you. I did NOT vote for Cheon, who I don't care for, but I'll give him credit for his slow and sulty tango, which Mary Murphy gives a ride aboard the super annoying hot tamale train. And lovable Will gets to show off a more serious side in a dance-away-the-pain hip hop routine where he really shines. Especially while jumping on sectionals.
My middle/bottom groups, because no one was truly awful. Tiffany and Ade do this pretty contemporary to Celine Dion's powerhouse ballad "The Power of Love." It's a beautiful piece with excellent partner work that garners a standing ovation. But seriously, every week I forget Tiffany exists. I enjoyed Lindsay and Alex's jazz-o-sexual tension, which was simple with great execution. The lack of chemistry is what lands them in the middle of the pack for me. Witney and Twitch work with new choreographer Luther Brown who is bringing east coast hip hop. I really enjoyed the routine (some fresh hip hop blood is always needed) but I found Witney's hair and wardrobe distracting. Her blonde hair is blowing around like there's a fan, she's got cheerleader faces, and the hammer pants draw attention to her sort of spazzy attempts. My least favorite routine of the night was definitely Cyrus and season 8 champion Melanie. For a dance the choreographer claimed was fast pace, it seemed slow and corny. Even the perfection that is Melanie can't save the dance. It was also about Cyrus' pants. And while I love Cyrus as a personality and his solo work is phenomenal, he hasn't experienced a level of technical growth that other hip hop performers of this show have. I think his charisma is what will give him the male win this season.
The bottom two girls are BFFs Witney and Lindsay. Lindsay has been in the bottom far too many times for me at this point. It means viewers don't respond to her and it's time to go. The judges keep Witney, eliminating Lindsay and I totally agree. The bottom guys are Cole and Will. WTF? How did Cheon survive? Absolute travesty. I'm not pleased about what goes down for the guys at all. Will is eliminated and I'm crushed because I loved that tall bundle of joy. BOO viewers. BOO.