In a rehash of Thursday's events, Jenn is still a dunce who thinks she's aligned with Dan, though he keeps up his act. Dan becomes the new HOH and his intended target was actually Quack Pack member Ian, but when Ian wins the veto Dan considers getting Shane out. Danielle is, of course, pro-Shane and gets Shane saved. Danielle flips out at being the replacement nominee because she understands nothing. Joe is eliminated and you won't hear me crying, though you can probably hear Joe yelling from the jury house. Jenn gets ridiculously pissy about not getting Shane out because it took her this long to realize no one is really aligned with her. Dan realizes his awesome situation was wasted on an elimination as shitty as Joe and if Ian finds out that he was supposed to be a target, he'll be screwed. Despite his fears, Dan continues his snake-like game in the house. He confirms a final two deal with Ian. Shane learns from Danielle he was supposed to go on the block, yet doesn't question if his role as a pawn was true. Again, Dan gets off easily.
The backyard is filled with old props from the competitions of this past summer for a trip down memory lane. With car steering wheels in hand, they navigate a ball through a driveshaft to select number answers to the corresponding day an event happened in the house. For every day you are off from the correct day you get a penalty point and the person with the lowest penalty points wins. This HOH is "hugely important" to Ian so, no surprise, this brainy challenge is totally in his favor (but you ball flipping ability matters to). Either Danielle is a moron or a failure with rolling a ball, racking up crazy penalty points. Shane doesn't remember he was the first person to use the veto (to save himself), while Ian completely fails on getting the ball to the right slot, leading a a final tie-breaker round. Both guys know the answer to the question (day the first coach went home), so it's a matter of the ball and Ian gets 2 away, while Shane is 4. Ian wins the HOH competition and everyone is quietly pissed.
Ian gets another Pandora's Box, excited to be the first BB houseguest to ever get two PBs. He is teased with a "message from someone who loves you" and a photo of his parents and five minutes to decide. Knowing the consequences could suck, Ian still chooses to take the video message and as soon as he hits play it's instead the red-headed, awful laugh Rachel from BB12/BB13 telling Ian she's so proud and loves him so much. "I'm gonna give you advice on how to win Big Brother, yay!" Ian looks pained in the face and it's hysterical. The rest of the house gets video messages from home. Shane asks if the videos were live, showing the sheer level of stupidity in people they recruit for this show.
Ian celebrates with his little HOH room key, but the rejoicing is brief since nominations are soon. Jenn is the obvious target, but someone from the QP has to be nominated alongside her. Ian suggests to Dan that he nominates him in return, to keep up appearances. Dan shits himself again so decides to talk his way out of it and suggests Shane as a safer option. The Dan Kool Aid works and it's Shane who is nominated with Jenn.
In a Salvador Dali looking POV competition, the houseguests have to assemble a puzzle while needing to fly to another platform to hit a buzzer to make sure the puzzle doesn't demagnify. Make sense? 'Course not, it's
Big Brother
. Shane wins the veto, which completely ruins Dan's plan to screw Shane over and vote him out this week. As a bonus luxury prize for winning the POV, Shane and a guest (he picks Danielle, probably to avoid her whine wrath) ride in a limo, hold hands, experience the outside world (gas is $4.33!), and go on their first date. VOMIT. The limo brings them to see a tour of the Olympic gymnast champions, giving them insight into the awesome shit that went down in London that they missed. They even get to meet the Fierce 5 which is maybe the most hilarious thing ever as they're like "OMG I can't believe we're meeting them! I'm jittery!" and they didn't even see the Olympics or these girls peform. Other best moment: the Fierce 5 pretending they even know about
Big Brother
and bitchface McKayla giving her scowl to Shane, telling her about the "not impressed" meme. Shane and Dani give some overreaction faces to the gymnasts and kiss in the limo. GROSS.
In the spirit of speeding this game up, the Chenbot surprises the five remaining houseguests with a spontaneous eviction. Tonight's eviction is between Jenn and Danielle, as Shane used the veto on himself and Ian is so GD dumb to buy into a Renegades 2 with Dan. While seeing Dan completely destroy Danielle would be epic, it doesn't happen. Jenn is eliminated in a 2-0 vote, booooring. The Quack Pack celebrates making the final four while Jenn gets to enjoy a peanut butter and jelly sandwich with Julie Chen.
Dan, Danielle and Shane compete in the latest Head of Household competition. They saw photos earlier this week of their time in the house and have to answer True/False questions about those photos. The only time I paid attention to this was when I thought Julie Chen couldn't pronounce fajitas. After seven rounds, Dan and Danielle compete head-to-head in a tiebreaker question that's impossible to guess. Danielle wins the HOH based on Price as Right bidding rules and I'll make the early buh bye Ian guess.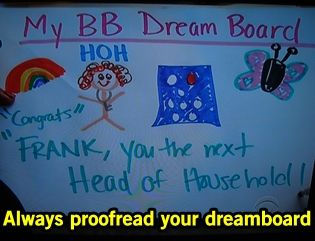 Meanwhile in jury house, Ashley fake meditates, blows bubbles, and makes dream boards to make things happen in the game. Her first dream board comes true when Frank does win HOH and Britney joins her in jury. Then Frank joins with a creepy Boogie "Daddy's home!" and Ashley is excited for him to be there so they can makeout. Frank is miffed that Dan didn't keep his word, the same thing Frank did to Britney, and Frank gets loud about it. Then loud Joe comes to feed everyone awful food, and Britney and Frank get into it again about Frank's hypocritical opinions. I like Frank but it's true: he lies to you and it's OK, lie to Frank and it's wrong.
Danielle is the HOH which guarantees her a spot in the final three, but also gives her the position of being the first to ax a Quack Pack member. Dan is psyched because no matter what happens he had final three deals. Dan also tells Danielle to put up him and Ian because either Ian goes or Dan gets crazy sneaky and boots Shane. At the nomination ceremony at the teeny dollhouse looking table, Danielle keeps Shane safe and nominates Dan and Ian. None of this stuff really matters this week as the sole decider is the person who wins the veto.
The veto competition is to complete a molecule puzzle of events in the houses with the faces of the former houseguests. Danielle wins the veto, giving her sole control this week and she's so excited for her and her boys (Dan, Shane) to make final three. But Dan's not done with his insane smooth talk and convinces Danielle to use the veto to save him, put Shane as the replacement, and let Dan control the vote. Dan only has a final three, not final two, with Shane. She is dumb enough to believe Dan's word that he'll vote out Ian. Danielle rejoices with Shane, kissing in celebration. "I guess that was a good thank you," says Shane. They repulse me.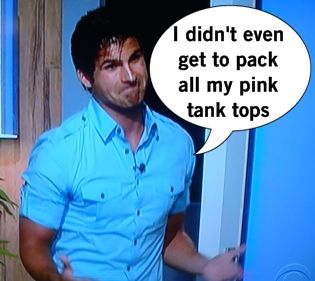 Danielle uses the Power of Veto to save Dan, which the audience gasping/aww'ing. On day 69 (LOL RITE GUYS?) Shane is surprised to be nominated and gives the longest rambling speech ever that I could give two shits about. Dan gives a speech about getting blood on his hands and that he had to break it up, casting the one vote to evict Shane. Danielle is completely shocked, Ian breathes is the creepiest heavy way, Shane brushes off Dan, and it's out to the Chenhot he goes. So here's a lesson people: stop trusting Dan, YA IDIOTS.