So You Think You Can Dance
- I hate to say this as usually I'm a mega fan, but I'm relieved SYTYCD is coming to an end. I wasn't totally wowed this season like season's past. The final four is meh with a predictable men's winner and one girl I forget exists every week. Director Rob Marshall joins the judges panel and I'll have to IMDB him to remember anything he did. Tonight is the performance finale where all four perform one last time, we vote, and next week a male
and
female winner are crowned. Because this show hates making recaps easy each dancer performs
five
times- ughhhh.
Ok, so favorite routines of the night. Eliana and Cyrus perform a paso doble to Daft Punk (immediate win) where instead of the woman as the cape, it's Cyrus in that role. I've harper on Cyrus' dancing but he stepped it up and Eliana is a badass. Two trained ballet dancers (Eliana and Chehon) perform a stunning pas de deux to the Nutcracker Suite with gorgeous lines, lifts and jumps. I'm not a Chehon fan but I can't deny his fantastic dancing in a contemporary routine with All Star Allison about pushing a girl away to pursue her dreams. Travis Wall creates another great, amazing piece set to the most depressing song ever ("Without You" and all I can picture is
The Rules of Attraction
). Cyrus gets to dance with other SYTYCD hip hop icon Twitch to the first reanimation routine and it's of course awesome. I got goosebumps. Eliana and Alex Wong are perfection when they dance together and I want to capture them in a musical box to dance together for all eternity. Nigel calls Eliana his favorite dancer on this series of ALL TIME.
Meh for medium. Cyrus breaks Tiffany's heart in a hip hop routine I don't love with a lot of herky jerky lifts. In the dude dance, Cyrus and Chehon show the emotional fight and struggle of being on the show. Despite some strong lifts, I barely remember the piece. Tiffany and Chehon do a rumba likely to allow Chehon another routine with an open white button-down shirt. Tiffany and All Star Will (season 4) take on a jazz about how far she's come and I honestly 100% forgot this routine.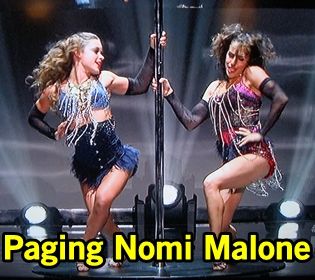 And then there's the WTF number. In a burlesque Broadway routine, Tiffany and Eliana dance on a stripper pole together. The vampy song from Chicago is appropriate but the dance I can't tolerate. The costumes are super distracting too with so many beads and stuff. Just seriously, WTF.
Also, there's a quirky Tyce Diorio routine where they're dressed as conductors and each get to show their own style and flair a little. Toss in a little dubstep remix for hip hop flair. Cyrus does the slippery penguin (sliding on your stomach across the floor). It's fun. And in whoa-awesome stuff, a one legged French b-boy performs with crutches and it's spectacular.
Now let's get this GD season over with because I'm boooored.