Sean and his final three women are whisked across the globe to Thailand for their sexy overnight dates. But before the lovin' Sean needs to wear a tank and pose around the resort, then recall all his past time with the three. Like being nerdy with Catherine, AshLee being full of sad backstories, and that Lindsay might've been insane night one. Fast forward!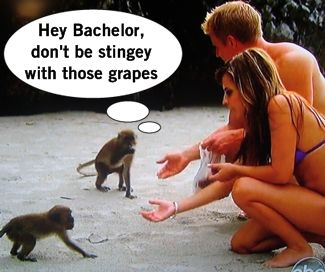 First up is Lindsay, who meets up with Sean at the Si Kao Resort and Spa to try something they've never tried before which I guess means pedicab with a weird sidecar. Sean's idea of a hot date is trying the local food at a Thai market which means eating eating bugs, everyone's favorite multi-cultural pastime. But hey at least he showed off his poor haggling skills to buy smoothies! They eventually make their way to Monkey Beach with a bag of food, ideally for a monkey to kick one in the gullet and steal the whole bag of fruit. As the sun sets the two go in for the picturesque makeout shot. The date continues with a romantic dinner in front of these exquisite traditional Thai parade floats. Sean and Lindsay talk about their potential life together: a house, an engagement. Damn dude careful before you really crush a chick. Just as Lindsay is about to tell Sean she love him they get interrupted by some Thai dancers like an episode of Four Weddings. Post-performance Sean whips out the fantasy suite letter, which she gladly accepts. Sean talks about how he could see Lindsay being his best friend, which is what he wants in a life partner, and Lindsay admits she's loves him. Makeout time in the fantasy suite!
Sean next takes AshLee out for a day out sea with the wind whipping through their hair. The boat stops at their own private beach, but to get there they'll have to swim through a dark cave. This cues up the millionth metaphor about abandonment and hoping Sean won't leave her to die in a cave. Sean leads the way with AshLee and her floaty grabbing him for support. No surprise, they survive the cave and begin their day at the beach with a bunch of new metaphors for love and trust. AshLee is excited for the romantic dinner, but a little apprehensive about the fantasy suites and him sharing the suites with others (and maybe getting sexy in there). AshLee loves Sean but doesn't want to compromise her morals in the process. Sean eases her mind by explaining this suite is just a place for them to stay up all night, talking, without cameras up in their grill. And so of course AshLee accepts because she trusts Sean, and it's a pretty crappy suite considering the couch area looks exactly like the mansion back in LA. AshLee tells Sean the important things, like her ring size and her desire for a cushion cut ring with a diamond band. Good taste, AshLee.
It's another day out on the water, this time with Catherine and riding a junk boat (romance!) Catherine makes a Titanic "I'm the queen of the world!" shoutout and I might have to dock her two cool points. Sean sees potential with Catherine, being his best friend and living in Dallas, but worries she might not be able to make that move. But she is ready for a commitment and real relationship, particularly with Sean. The boat docks so that they can jump into the ocean, snorkel and makeout in the rain on a ship. Their evening leads to a romantic dinner inside a nice little house with a tropical view, which is shocking as I expected another sandy dinner on the beach. Catherine says that eventhough she's quirky she's actually quite traditional in relationships. Sean tells Catherine he can see himself marrying her, which is a pretty bold declaration. Her hesitance comes from the fantasy suites as well, which she initially planned to decline so she wasn't viewed as a slut. But she accepts the card because she knows it's not about being physical but rather more time to be together. Catherine bored me, but re-wins me over when she giggles to Sean that he's a hunk.
With thirty minutes to spare, we get a little shirtless Sean pondering time before enduring a Sean and Chris Harrison one-on-one. But going into this rose ceremony, Sean seems to clearly know the exact person he will be dumping and knowing that he doesn't see anything further than a little touchy feeley in the fantasy suites. As we're reminded, Sean got dumped at final three so he understands crappy time. Sean confesses to Chris Harrison he is indeed in love but with who? That's the secret. Until then, video messages from the women spilling their feelings potentially one last time. The rain pours in Thailand as each woman arrives with a crappy souvenir umbrella to cover her. Sean comes out to the ceremony, only two roses on the dish. Those two roses become the property of Lindsay and Catherine (after the longest pause ever), meaning AshLee has been abandoned. And she ain't happy. Sean tries to give a little explanation but she's just pissed and ready for the SUV ride to the airport.
Next week: the women tell all! And by that I mean shit on Tierra more.