The Bachelorette - Week 1
A beat Honda drives up to a Malibu mansion because the show needs to remind us that this season's grew up without a lot of money. As a reminder, the guy usually shows up in some fly rented sportscar. Out of the Honda is gorgeous brunette Desiree, dumped by last season's Bachelor dud Sean. Along with a gorgeous pad Chris gives Des a mint green Bentley, a color reminiscent of a 1960s refridgerator, and cruises around in the physical representation of rags to riches. The Bentley takes her down to the beach to try out on outfits, chase seagulls, sketch palm trees, and ponder the soul-sucking journey of love ahead by the cascading waves. And then it's back up to the "top of the world" AKA her mansion to get interviewed by Chris Harrison, wearing one of Cam from Modern Family's shirts. Des is ready to give it all, ready to love, no rules to love, wants love- the same shit every lead says.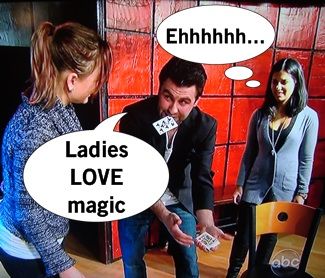 Chris Harrison shows up in front of the mansion to introduce Desiree and the skanky house to a new season. What kind of winners have they cast for our beloved lead? A military veteran, a banker that loves life and yoga ("A lot of black guys don't do yoga! HAHAHAHAHA" the show adds in so they don't look racist), and a dental student. There's a drilling fluid engineer who lives in the middle of nowhere but has a massive supply of hair gel, while another fella claims he invented the annoying driving distraction that is sign-spinning. Our two early sobstories include divorced parents, addiction, and a mentally handicapped sister. But sorry for the sad stuff, because there's a tailor/magician in the mix! I can't believe he made no puns about making the other guys disappear. So disappointing.
Des steps out of the mansion is a slinky silver dress, her diamond earrings hidden by her bouncy hair. With a final awkward hand gesture, Chris Harrison says, "Let the journey begin" as limo one pulls up. Much like Des, I'm here to judge their first limo impressions and some just saunter in boring and head into the house, but then there are some winners. The fallback intro is to do a callback to Desiree's first night last season with a wish penny. One fella breaks a wishbone with Des and she doesn't say, "Wait did you just eat a rotisserie chicken to get this?" Another tries to find her penny in the fountain but tosses a new one instead. An epic fail is one guy who gives a "fantasy suite"-esque letter to forgo the other guys and bang him; she declines as she's not that kind of girl on the first night. The drilling engineer arrives as the doucher that comes out shirtless and asks, "Will you accept these abs?" No, I will not. Bring some manners, sir.
A dance lesson gone awry nearly tears Desiree's gown and the suitor (Larry) immediately sees he screwed up, complete with an offscreen bleep. The magician OF COURSE does a trick: fire napkin to rose. Des smells the rose and I'm left wondering if it reeks of lighter fluid. And then there's the ding dong Diogo who takes it to the weird level, showing up in a full suitor of armor because he's her knight in shining armor. Ugh guy, couldn't you have made a more timely Game of Thrones play? Desiree fake laughs her hardest for a guy who gets down on one knee, fakes nerves, and then ask if he could tie his shoe. A law student shows up in a suit he designed himself that is a hot mess of epic proportions, but Des designed her dress last season and wanted to impress her (or humor her). A child comes out of the final limo, with his dad in tow, and it's cute but also night one. I truly wish Desiree the best of luck finding love this season because there's maybe five normals amongst this cast of duds desperate to be on TV.
There are nineteen roses on a tray in the house which means Desiree can give out roses as she pleases. OR if a bachelor gets drunk enough, there's nineteen snacks for the takin'. The magician decides to get seen as soon as possible, so he silences the room for an illusion... he's going to make Des disappear for five minutes and takes her off to talk. LAME. You're out of the Magician's Alliance. Brandon the adrenaline junkie contractor swoops in quickly after and gives Des his mom's sobriety coin which he used as a heads/tails decision of whether to audition. Let's hope Brandon does make hometown dates so his mom gets her sober coin back. Everyone gets their 90 seconds of chatting in before someone interrupts them, which is amusing as always. Des and single dad Ben hit it off immediately, with a lot of shared interests and he's not too shabby to look at. He gets the first rose of the night. All the bros hate him.
A shirtless entrance isn't enough to get Zak the attention he wants, so he removes the pants and jumps into the pool. The annoying guy in social media calls out, "Hashtag: shrinkage!" and my hashtag for him is "STFUlameo." Desiree gives him a rose for his effort and unfortunately she doesn't pin it through his flesh. Bryden the army guy gets a rose for his buddies-with-Iraqi-kid story and just being a nice guy.
While many guys catch Des' eye, other guys continue to fail, like dancing Larry who is an awkward a talker as he is a dancer. The Fantasy Suite failure tries to outcreep them all, setting up a room with candles, doing one leg pushups, and trying to be the first guy to kiss her. She declines the suite, again, and insists he's different and less reserved than Sean. YA THINK? "My mom says I'm pretty good looking," Jonathan says as he retreats to hug himself in the faux-fantasy suite. But the relaxation is short-lived as he interrupts someone else's time to attempt to drag her to his rape den. Desiree is not having it and tells him he's making her uncomfortable, so she asks him to leave before the rose ceremony. A perfect exit is given when a white rapey van escorts him from the mansion.
Chris Harrison clinks a knife to the champagne glass to close out the cocktail party and commence the rose ceremony. Chris explains the rules of the rose ceremony in case you've lived under a rock and don't understand reality show eliminations. The roses are handed out to the normal, nice guys and the really good looking ones. Hopefully getting a limo ride out of the mansion and not a molester fan are several fellas. This week we bid adieu to dancing Larry (who I guess practiced too much), magician Nick, and Diogo in shining armor (who ditched it for a regular suit). The moral of the story: your corny intros will get you cut, fast.