The Bachelorette - Week 4
The bros say goodbye to the mansion and begin their first stop in a tour around the world: Atlantic City. "It's basically like Las Vegas on the ocean," says that ding dong Kasey. Everyone is so excited for Des to grace their seaside city and stare aimlessly all around the boardwalk.
Single dad Brad receives the first date card of the week, surprising everyone since he's the quiet, boring guy in the group. The pair have fun horsing around on the boardwalk, playing games, going on rides, and noshing on saltwater taffy and chocolate. And somehow the guys can see them on the carousel eventhough it's like not visible and super tiny. Lies! After sitting in front of this extravagant sandcastle for two minutes, the pair head to a romantic dinner. The dinner conversation is beyond dull, so Desiree changes the scenery for the lighthouse. They ascend to the top, just to have Desiree dump him with a scenic view. Heartbreaker!
All the fellas meet Desiree on the boardwalk for the group date for one random date. Standing inside with Chris Harrison is Miss America: they're having a pageant, y'all. Ultimate Grand Supreme Bachelor, please. The guys start their training with selecting their talents (Juan Pablo is a master of the baton) and being tools. Miss America gives the guys some lessons on interview questions, but sadly this was filmed months before Miss Utah USA bombed in front of the country. And to humiliate them a skotch more, there's a swimsuit portion with teeny Speedos. Balls out, fellas... again.
The pageant takes place in front of a live audience of what I'll assume are elderly people who gambled their daily allowance and are now just waiting for the bus that takes them back to their old folks home. And teens who can't stand on the casino floor while their parents chainsmoke and play Blackjack. Chris Harrison comes on stage to present the contenders vying to become Mr. America. The interview is the first portion of the evening which allows the guys to give cheesy answers to impress Des. The pageant proceeds to talent and here's what we discover: they have no talent. Best talent is Brooks who creepily sings with a ukelele and then smashes it. Bryden brings exactly what I wanted: Magic Mike pelvic thrusting realness. Zak W sings and even if he's good, he's so annoying I'll never route for him. The competition wraps with the swimsuit portion which fails to bring the Magic Mike bodyrolls. Brooks is second runner-up up, Zak W first runner-up, and the winner is... Kasey. WHAT? The awesome never win.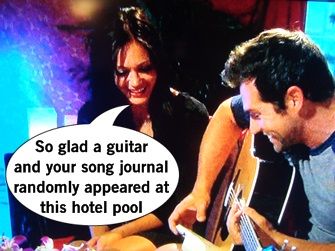 The guys keep on their pageant swimmies for a hotel pool party. Chris shows his serious time by revealing he writes poetry (Des does too) and shares a poem he wrote for her. The guys continue to hate Ben, pointing out that he talks more about his bar than his child and always makes his one-on-one in front of the guys to rub it in. Zak plays more of his stupid song; you are no "They Say Love Don't Come Easy" sir. Desiree gives the date rose to Zak W for his constant overtures to show his feelings. My god, Des has odd choice in men this season. But for now: cannonball!
Desiree and James have a super hot one-on-one date helicoptering over the destruction Hurricane Sandy did to the Jersey Shore. Ugh, total panty dropping date. A shame a helicopter must be intro'd into the season is such a grim way. It's an eye-opening date for them, and even for us viewers seeing more of the devastation. From the overhead view the helicopter lands to walk the streets of a desolate Seaside Heights, including speaking to an older couple who calls meeting Des "an honor." Des gives up their amazing date to give it to this couple whose lives suck right now. It's sweet. So this couple has a romantic date reading their wedding album replica by the show and feeding each other (we see this hotness), and Des and James grab a casual dinner at a local Seaside bar. Des knows what life without money and hardship is like, so she just wants love. James continues this date of laughter by admitting he cheated on his longtime ex ages ago (Des was cheated on too). While Des doesn't like the idea he could be tempted, she admires his honesty. They can't resist luxury too long, so Des and James hone in on Manny and Jan's fancy date to bring them to ANOTHER private concert date with Darius Rucker (Hootie). Holy shit this season is unoriginal. And James gets a rose.
It's time for another cocktail party to kiss Des' ass before the rose ceremony. Bryden admits he's not sure his feelings for Desiree are advancing as fast as they should be (or you mean head-over-heels in love after two dates?) He's considering leaving. Lame-o Michael makes an acrostic to spell out what he likes about Des. He gets a kiss because seriously, she'll smooch them all. Desiree and Chris talk about her family sadness AKA they're poor again. He jokes friendzone but then they kiss. Goddamn I hope no one in that house has a cold (or herpes). Bryden finally gets his time with Des and explains how hard this process has been, especially with their momentum slowing down. Desiree assures him she feels a connection and he doesn't need to rush things just because that's what this entire show is about.
Chris Harrison clinks the champagne glass to bring the cocktail party to a close. Desiree thanks the guys for being open and willing (willing to get sloppy seconds, thirds, and fourths). Bryden does indeed accept a rose from Des. Some random guy we've never heard from named Zack K. goes home, leaving no one shocked or even interested.
Next week: James might be a doucher! Ben's a fraud! Fights in Germany!