So You Think You Can Dance
Top 20 Perform / 2 Eliminated
The night opens with this sort of Steam Punk/Victorian contemporary of what I guess are wacky dancing orphan kids? Story aside, it's very whimsical and the dancers are so light on their feet it's silent except for the music. The guest judge of the week is Christina Applegate who is the only celebrity judge I typically like as she's well-versed in dance.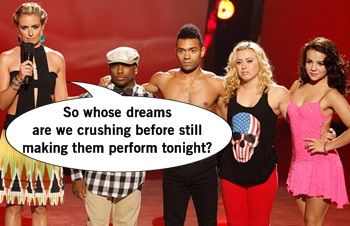 Now usually the eliminations happen at the end of the episode but instead we're beginning the night with eliminations. DUMB. And even worse, after your dream has been squashed you still have to perform with your partner. The bottom guys are Jade, Carlos and Alan; the bottom girls are Mariah, Makenzie, Brittany. This is when I scream at my TV in rage considering Niko and Alexis embarassed the entire genre of hip hop last week. Right off the bat Alan and Makenzie are saved, so the other four perform "meh" solos. Nigel concurs with my thoughts which is that none of these dancers deserved a spot in the bottom, however it's the way America voted. Based on their performances, choreographer input, and ability to grow, contemporary dancer Carlos and ballroom dancer Brittany are eliminated. Well starting in about an hour since they're stuck dancing again.
After an amazing week one, week two's routines were a little weak for me. Fik-Shun and Amy have another awesome week, absolutely killing it with their hip hop routine as two bellman who just mess around at work. Napoleon and Tabatha really tried something new with this and it was so fun, making me smile the whole time. Hands down my favorite. Proving that the beginning of episode elimination is annoying and bullshit, Mariah and eliminated Carlos perform this beautiful, heartbreaking contemporary number that conveyed such emotion. Ugh, it was wonderful and it sucks a talent like Carlos is gone (at the same time, I love Jade so it was tough). Wrapping up with faves is the lyrical hip hop featuring Jasmine H and Aaron. He's a musician on the road who visits his booty call. It's pretty steamy with some great emotions. Aaron is a bigger dude and commands presence. He and Jasmine are one of the best partnerships right now.
Onto the routines I wasn't loving. Perhaps it's my anger that they deserved a bottom spot, but I didn't love Alexis and Niko's contemporary sequel to the famous season 7 off-to-war dance. They did a fine job dancing and the choreography was nice, but it doesn't even compare to the gorgeous original of Kathryn and Robert. BluPrint and Brittany let loose in the library for a Broadway number, but Blu was kinda stiff and it showed. Jenna and Tucker wrap up my bottom and that's because I honestly don't even remember their cha cha routine and my notes are lacking, which means I didn't care. What I do remember is Nigel didn't care for the choreography, giving a bit of a slam there.
Other routines of the week are Hayley and Curtis getting sexy in an S&M leather jazz, Malece and Jade making me smile with Bollywood, Jasmine M and Alan's seductive tango, and Makenzie and Paul playing mad scientist in the worst alleged robot costume ever.
So it was an OK week of dancing. Other than the bellhop number, I can't see any of these routines being part of the "best of" when the finale comes. Quite frankly, I think the show has made a huge mistake eliminating contestants at the beginning. It begins the whole episode as a twenty minute down and then, since they're true professionals, they're stuck dancing again. It's a little cruel and really I preferred the past method of elimination, which would then create new and interesting partnerships sooner.