Big Brother 15 - Week 5
Helen is immediately wondering if she made the stupidest mistake ever trusting Aaryn. Since Aaryn did win HOH, Helen's request was for Aaryn to nominate Howard and Spencer. Candice has heard about Helen's deal and confronts Helen about it, asking Helen to not let her get put up. Helen wonders if Elissa blabbed again, but we know 'twas Jessie. Elissa might not have told, but she's not hiding her feelings of hatred towards Aaryn, and the rest of the house is very suspect of the former MVP pet. But there's one alleged friendly face back: CLOWNEY. If Aaryn winning HOH isn't a haunting enough idea, the clown of our nightmares returns for seven more days.
An alarm sounds in the house with a message from Poppy Montgomery of CBS' Unforgettable to remind you the forgettable show is stars on is premiering. Oh and host the Have Not competition. The backyard is now the Big Brother police station and it's a two-part challenge. In part one, the teams need to transport and stack evidence. Part two is to return all the evidence back to the shelves the exact way they found it. GinaMarie, Amanda, Candice, and Judd's team is the last to get their evidence back in the correct spots, so they are the Have Nots. GinaMarie will remind you she's never been one before, but we've seen her down gross-ass froyo like water so I doubt she'll care what she puts in her mouth.
Spencer tries his hardest to save his ass and make a game change, but Aaryn's committed to keeping her deal with Helen even if she hates it. Aaryn reveals this deal to Howard as well so the blood will be off her hands. Both guys make the same point: next week you're back to being screwed. And while they fight for their lives, Amanda and McCrae play kissy in the tub and exchange "I love yous." Candice believes this power couple needs to be broken up, but Aaryn feels Amanda has saved her thus far. It's pretty pointless and Candice comes to realize that now she made herself and Howard a bigger target. As much as Aaryn would like to do what she wants, she also wants to stay in the good graces of the house to be semi-OK next week. So after an hour of filler, Aaryn nominates Howard and Spencer per Helen's original request before Aaryn even officially won HOH.
Elissa and Helen praise Aaryn for being their puppet, while Amanda is excited because she's been begging to nominate Howard to the point of annoyance. Jessie cries about his nomination as he could use the money more than others. Sorry, who's Jessie? McCrae whispers to Spencer that he's just a pawn but Spencer has McCrae's motives figured out (Howard needs to go because he can't be manipulated). Howard's weird rambling, nonsensical speech to the house leaves everyone confused and his target gets a smidge bigger.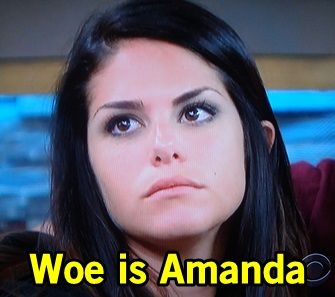 It's wonderful irony that McCrae and Amanda ponder their level of extreme comfort only for Amanda to be nominated by the MVP (America) this week. Amanda and her chums are sure the MVP is Howard, nixing America as a possibility since they assumed Amanda is well-liked. Spencer and Candice think it's Elissa, a wiser call since she typically gets the title. And Howard, well who knows what the hell he's talking about in another ramble of metaphors. I'm a little surprised Amanda is the nominee as I know my Twitter friends half hate her, but not as much as they hate others. She's got a decent edit on TV, sort of the sarcastic one but she is a fairly overconfident. Aaryn is obviously first pick but she was HOH and thus ineligible. I'm wondering if the Elissa fans turned on Amanda after the inane one-piece fight of last week. Or America hates one-pieces too.
The backyard this week is a laboratory being run by mad scientest Helen. The veto players step into a time travel machine that looks like a low-rent Disney ride. Back in time, they're in the prehistoric times and there's dinosaurs, ancient critters, and some magma or whatever. The players need to search around to find stone pieces to assemble a big ass ancient veto of foam-core Puzz 3D stone. Most struggle with the puzzle which isn't surprising since it's not a house of thinkers, but Spencer and Amanda actually have some semblance of a veto created. Spencer wins the veto, saving himself and now Aaryn will need to put someone up in his place.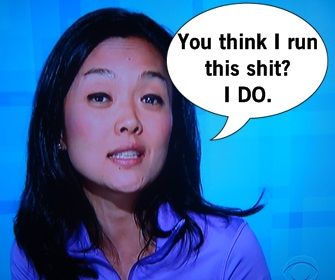 Aaryn would really like to nominate Candice because she views her as the root of all her problems and also one vote to save Howard. Candice fully expects to join Howard on the block for the same reasons because her brain actually works (except come puzzle time). Since Helen is calling the shots this week, Candice approaches Helen to try and save Howard (and her). Helen's pretty resistant to making a deal and fears that she's being perceived as the person controlling the house. Helen doesn't care for rumors (rumors that are 100% true), so Helen who isn't controlling aaaaaanyone starts a rumor that Candice threatened her to save her/Howard and take out Amanda. Come veto time to the surprise of not anyone ever, Aaryn names Candice the replacement nominee beside her beloved "Howie" and Amanda.
Howard urges Candice not to get pissy now that she's on the block, especially as she makes a crack about Aaryn putting the two black people on the block. Spencer wants to keep his only alliance member, Howard, in the house so he tries to sway the less powerful players to attempt to make a move. His argument is to take out Amanda, a strong player who is running the game. Andy tells Amanda, who has to question if Andy would flip, and she gets mad that Judd would be untrustworthy too. Amanda takes this swimmingly, so she angrily confronts/threatens Spencer about his plans. Helen is jogging at the same time, so she stirs up some shit with Candice claiming Spencer wants to eliminate her. Candice calls a house meeting, like a stupid sorority, to call out Spencer, which turns off Spencer and the whole house. No one wants a loose cannon around.
In time filler for the live episode, Julie Chen plays celebrity baby trivia with the house so they're caught up basically the only important stuff happening in our world. Judd's small town is interviewed per many houseguests thinking maybe he's a mastermind liar. I'll tell you this much: his bear shirt makes him a style icon. And Amanda and McCrae are Big Brother engaged which is I guess boredom shit to get attention.
Despite all the red herring action to pretend the house has flipped their plans, Howard is evicted from the house. Well there goes the last hot bod in the house. Howard believes Helen/Amanda/McCrae are the power in the house and once you're on the outs, it's hard to get in and he was heading out. Julie points out that he might not be on the outs had not lied to Helen. But the big topic is the racist comments in the house and he says he didn't address the comments because he didn't want to rage on everyone. "I chose to take the high road," he says. Candice's goodbye video thanks him for the friendship which Howard confirms is friendship, not a showmance. See, not everyone in the house needs a boyfriend JESSIE.
America is the MVP again to keep the house paranoia going. But we won't know nominees, or the Head of Household, for days (unless you have feeds) because it's an endurance competition. The players have to hold onto a bull's head poll which walking on moving barrels, like lumberjack log rolling. Elissa almost falls less than a minute in but saves herself and continues to walk like she pooped her pants. Julie breaks the best news to the house they've heard: no Have Nots this week. She then takes a five second breath before trying to entice people off their barrels to open mystery boxes for the chance at $5k. Keep on walkin' houseguests because there's a Double Eviction coming up!