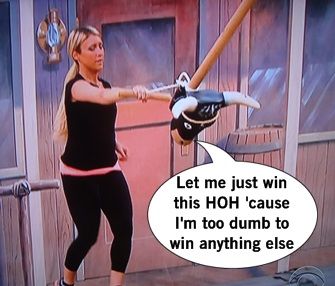 Continuing where Thursday's episode left off, everyone is walking on a rolling barrel endurance challenge to win Head of Household. The best is you can see how rinky-dink the challenge is because as they walk, the "barrel" material wears off. After getting comfortable the barrel begins to roll backwards instead of forwards. This causes Spencer and Candice to fall, though she basically jumps just because Spencer wouldn't be able to nominate her. More begin to fall, sending their bull's head handle ramming into a china cabinet. The first three eliminees get boxes of prizes: Spencer has to speak through a bullhorn until nominations, Candice wins $5k, and Helen wins a backyard BBQ. GinaMarie really wants the title and the hair dye she'll get in her HOH basket, but McCrae isn't willing to budge immediately from her offers of safety (including the offer for her bed so McCrae and Amanda can fool around- gross). They haggle back and forth but McCrae ends up falling making GineMarie HOH. Ugh, awful.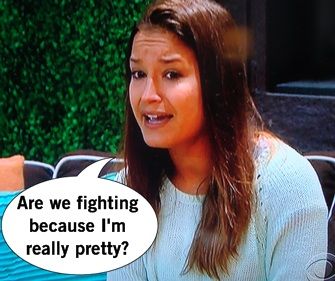 Aaryn overhears Jessie being annoyed that Helen invited Aaryn to her BBQ, and you probably shouldn't moan about the people with power so obviously. Jessie whines about it a lot because I guess this annoying attention seeker is desperate for alcohol and a hot dog down her throat. Amanda gets frustrated with Jessie using the BBQ as a statement of loyalty and throws it back in her fact for being disloyal. It seems that Jessie tried to flip the house last minute before the vote to blindside Amanda (Howard started the idea, Jessie went around seeking the votes). So no one trusts Jessie anymore as she's seen as the biggest floating attention seeker who will turn on her friends. "Well you walk around in your underwear," Jessie says. It's a pretty high school bitch girl fight and McCrae is quick to call Amanda on her bullshit.
GinaMarie HOH room reveals a pathetic cry over a picture of her and Nick then rejoices over all the nasty trash she gets. GinaMarie thinks this week will be cake, as Candice is her target at the house gets annoyed by her. Worried that Amanda might flip the house on her, Jessie tries to request GinaMarie not nominate her against Candice. In her rambling nomination speech, which gives Judd a major case of the giggles that it contagious around the table, GinaMarie calls her a drama queen, tattle tale and rat and dubs Jessie a flip-flopper. Wait, nothing about Jessie being whiney? Too bad.
GinaMarie brushes off her jerky speech to both of her nominees, mainly to cover her ass because she talks a big talk but can't 100% cough up to being a dick. Amanda can't understand why anyone would nominate her as she's so great, forgetting about her being loud, annoying, childish, and even McCrae is over her shit but he's stuck. America uses its power as MVP to nominate Amanda again who is confused as to why she's nominated. Even McCrae gets why, "She's acting a fool." Amanda starts campaigning immediately for people to use the veto to save her, annoying and offending the others. Bitch, come up for some air and stop being selfish.
The veto players are rockin' some sweet camouflage overalls to fling foam frogs into lily pads for the most points. The lowest point earner that round is eliminated and gets a "prize" from a worm bucket, which they can trade around to get good shit or probably a unitard of some sort because this show loves beating a joke to death. A fight between Candice and Amanda breaks out during the competition after Candice gets caught telling Judd everyone thinks he's MVP (she decides if she's called a rat, be a rat). "That's the Shaniqua comin' out of you, I guess right? Am I racist now?" Amanda says. Welcome to the officially-a-racist-in-the-TV-edit club, Amanda. The bickering keeps going because she keeps going on and on, with Candice trying to shut up too but snapping back because Amanda is just so damn annoying. One "prize" is to get nonstop spray tanned for the next day and GinaMarie loses her shit to win this prize (like Spencer would want to wear a doggy cone of shame), but Spencer gives the tan to Amanda and steal her Bahamas trip. Judd wins the whole competition and trades his Clowneytard to Candice for her $5k prize, giving Jessie the veto and saves herself from elimination.
Some levity comes in the form of the veto punishments. Candice's Clowneytard, a human form of the true star of this season, Aaryn's Clowney doll. Amanda gets "50 Shades of Orange" which means getting spray-tanned any time a bell rings within 48 hours and she looks like the most creepy version of Tan Mom ever. GinaMarie wears a dog cone around her neck so she can't lick her privates, but she loves it because she's insane. But the fun is short, as word gets to GinaMarie that Elissa might try to save Candice and eventhough Amanda's a huge horrible raging bitch, her target is still Candice. Helen tries to smooth-talk her way to GM and makes some proposals of safety to keep her house bestie safe. And so without any real explanation for the TV-only viewers, Spencer is named the replacement nominee after Jessie removes herself.
The house learns there's going to be a nine person jury to decide the victor but more importantly, it's a Double Eviction night. No one is very surprised, likely because they were tipped off before. But Julie ominously warns that just because you're on the jury doesn't mean they're out of the game. Confused faces around. Despite a video package to show a possible house rising to take out the demon Amanda, Candice is voted out of the house and becomes the jury's first member. But at least her speech takes a bite out of GinaMarie for being a loser, and GinaMarie keeps interrupting to fight back and uses the lowest blow insulting Candice's mother. Candice has no regrets, especially for defending herself to the very end. "It's goodbye for now, but there's a lot of summer left," the Chenbot heavy-handedly hints.
After that wowzer, we return for the Head of Household trivia competition about objects and events in the house thus far. Somehow through a trivia miracle, and with a grimace on her face, Aaryn wins HOH. But with only 30 minutes left, there'll be no time for a Clowney return! Before Aaryn nominates, Julie announces the MVP twist is over and the show will return to the standard two nominees. Worried about making waves in the house, Aaryn boringly nominates Jessie and Spencer.
The veto competition is to return screws and nails from a big toolbox to complete a veto pizzle. Playing along with the nominees are Andy, Judd, and Amanda. Once again, while I look away for seconds, Aaryn wins the competition. There's whispers and long blurred out parts of conversations for possible swearing or just to annoy our ears with dead air. Helen says something about "makes us feel like shit" and Aaryn uses the veto to take Jessie off the block, and nominates Judd for claiming to have played her and the whole house wants him gone. It's largely because the whole house thinks Judd is MVP and lying to everyone. He's not a power player to me, but at least he's a likable person in this house of turds. With his signature bear shirt on, Judd is unanimously evicted and the house is a sobbing mess. You should cry because you're all turds.