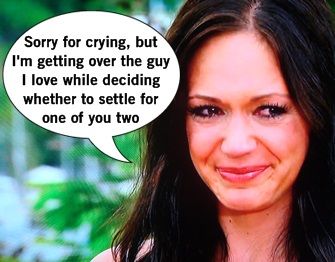 Desiree is still reeling from Brooks dumping her, taking the time to ponder deeply while overlooking the ocean like we all do. Chris Harrison comes over in a suit to provide some solace, and since he's in a suit it means business. And she cries a bunch, sniffling loudly and good god, give her more than one tissue. Chris reminds Des that there's two other guys she's been making out with that haven't dumped her yet, so maybe there's some rebounding on the horizon. The question is can Desiree rebound and actually get engaged to one of these other guys she seems only quasi-interested in? Other Chris and Drew are brought to the site of the rose ceremony where Chris Harrison drops the Brooks left bomb and brings Desiree out to lament in her sadness just a little more. She cries a bit after explaining that when she calls their name for a rose, to be honest that they're actually accepting it. Both guys of course accept the rose despite seeing that clearly she's devastated and probably legit in love with the other absent guy and not really them.
Desiree decides to go forward with her two guys to see if she can upgrade her other guys to love status. First up, Drew the boring dud. The pair ride gorgeous horses down to the beach and make awkward small talk to avoid the fact that she probably spent 24 hours sobbing in a beautiful Antigua home. Des is completely friend-zoning Drew because she's just not feeling it and he's trying his damnedest. And so with the tears flowing, Des cries about something missing and that Drew isn't the one for her. He's totally caught off guard because I guess he either can't read signals or is blissfully ignorant of reading a person's vibe. "You don't have to be sorry for not being in love with me," Drew wisely says after she keeps apologizing. They share a long goodbye break-up hug and it looks like Des' next date with Chris could be another downer.
Desiree gives it the old college try with Chris next and she seems slightly better this time, allowing a hug and quick kiss. They ride on a catamaran, probably using the leftover credit from not showing up a couple days ago with Brooks. There's definitely more feelings with Chris than Drew, particularly the makeout and snuggling part, and Chris assures her he's there for her and hates seeing her cry. They have a lot of fun on the date, sipping Kool Aid, jumping in the ocean, and laughing. It's great to see Desiree not cry and that's not me being empathetic, it's me tired of seeing a miserable dumped girl on TV. Desiree goes to Chris' hotel room for one last drink and emotion expression time before a possibly proposal. She feels like they've known each other for a while and they seem to mesh, so Desiree decides to introduce Chris to her family. Chris gifts Desiree with a journal bound with twine so that she can write too, just like he's always writing those annoying poems. Don't worry, he slipped all his previous poems in the back so she'll always have them. Oh thank the lord, the poems were saved. Desiree cries more again for not loving Chris more from the beginning but feels good to be loved and love back.
There's plenty of time filler to make the two hour finale plus one more hour of After the Final Rose seem drawn out. The audience earlier gives their opinions about who Desiree should pick. Sean and Catherine show up to pretend they're actually going to get married. Sean says if Kathryn had "pulled a Brooks" on him, he would've packed it up and picked no one because he only wanted her. Catherine kinda agrees that if she were Chris and saw she was that into Brooks she'd be kissed upset. Her friends from last season, Jackie, Lindsay, and Lesley, give their feedback too and were shocked with the Brooks fallout. No one seems to know if she'll choose Chris, somehow finds her way back to Brooks, or ends up a sad spinster drawing wedding dresses alone in her house with nine cats.
Chris gets the honor of meeting Desiree's family which consists of her mom, dad, and asshole scene-stealing brother Nate. Chris admits he was initially skeptical but really found love with Desiree. Chris explains that in the real world you do date multiple people before getting serious it's just that you aren't seeing them getting freaky around you. Point for Chris again. I like when they pretend Drew is still in the fold, because Chris hasn't been clued in that that dud was dumped days ago. Chris and Des' dad have their man-to-man chat and he asks for his permission to propose, even if he's not sure if she's going to reciprocate the engagement feelings. Bitter brother Nate asks Desiree if she really wants to be with him forever and urges her not to settle (but likes Chris), also bringing up the Brooks situation because he's a delight for drama.
It's the last day of Antigua and Chris plans to propose to Desiree, pondering shirtless while looking out to the sea. But hey guys, it's a cameo by Neil Lane again to give Chris some stunning engagement ring options. It's a beautiful cushion-cut halo ring with a rose gold and platinum braided band, sparkling from every angle. Desiree gets dressed up in a nude-hued gown and a pair of halo earrings that would perfectly complement the engagement ring. But she's still wondering what she'll do and she plans to come clean about how deep she truly cared for Brooks. Cause you see there's a pretty good chance a guy might not want to hear "Oh yeah I was planning to pick this guy for weeks and now I like you more but yeah, loved him a lot."
Desiree is standing on the tropical proposal plateau waiting for Chris to arrive (not Chris Harrison, he's already there waiting to awkwardly greet and lead other Chris). Chris narrates that he'd be "shocked" if something came in the way of the relationship they built, a wonderful use of foreshadowing. Clasping her hands in his, Chris recaps their relationship and the fun they have and the poems they shared (not kidding, that's for real). As he begins to get down on one knee to proposal, Des stops him as she has a few things to say. She admits Drew was dumped days ago and is the only one left, the only one that met her family; Chris grins. She admits she loved Brooks and was torn between Chris and Brooks. She said she was so blindsided by her love for Brooks that she didn't see what was in front of her, of what he wanted them to be. She says she loves him and they kiss and cry a little. It was actually a nice scene and proposal and give her kudos for coming clean before he finds out later about Brooks. But of course as viewers it looks like she maybe settled, so it'll be scrutinized by all for days to come until we stop caring. Chris finally gets to finish his proposal and gets a tearful yes from Desiree. Cut the montage and pinning that final rose on Chris' jacket!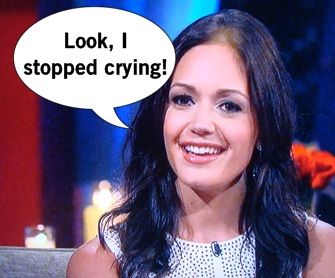 The most dramatic season ever has concluded and it's kinda actually true this time, eventhough 85% of this season was boring as hell. Chris Harrison asks what the world is wondering: how were you so in love with Brooks only to get engaged like a week later to someone else? It's some thing about coming over heartbreak but assures us she was actually falling for Chris. And eventhough she's happy in love with Chris, Chris Harrison is really pushing the Brooks questions. She said the warning signs were just more Brooks not liking the process of this show, not necessarily the feelings. Bring out the Brooks!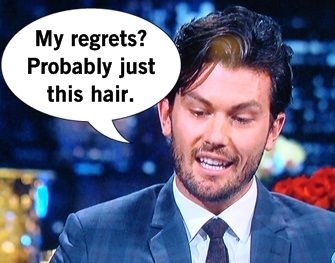 Brooks comes out on stage, nervous to see Des since it's the first reunion since crushing her soul. Watching the breakup again was hard for him and reliving the whole process. Desiree appreciates their ability to be honest with each other which allowed closure by having an excruciatingly long breakup aired on television. It's just that he still wasn't feeling love and does know that it sort of led Des. There's no regrets on either side it seems; it was a learning experience. Brooks learns the outcome, which is that Des is engaged to Chris. "Oh yeah, congratulations," Brooks responds. But Brooks knew she dug Chris and it's not surprising. Honest chat, boring stuff. The stuff of After the Final Rose.
Next to rehash heartbreak is dull Drew, who Desiree sympathized with especially since she broke his heart after getting hers broken days before. He admits it's a flood of emotions being reunited and it took him awhile to recover (maybe he should've tried rebounding in a week too). He wasn't expecting getting dumped that day but there were some clues. She was weird at the rose ceremony, nicer to Chris, and not super excited to see him date day. It's another "no regrets" conversation where Drew's happy she found happiness, even if it means he got dumped. Desiree says nothing could've changed to make him the winner, and she still doesn't have a clear point where he was definitely no-go. Drew: easy on the eyes, boring on the mind.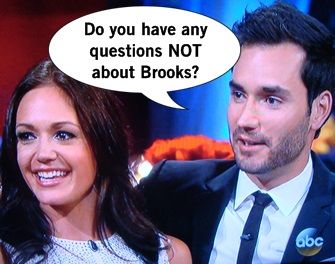 Finally they bring Chris out with Desiree to talk happy stuff instead of uncomfortable ex-boyfriend questioning. Though Harrison tries to bring up the Brooks stuff to get the drama going, but other Chris brushes it off because she paid him some pretty decent comments before. He trusts their love, even if an asshole television host tries to dig at it. They get teary-eyed watching their proposal again especially in a weird out-of-body experience. When asked about their plans, Desiree says she's moving to Seattle this weekend (WHAT? Someone not moving to LA to be famous?) Chris busts out a gift for her fiance which is a frame with the dried roses he received each week and... you guessed it... A POEM!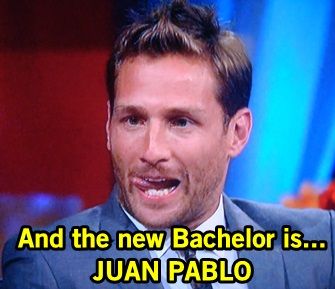 But who cares about Desiree any more. We want to know which of her rejects will now get to be the lead of the next Bachelor. Or as James would call this position, "worst case scenario." After Chris teases he's handsome, charismatic and funny, we all know it's not Drew. It's OBVIOUSLY Juan Pablo who the ladies love despite little screentime. He's a former soccer player who left his sporting dream to be a father to his daughter. He's a good looking dude and he's already totally nailing pensive beach walking. He better love helicopters, that's all I'm saying. See you in the fall for more smack-talking recaps!