After skipping the clip show because those are stupid, it's time for the LIVE finale! Before we can get this season over with, we must go back in time to see parts 1 and 2 of the final HOH competition. In part 1, the houseguests have to wear roller skates while being rotated around the yard. There's obstacles, an annoying voice, foam, glitter, and a disco ball to give you seizures. Spencer is god awful and slams down, first out. Eventually Andy wipes out, making GinaMarie the first winner who advances to part there. This leaves Andy and Spencer to duke it out in round 2. Now the backyard is an underwater oasis (it's pretty cool) and the players have to find crabs of houseguests in the sand and climb up a wall to place them in cages on the ship deck. Because everyone on this show deserves to be caged. Surprise, big oaf Spencer can hardly get up the wall. As it's based on speed, Andy beats Spencer and advances to part 3 to compete against GinaMarie.
The bitter hags of the jury get to meet the true Big Brother master, Dr. Will. It brings Helen to tears which is hilarious. McCrae joins the jury while Amanda continues to be a cranky asshole. Dr. Will asks a bunch of lame questions and it's SO uninteresting considering the build-up. It's really just to rehash who deserves to win and remind these people they're playing a game. The only interesting moment for me is McCrae telling Amanda he planned to cut her loose at the end. Seriously, this moment was so hyped and it was a boring letdown. Dr. Will, you can do better.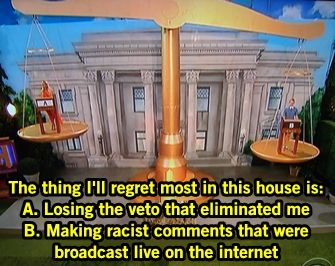 Going into the last HOH, discussions are had about who to take to the finals. GinaMarie and Andy say they'll take each other and while she thinks she'll lose to Andy, she feels he deserves it more than Spencer. The final competition is the same as every year: how did the juror answer the statement. Instead of the typical set in the living room, the backyard has a big ass scale of justice they're standing on and it teeters as more questions are answered. Best answer goes to McCrae who says the best part of Big Brother is "free food." Andy defeats GinaMarie, meaning he will choose who he faces off against in the finale.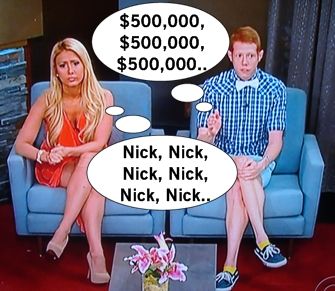 Andy chooses to take GinaMarie to the finale, citing an agreement from day one, and evicts Spencer. Spencer has no hard feelings, but I think we're all disappointed that it's not a ginger finale battle. Spencer gets trotted over to the jury, who get to question the final two. Apparently before the live show the jury had to agree on three questions to ask each finalist. GinaMarie says her biggest game was getting Amanda out, eventhough the question said "besides getting me out." Her biggest obstacle was having Nick leave, cracking the jury up. Candice wonders why they should give her the money after offending people personally, and it's about being a happy person who overcame losing Nick or some BS. Andy says his biggest move was aligning with Amanda and McCrae and he was able to relay info to take out people every week or getting Nick out week two. Andy assures everyone he wouldn't have been a bitter jury member and used that as a reason to keep him around, but he had to backstab to play. Andy admits he lied a lot because he was scared but also to cover his own ass. Andy explains that from night one he promised to protect GM and he did, with a final move that honored his loyalty. So Andy killed it in questions, GinaMarie sucked big time.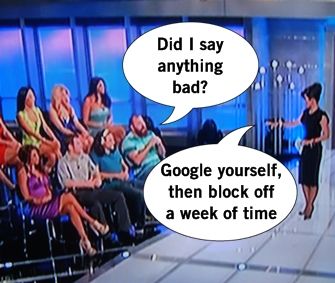 GinaMarie and Andy make their final speeches to win. GinaMarie makes a speech I basically tune out because it stinks, while Andy kills it re-describing all his game moves that brought him to the finale. The jury oh-so-slowly puts the keys into the lazy Susan with vague reasons for choosing a winner. They waste more time by interviewing the houseguests who went home pre-jury and are well-aware they're perhaps the most hated cast in Big Brother history. Amanda guesses America was the MVP who nominated her, especially given her eviction boos. Howard brings up how the world is reacting to all the racist comments, surprised at what was said and how the public reacted. Julie informs the jury they were national news, and it's hilarious how unaware they are of who said stuff (Julie basically says we don't even have time to cover all your nonsense).
Julie decides it's high-time to announce the winner and pulls out the keys to reveal Andy as the winner of Big Brother 15. While I know he was a little floatery and definitely a snake, I actually thought he played a solid if sneaky game and deserved the prize. Julie reveals Judd, Elissa and Howard are top 3 for fan favorite but of course Elissa wins thanks to the Brenchel army.
And so another season ends and it's that time: PRE-SHOW WINNER PREDICTION TROPHIES! Five fantastic people predicted Andy would win Big Brother 15 and now they hold the glory!