Big Brother 15 - Week 11
Before a new week can begin we must rehash last week's Double Eviction. For some reason it crosses people's minds that McCrae voted out Amanda which is hilarious. McCrae can tell it was Andy who flipped but knows to stay safe for another week, he'll bow down to the house and take out Elissa. Judd's veto win seals Elissa's fate as GinaMarie entrusts her alliance to save her and then the house gangs up on Elissa to pin the lies on her. But the Exterminators rejoice at taking out two big threats in one night and do their dumb pumping gesture. Except McCrae who cries into a wall (no trash can?)
The house meets in the backyard to decide a new Head of Household. There video-game themed competition has each houseguest looking at pixelated pictures of past competitions and use blocks to complete a puzzle of who won the challenge. To buzz in, they use a giant joystick which is a pretty cool prop. It's an interesting use of puzzle which I say now before I do my bi-yearly "I hate puzzles" Survivor rant. Spencer wins the title of HOH which means for the first time in ages his big ginger ass won't be filling the nomination seat.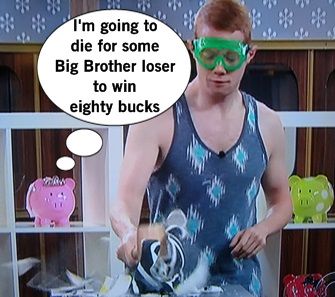 HOH Spencer also gets to give gifts to his fellow houseguests. I don't remember the part in Rudolph where Yukon Cornelius passes out presents, but maybe I drifted off in that part. GinaMarie and McCrae receive the gift of friendship, which ties the two together for 24 hours with a friendship bracelet. It's like a longer version of Love Cuffs, the merger of Friends Forever and
Buddy Bands
! Spencer whispers to GM later that he chose her because Judd isn't the shadier member of the Exterminators. Andy receives the gift of wealth, which is a chance for him to win up to $5,000 by smashing three adorable piggy banks (he wins $94.83). The gift of health forces Judd to perform drill sergeant tasks at the toot of a whistle. Spencer gets his heartfelt HOH letter which is interrupted by the whistle and command for jumping jacks. Judd's gonna get ripped.
McCrae's ability to game and make deals is hindered by being friendship-tethered to GinaMarie. He whispers to GM he plans to take her to final two, which is a moronic move now that she's taken out a powerhouse but he's also had his head in Amanda's boobs for two months and letting her play. But he does have some intuition and can tell there's a final four already that he's not part of. There's a little separation time when they are able to shut the HOH door over their cord and whisper to HOH Spencer alone. McCrae's the target so it's a matter of which Exterminator has to sit beside him as the pawn. The nomination ceremony is interrupted by the drill sargeant briefly for a request of squats before Spencer nominates GinaMarie along with McCrae.
Julie Chen enchants our screens twice this week to get the show on the road. There will be two evictions this week to get us eventually to a final three that will compete to make it to the finale. But first, the veto must happen and all the Exterminators repeat "McCrae can't win it" because, duh, no crap. The veto is hosted by last season's winner, adorable nerd Ian, who is clad in a superhero onesie complete with a cape and flies into the yard. All of the current houseguests are rocking unitards and capes too, with the backyard turned into a small metropolis. The players must leap and fly to put together a magnet puzzle. Judd sucks and basically quits the competition, leaving the other Exterminators literally hanging. McCrae wins the Power of Veto because it's a fact that if you say "McCrae can't win the veto" three times into a mirror that he'll win. And a murderer will pop out at you. Something like that.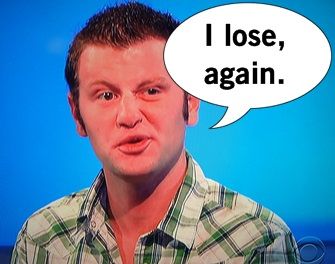 The Exterminators fail at their plan to make it to the final four together, so they have to eliminate one of them. Judd begins losing it at the possibility of going home again, flipping off the camera to what sounds like Vietnam helicopter background music. Judd joins GinaMarie in the nominee chairs once McCrae saves himself with the veto, but first gives McCrae a piece of his mind... poorly. His rant to target McCrae means he'll probably lose a vote to stay from McCrae now. Dummy. Fast forward in time to the Julie Chen Wednesday interruption where the two make their pleas to stay, but Judd is evicted from the house, again. Judd explains he's been using reverse psychology, though I guess he doesn't understand poorly. The audience laughs at Andy's tears in the goodbye message, but he's probably too dense to figure out that means America thinks he's a liar (he at least laughs at him).
The houseguests compete in the uber-important HOH competition of before and after trivia. It's a step backwards for before or forward for after. And the yard is filled with all the competition leftoevers, perhaps to burn them afterwards in a sacrifice for all their sins in this house. A bit of back and forth action leads to a three-way tie and a guess-this-big-ass-number tiebreaker. Andy wins HOH by Price is Right rules and now we'll have to wonder who Andy is taking down (well not really, we all know McCrae is a dead man walking).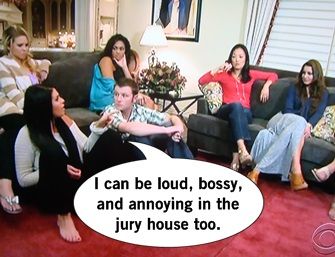 Before I yap about the house boredom, let's get into the jury house. It's basically a sorority house overflowing with irritating women. The women cheer at Aaryn joining them because it means she loses. Aaryn immediately apologizes with her white guilt for being horrible to Helen and Candice. Amanda is a pleasant surprise, but they're crushed Elissa is evicted. I love everyone's wide-eyed shock about the lame Exterminators. And then Judd comes to the jury house to bust this Lillith Fair up and they're cranky. The jury house women all bicker when it's said GinaMarie had full jury support. Amanda starts defending McCrae and calling GM a flip flopper, which annoys everyone who wanted a drama free life. Candice hates GinaMarie but think McCrae floated (or smothered by Amanda) and didn't socialize with anyone.
McCrae is well aware that he's the obvious target this week so the veto is his only hope. Since two people have to be nominated Spencer is the other nomineet. The veto competition is to attach fly-version of houseguests to a web of clues. Andy wins the veto giving him full power this week to evict McCrae, who unbeknownst to them would essentially guarantee any of them the victory at the end against him. McCrae attempts to campaign especially after a whisperfest with Spencer that GinaMarie will win. Right before eviction, Andy, Spencer and GinaMarie come clean to McCrae about the Exterminators. The veto isn't used and McCrae is eliminated by GinaMarie's sole vote. He realizes maybe he screwed up evicting Elissa and his relationship with Amanda took over his game. Asked about their future it's basically a brush off of "bitch be cray!"
And so I beat the week 3 curse of winner predictions only to lose yet again. Well hopefully I fare better with Survivor.