The Bachelor: Juan Pablo
Week 7
The show ditches the exotic war locales and Hobbiton for some stateside fun in Juan Pablo's hometown, Miami. While Juan Pablo whistles to get his daughter's attention, the women are speculating what's to come in their sweet new rented house full of free bikinis. The perks!
Juan Pablo personally delivers the first date card to Sharleen, escorting her on a one-on-one date to come "sea" the city. She's taken off-guard, wondering what the hell he sees in her when she's not feeling a mental connection. Sharleen has decided this has to be her deciding day of whether she could see a future with Juan Pablo and even want to introduce his dumb ass to her family. They make out on a yacht, because he's easy on the eyes but tedious on the brain. After docking at a private beach to make out on land/sea, they return to the yacht to kiss under the stars. When they actually talk and the question comes up about meeting her family, Sharleen makes an awkward face of hesitance. Hell, she even says she wishes she were a little dumber so they clicked better and he's like "DERRRRRRP." Oh hooray, another week of Sharleen pondering if she should quit to sage single mom Renee.
The next one-on-one date is with Nikki the nurse who gets the most serious date: he's taking her to Camilla's dance recital, where she'll meet his family as well. And Juan Pablo's ex AKA Camilla's mom. For real, they agreed to this?? This is a major date to which she had no prep and surely would've opted out of wearing Daisy Dukes. But all goes well and unfortunately the ex doesn't go HAM on Nikki. At night they go to Marlins Park, which is Juan Pablo's office as he's in sports marketing or something. They play catch, have a romantic picnic and, surprise, loudly kiss. Nikki loved her date but wonders about the dynamic and if his ex is OK with all this bullshit (he says yes). They kiss more and Nikki lets him know she really hopes she'll come to her hometown. Nikki tells us she's definitely in love with Juan Pablo and wants a life with him.
Sharleen is still moping around the hotel and finally makes the decision she's been lingering on for seven weeks. She comes clean to the girls that she's been conflicted for a while and feels wrong potentially getting a rose over someone else. She's leaving, finally. Because she has a brain. Next step: tell Juan Pablo, re-tell him until he understands. Sharleen goes to his hotel room and explains she's not sure if she'll be ready for a proposal in three weeks time, and she won't take the spot of someone else in that position. It's a lot of whispering and wiping away tears. Juan Pablo whisper-begs her not to be sorry, she's wonderful for being different, and wishes she sang more. Oh Juan Pablo, a man of... words. Sharleen heads to the elevator while Juan Pablo ponders on a balcony before crying in a confessional over her honesty. To sum it up, I think he respects her for being honest and not just using him? Like a said, a man of words. Oddly put together words.
The group date girls (Andi, Chelsie, Clare, Renee) are whisked away to a private beach in a biplane. They share an awkwardly cozy picnic together on a tiny beach towel, then do their damnedest to impress Juan Pablo to win the date rose. Chelsie busts out letters her family wrote her before going on the show like, "Two drink maximum!" and "Have fun!" Andi uses her alone time to again talk about being vulnerable and scared of heartbreak, because someone needs to take over Sharleen's role of insecure girl. Clare hypes up her family and how excited she is for him to meet her sisters, but he brings up her dead dad which is a downer. As a reminder, her dad recorded a video for her future husband and she hopes Juan Pablo will be the man to see it. And Renee gets no on-camera alone time. Andi gets the date rose and you can see Clare's cringe face.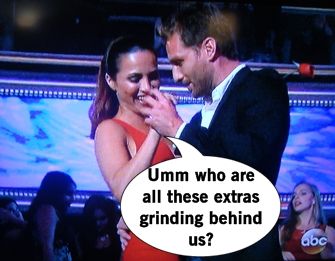 As the rose receiver, Andi gets more alone time with Juan Pablo while the other three girls get banished back to the hotel. Decked out for a night in South Beach, Juan Pablo takes her to a concert, GASP!, around commoners. They do make themselves the center of attention by dancing on the platform in the middle of the room with some really poor backup dancer extras.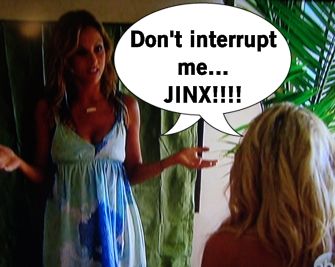 The girls return home and get to bask in the joy of Nikki. Chelsie is giggly, Renee is smiling, and Clare ain't faking the funk cause she's annoyed. "That's so stupid," Nikki says, because she's riding high on one-on-one date bliss. Clare doesn't appreciate Nikki's bitchiness and calls her on it. Nikki believes Clare and the girls were going to talk shit on Andi, eventhough it wasn't anything close to that direction. Both girls get loud, interrupt each other, request the other not interrupt her. Nikki asks her to leave and Clare's like "Did you pay for this room? No. It's not your room." It's an irritating fight that I can't believe I wrote a whole paragraph about.
The unofficial theme of the rose ceremony is to wear your brightest color dress because Miami is flashy. Nikki is totally over pretending to be friends with any of the girls besides Andi. The other girls hope Juan Pablo can sense what a bitch Nikki is, but I think they forget how dense he is. Cue the on-air awkward silence between Clare and Nikki for at least a solid minute, then adding in others for more silence. Not surprising, Juan Pablo gives his three roses to Nikki, Clare, and no-airtime-tonight Renee. This means Chelsie's family won't be meeting Juan Pablo and the only downside there is I can't imagine the out-of-body-experience one has when meeting Juan Pablo.

Next week: Two episodes! Two nights! And everyone seems to hate Juan Pablo!

READERS! I'll be on vacation next week when there's TWO episodes on. I won't be recapping the night of, but promise to post recaps the weekend I return.