The Bachelorette - Andi
Week 1
Remember sassy Andi from last season? She's the 27 year old lawyer from Georgia who had the common sense to realize Juan Pablo sucked. She's our new Bachelorette and looking for love. But she's putting the law on hold for a huge salary and the chance to makeout with a bunch of hot dudes on television. With a quick goodbye to her family, Andi heads to LA to try on funny hats and outfits, drive up the coast in a rental car, take publicity shots, and kick water on the beach. All in the name of love, guyz!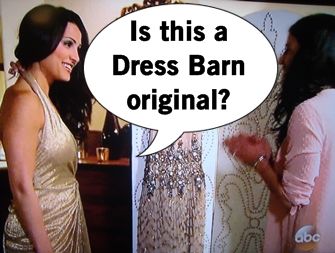 Chris Harrison helps Andi check-in to her house because the show decided to earn his paycheck he'll be the bellboy this season as well. Andi's sister comes to help her get ready for the big night and giggle over the idea of Andi kisses loads of guys on TV. After trying on the cheapest looking gold dress, Andi thankfully puts on a form-fitting nude gown with lots of crystals and beads. But like tastefully and not Big Fat Gypsy Wedding Style, but now that I think of it, that'd be much more interesting.
Andi takes her spot on the slicked-down driveway and the first limo pulls up. Time to meet the fellas! Marcus is the very first guy who "Has a lot to give an offer" and I'm hoping there's better lines to come. Now obviously I can't recap them all because there's a bunch of snoozers, so here's the more interesting entrances. Cody the personal trainer pushes the allegedly broken down window but more idiotically wears a white V-beck with his blazer. Creepy doctor Jason tells Andi she must have a fever because she's so hot (PUKE). Patrick busts out a soccer ball, but assures her he's not a horrible, deadbeat loser soccer player like someone else. There's Emil whose name pronounciatino cues the porn music cause, anal.Brett goes full on Mary Poppins, slowly dragging a hotel lamp out from the limo. Craig busts out a champagne shower, thankfully away from the gown. Nick S. makes his entrance on a golf cart because he's a pro golfer (not a golf cart salesman as he thinks we'll assume because OF COURSE). Eric, who this season is dedicated to due to his recent passing, gives her dolls from Peru. So nothing to awesome or too cringey. Andi the hugger actually makes all her guys slightly more interesting by trying to chat them out of their awkwardness. She's going to be a good lead.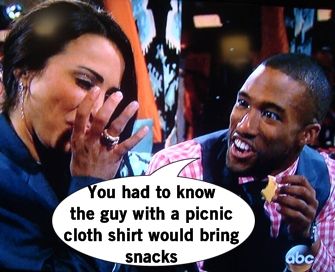 With all 25 guys in the house, Andi is free to roam around the cabin and get to know her suitors. A group cheers together before it's a brawl for time alone with Andi. Josh M. gets Andi alone first and he has a southern accent, tan, big smile, and giant teeth; he is apparently Andi's type thru-and-thru. Marquel steals every woman's heart and bring cookies for Andi to try, but then keeps reminding her to remember the black and white cookie (AKA don't forget I'm the adorable black guy who brought you treats). Chris Harrison ominously leaves the first impression rose in the room for everyone to stare and pretend they're too cool for it. Listen, they're too busy bro'in out over a bond of driving racecars.
But there's a weird rush outside as security runs down. You might remember smarmy, skeeze Chris Bukowski from Emily's season of
The Bachelorette
or from being a scumbag on
Bachelor Pad
. He's down at the end of the lubed-up driveway with roses and wants to talk to Andi. So Chris Harrison brings this news to Andi that Chris B. was so taken with her from appearing on TV that he wants to join. Andi doesn't want to upset the 25 guys inside with some shenanigans like this and declines the offer. We breathe a collective sigh of relief. Chris B. isn't taking no because he's been around for seven days waiting (because we have to pretend like we don't know production tipped him off). What I'd like to think is Chris B. literally has been sleeping outside the mansion in a sleeping bag with a handmade glitter sign like he was waiting for a midnight screening of
Twilight
.
The show goes on and Andi keeps getting to know the guys who haven't already hooked up on TV yet (wait, were any of these guys on Baggage? Elimidate? Next?) After some great conversations and opening her eyes to guys besides her type, Andi gives the first impression rose to Nick V., who I didn't pay attention to at all in his solo conversation. I asked others if I missed something and even they couldn't recall Nick V. so it only makes his "lasting impression" more humorous. With one rose in hand, it's time for the full Rose Ceremony in the living room/parlour/date card receival room for the first rose ceremony. Andi drops a bunch of "y'alls" to explain her gratitude for everyone wanting to battle 24 other guys to kiss her. Then she dumps a bunch of those guys including the guy with hair that looks like Thor's wig, Rudie the wide-eyed attorney (seriously, those are some crazy eyes), the creepin' doctor, a very bitter telemarketer, and the guy whose name sounds like Anal. The jokes are over fast!