The Bachelorette - Andi
Week 2
Andi's nineteen fellas move into the house and christen it with a Bloody Mary and Screwdriver toast (I like them already). Chris Harrison is a total buzzkill and makes them listen to a speech about love with Andi before explaining the week ahead and the rules. There will be two 1-on-1 dates and one group date.
The first date card goes to Eric and immediately we're all a liiiiittle sad knowing what happened after the show. But let's live in The Bachelorette present. The pair cruise in Andi's convertible before having a chill day on the beach making sandcastles (not sand boobs - missed opportunity) and flying kites. It seems boring until a helicopter (!!) lands on the beach to fly over California. A helicopter on date #1? This season shall be great. The helicopter lands on top of snow-covered Bear Mountain where they are joined by their third wheel: a snowboarding instructor. Nothing says romance like bruised asses from falling down the mountain. The two have nice chemistry and chit chat over a thermos of hot cocoa, before later having an intimate romantic cabin dinner. Andi thinks Eric is too perfect and loves how much he travels and the stories he has, like being mistaken for spies in Syria. But Andi wonders what would happen if he had a family and kids, and he says he's fully ready to settle down and start a new life once family enters the picture. This is hands down the saddest date we've watched knowing how life pans out and hearing his incredible stories and dreams. Andi gives him the rose because DUH, he's wonderful.
The next date card asks a large group of fellas to "let's bare our souls" and everything starts cracking up at "bare." The guys are about to get naked! It's the Magic Mike inspired date we've all dreamt of, right ladies? Yeah, not at all. The men are stripping for charity, I'm sorry, male exotic dancing for charity in front of an audience. There are three groups (firefighters, armed men, and cowboys). Marcus is really turning Andi on, so he gets a solo as a sailor. Nick gets the other solo where he wears a robot suit because technology gets middle aged ladies going (at least he can hide his face from the humiliation). The guys get spray tanned real nice, like pageant kids because no one likes a pasty person on stage. They're fitted for costumes, which also includes shoving socks around their dingle-dangle to make a suitable impression. Former castmembers Sharleen and dog lover Kelly are in attendance too because Andi needs more help scoping out her dudes. The the performances start which are as hilarious as you'd expect because male stripping is so goofy. Also robot Nick shows a little something you AIN'T wanna see (rhyme it, you'll understand but my mom says "sack" also works). The ladies are cat-calling, the guys are digging it, and the dollar bills are being shoved in straps and cracks.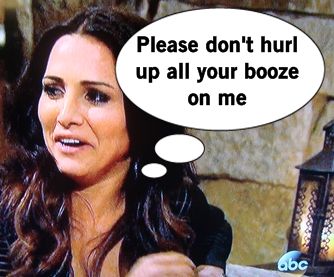 After letting it all hang out, Andi brings her guys to a beautiful mansion for drinks and getting to know the fourteen guys who just wore G-strings for her. Brian the teacher decides to grab Andi first to seize the day; turns out she was really impressed by his stripping confidence. Josh M. wants Andi to know he's not the typical former pro athlete and would like her to not stereotype him. It's another season where the Craig is a weird goofy guy, though this guy loves his libations. Andi puts up his his drunk ass knowing that deep down there's a nice guy. But Craig is really shitfaced, jumping into the pool, splashing around, and interrupting the guys who are genuinely trying to get to know Andi. Craig is such a drunken fool that the producers have to intervene and take him home. Way to go, amateur! The night goes on despite Andi's downer moments. She's enchanted by low key Marcus, who she forced into the solo stripping spotlight, and gives him the date rose.
Chris the hot farmer gets the last date card where he and Andi attend the horse races. Andi is wearing an adorable green dress and looks totally glam but no awesomely large derby hat, so it's a fashion failure for me. Chris is in schlubby clothes so they suit him up in proper attire so he looks dapper (bow tie!) The pair sit in the VIP suite, sip mint juleps, and bet on horses using production money. An old couple sits next to them wondering how long Andi and Chris have been together. "This is our first date!" Andi says, beginning a wonderfully staged conversation to show how long-lasting love can be. Later they sit in this awesome vintage club-room to talk more, like about how nice it is to be on a date with someone who cares about Andi and not the open bar. Chris opens up about his prior relationship which ended in a failed engagement, but he knows even back then the proposal wasn't right. Chris lets Andi know many times that he's here for the right reasons. It's all the right words for Andi and she gives him the date rose. One last surprise for the night: a surprise concert on the racetrack by a bearded man and a tattooed guy with guitars where Chris gets the first kiss of the season. And a lot of them.
There's more tension in the house than last week since the competition has really begun. Three guys have roses, Craig caused a huge rift, and some guys didn't even have a date with Andi. Thankfully there's a cocktail party to try and make an impression to score a rose. Nick V. was dateless this week after getting the first impression rose previously, so he makes a fake date card to delight Andi. They both agree that want great, unconditional love. Marquel realizes he missed time on the group date thanks to Crunk Craig so he makes sure to get time in. And some guy smashes a plate with Andi. Josh gets the next kiss as they giggle together, but to note Andi herself makes the move in for the smooch. The cocktail party brings Andi's optimism back that guys are here to date her and not just for free trips and booze. But Craig apologizes in the form of a song and it cracks Andi up, while torturing all earbuds with his pitchiness.
"Y'all really brought it," Andi says to her suitors before pondering deeply in front of their picture frames. The rose ceremony commences after Chris Harrison makes a funny about the guys being fully clothed (Harrison, you liked your lap dance - don't front). Andi and her tatas come out and hand out roses to guys who get airtime and/or can control their liquor. It seems Craig will have to go home and pay for drinks now instead of the ABC production's pocket. Also gone: Carl the firefighter (who also had to strip as a firefighter so double burn) and Nick S (the robot stripper who bared places unknown on broadcast television).
Next week: a two-night even with a whole bunch of dates and wondering who's here "for the right reasons"