The Bachelorette - Andi
Still in the Dominican Republic, Andi's final two take turns meeting Andi's family. Nick is first and comes bearing flowers and booze, the keys to my heart as well. Right off the bat the parents notice his nerves and lack of PDA. After awkward meal small talk, Nick expresses his love for Andi to her mom and that she's the one for him. Andi's dad Hy is harder to read because he's a stern look of terror, but he gives his proposal blessing. Andi tells her sister about Nick's passionate kissing and do like same-sex siblings talk this way? I still find it bizarre to hug my brother, so this openness alarms me. Andi is pleased it went will with Nick and ends it with yet another makeout. This gives Josh the sloppy second parent visit and he brings flowers and cigars, but no booze (strike one, baseball lover). He also brings the sweat, literally dripping from heat and nerves. Andi acknowledges that Josh is pretty much her typical type but Josh is different. Josh is very adamant he's here for the right reasons, loves Andi, and isn't the stereotypical former athlete. Hy asks Josh if this is some kind of summer camp romance and Josh insists it's forever love; Josh gets the proposal blessing. Basically Hy is cool with either dude getting down with his daughter.
Andi meets Josh for their last date together and both got the memo that they should wear bold shades of blue. The pair talk, snorkel, and makeout on a yacht, reminiscent of their first date together making out on a regular boat. Their connection, not to mention both being from Atlanta, makes it all too good to be true. To me it means maybe you should've tried Tinder a few times before applying to a reality show. Instead of a fancy private dinner, they sip dinner and barely eat in a hotel room for some last minute talking and reassurance. Josh has no questions for Andi because he's ready - shouldn't you always have questions? Especially when you've dated for like a month? He insists love times are different for all and believes his love with last forever with Andi, who is more focused on what could go wrong than right. Josh presents Andi with his this-is-how-much-I-love-you craft project: A BASEBALL CARD. I said it as a joke but it come to life: a homemade Andi baseball card with her name as Andi Murray, his last name. Josh believes Andi is his best friend for life, his future wife, blah blah. A few more kisses to the red pantsed man before Andi leave Josh until the final day.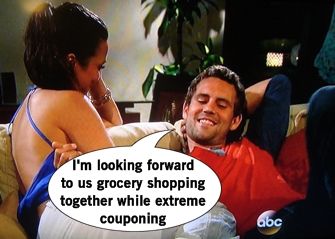 On Andi's final date with Nick they go offroading in a product placement Jeep, then picnic by a secret lagoon. I hope some kind of lagoon creature doesn't eat them alive. Nick talks about all his nerves to ask Hy Dorfman for Andi's hand in marriage, and that Andi is Nick's total priority. One thing for Nick though is that he really wants a sign on this date that he's the one because if there's any doubt, he doesn't want to get engaged (which makes sense, yet doesn't because of the situation, but also I guess Andi should know by now, right?) Andi comes to Nick's hotel that night rocking MORE blue because cobalt and cerulean blue co-sponsored tonight's finale. Nick explains how he's nervous and doesn't want to be wondering anymore, so Andi gives reassurance and all the signs Nick wants. They talk about their fun mundane life together, like what they'd buy at the supermarket and how they'd text each other while they work, then do boring couple stuff together. Nick's craft to Andi is sand in a necklace from the beach where he told Andi he loved her. Andi says Nick is everything she's been looking for in a man and he's all moony as she leaves.
Andi's two men shirtlessly awake on the proposal day, then deeply ponder the big day ahead. When Nick gets a knock on the door he expects engagement ring master Neil Lane but it's not: IT'S ANDI! The live audience gasps! A bunch of former rejects give their opinion! A picnic table cloth weeps for its fabric back! Andi thought on what Nick mentioned the night before, how he previously woke up the day he got engaged and it wasn't right - that's how she feels now. An engagement is not what she feels for them and she's felt it for awhile since they're always so intense and over-analyzing everything, which is no fun. Andi insists she felt everything and meant everything, and Nick feels like a ding dong for being so confident and thinks Andi took it too far. He wishes there were certain things "she hadn't have said or done" - so did they fool around in the ocean?! Nick stands on the balcony with his head down like
Peanuts
, slams one of his saved roses in the trash, then gets in an Uber XL to the airport.
Andi throws on his cream gown and gets her hair poofed up for her big proposal from Josh. Josh's Uber XL drops him off to receive a handshake from Chris Harrison before heading to the romantic proposal altar. Josh explains that he left baseball so he found find his great love, but now knows he could find that love with her. Josh's giant white teeth are beaming through his smile as he proclaims his love for Andi and all this magical stuff about her. Andi responds back about this journey and it being a challenge, but she was scared from the first time she met him she loved him. It was love at first sight on the slicked down driveway! Josh gets down on one knee with an double halo engagement ring because I guess that's the only kind of ring Neil Lane ever brings in his briefcase, they kiss a bunch, and Josh receives the final rose.
After the Final Rose kicks off the celebration with watching a depressed Nick walk around Chicago. He's heartbroken and not over Andi, which makes his family sad too. Desperate to see her for answers, Nick contacted Chris Harrison and tried to show up at the Men Tell All to talk to Andi (you mean I was in his rejected general vicinity?). Andi declines the offer to talk to Nick, not ready to come face-to-face with him, who sits waiting in a room full of roses mocking him. Nick gives Chris Harrison a letter so he can play carrier pigeon. But now Andi will have to come face-to-face with him since it's contractually obligated to do so tonight. Nick comes out being all sad, forced to re-live the day with Chris Harrison and discuss the heartbreak he's not at all over. Turns out Nick also tried to crash Andi's Mexico vacation but Chris Harrison nixed that one (probably because it wasn't on camera).
Well the cameras are here and Andi is brought out to see Nick for the first time since crushing his soul in the Dominican Republic. Chris Harrison lets Nick take the lead but much as he always has been, Nick is full of rambling thoughts. He talks about how he was skeptical but Andi made him feel like he could find love again, so he's grateful to know that hopefully love is out there for him. Andi hated dumping him knowing he was a total skeptic of this whole process. She bluntly has to say she was not in love with Nick; her love with Josh was greater. Another kick in the gut for Nick! And then Nick goes here: if she didn't love him, why did she make love with him? "Well that was below the belt," she says. DAAAAAMN! Way uncalled for on television as I feel this on-air discussion could've been civil, then led to a real discussion off air where Nick could've asked this question as well as get some closure. Andi explains the reason she dumped him before picking a ring, suiting up, attempting to propose, etc. was so he didn't have to be humiliated and wanted to respect him. This whole thing is very uncomfortable and maybe it should've happened off camera.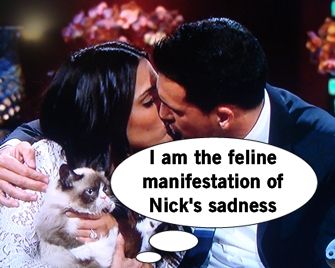 The remind people what they're here for, Andi and Josh come out together for the first time as an official couple. Josh blathers on about why he loves her and that they're best friends. Now they get to have a real date in public, besides secret rendez-vous around the world. But the secret's been safe and they are happy and madly in love because the show works. Well... sometimes it does, Josh, but you're on The Bachelorette so the odds are better. But to top it all off, frowny face Andi gets to meet Grumpy Cat!!! Methinks the cat is more of a kindred spirit with Nick right now, but anything to go viral!