The Bachelorette - Andi
Week 7 - Hometown Dates
Andi is off on four hometown dates, kicking off the tour in Milwaukee to meet Nick's family. Nick meets up with Andi at a market to try on cheese hats and then whisk her away to a brewery tour. Of course snacks are consumed because it's an Andi date, and then she poorly dances (this time the polka). And many scarves are worn! Andi meets Nick's big ass family because Nick's parents got pretty busy in the 70s/80s and then all of them have significant others. Nick gets smirky and tells one of his many sister's that he loves Andi, so Andi gets quizzed back to make sure she's fully into this. Even Nick's kid sister (literally a child) has a list of questions on notebook paper to get the rundown on Andi. They're not as scathing as one would hope, nor did it include anything about pizza. Nick tells his mom that Andi is the half of him that's missing and his mom gets verlempt. So Nick's Duggar-esque family all approve on Andi and all is good. He almost says "I love you" but figures she already knows and he'll have plenty of time to tell her.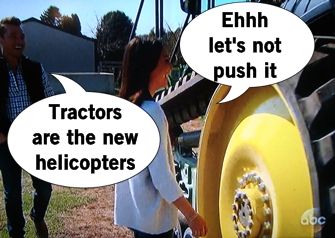 Chris waits for Andi on the golden-hued farmlands of Iowa where she sees his massive bachelor pad (oh I dream for the Iowa cost of living) and drives Chris' big ol' John Deere. The tractor, you dirty birds! There's still a very big question about Andi leaving her big city job to live out in farmland, and Chris points out she could be a homemaker (a bad joke attempt), work in Cedar Rapids, or hell be a DA there because there are DAs all over the country. A plane touting a "Chris Loves Andi!" banner melts Andi's heart into a big ol' makeout. Andi then gets to meet Chris' parents and siblings, plus their spouses. Chris spends a large portion of family time blushing at all the stories, but they love him lots and want him happy. Chris' mom makes sure Andi knows that a farmer's wife can have a job, kids, whatever they want - you apparently aren't trapped milking cows. The night ends with a big game of Hide and Seek and I'd say the cameras will be a dead giveaway of your hiding spot. Looks like a little time in Iowa made Andi swooooon.
To no one's surprise, Josh brings Andi to a baseball field in Tampa to have a catch and awkwardly chew (and spit) sunflower seeds. Apparently this date is the first time Josh has played baseball in seven years, so Andi appreciates this gesture and his turned out by his hot athlete moves. Josh cites family with why he quit playing pro ball, but his brother just graduated college and is heading into the NFL draft so Andi hopes they'll talk about stuff other than family sports. Josh's family is relatively small, which must be a relief for Andi, and they bring him to tears and red-faced-ness. Cutest member of the family is Josh's dog, Sable. A quick cheers over red wine and then it's all about Josh's brother's football stuff. Talking to Josh's parents, Andi starts to wonder if life will end up turning into weekends always at football games and hopes there'd be compromise. Josh gives the old feelings dump to his mom, and it's weird only because Josh's mom is very Andi-esque. Despite rocking resting bitch face for a large portion of the date, an outdoor family game of football lightens the mood.
Hometowns wrap up with Marcus in Dallas, who apparently was ready a week ago to propose to Andi (EYEROLL). Marcus gives Andi a tour of the city so she can see a day in his life, which apparently is daydrinking in a private club. As a flashback to their first date, Marcus re-enacts their first date: stripping. Marcus' family is so excited to meet Andi, though he fails to tell them in his tour of the city he showed Andi his balls in a striptease. His niece makes Andi a Rainbow Loom bracelet, sparing her the questions for now. Andi mentions how he's been so open and forward in his feelings, which his sister explains is his nurturing nature of being like a father figure (his sister even admits it's kinda smothering). And Marcus hugs his brother for being a father figure to him. Marcus' mom's beautiful accent approves of Andi and supports her son's judgement. Marcus is a romantic by nature and he believes he and Andi are soulmates.
All the guys are in LA and summoned to some random house that I'm assuming is Chris Harrison's bachelor pad. A lot of beige. It's awkward silence while waiting for Andi, but Chris Harrison has news to share. Chris explains that Eric Hill, contestant on this season, was in a paragliding accident a few days earlier and passed away. Everyone is speechless and I kind of wish the show allowed them to get this news off-camera. The fourth wall is broken as the crew comes together with the cast to grieve. It's very emotional, especially with Andi whose final conversation with him wasn't as happy as her other breakups.
The night of the rose ceremony, Andi looks stunning in an emerald green gown and has her tete-a-tete with Chris Harrison. She's having a very hard time dealing with what happened, while also feeling she has to be strong for her final four. Andi tells the four that they're all in this together and was overwhelmed with all the family love. "We'll get through it," Andi says. I think she means the sadness and not as a group tolerating Nick's pink blazer. Andi gives her roses to Josh, Chris, and Nick, which leaves Marcus roseless. I think Marcus might've been a little more in love with the process or the idea of falling in love, but he's crushed nonetheless. Andi just isn't reciprocating the feelings he has for her, even if he stripped twice and had his balls blurred out for her.
Next week: Fantasy suites which means I get to say "bone zone" potentially three times!!